In
communities
:
Crypto and Tech

(c20c)
,
Free wall post anything you want

(97ec)
,
Write Everything

(7db5)
,
Any Writing Content

(d75c)
,
Promote Read.Cash

(05bc)
,
MrWrite Official - Any Post

(e8d7)
,
Earn Passive Income

(1b7b)
,
Frugal

(ad03)
,
Freelancers

(db65)
,
Earn Money

(a25b)
,
Marketing

(e7d8)
,
Cryptocurrency for beginners

(a74f)
This is a tutorial/guide on how sponsors work and how you can get and submit sponsorships on Read.cash.
So after realizing how amazing sponsorships are and feeling that they are very innovative, I will now include a sponsor tag on every post. Feel free to leave a comment or contact me about this or to just submit your sponsorship.
More importantly, for you all to note is that I am also interested in sponsoring people.
To get started you just need to add "[sponsors]" without quotes to one post and it will then show on that post and on your main profile. You only need to add it to one post to get it started, but ideally, if you add it to more posts, more people will notice and feel more incentivized to advertise. You can add this to posts that have already been published too.
Then people can submit sponsorships to you which you can review under the "Sponsorships" tab from your dropdown menu of options.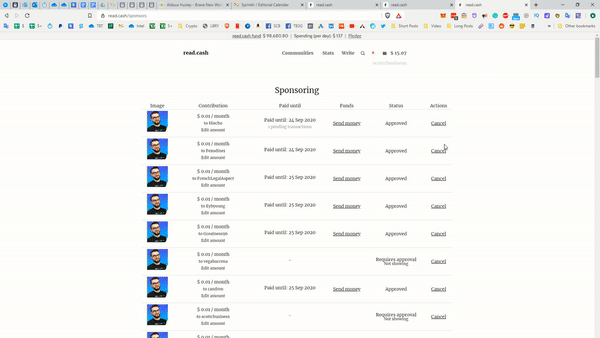 You can also submit to sponsor other people to advertise whatever you like on their sponsors.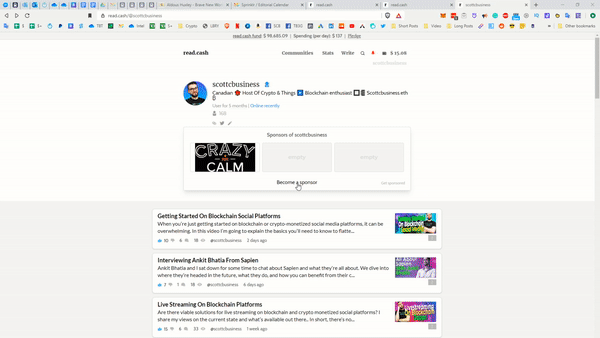 Once your sponsorship has been approved by the author, then you'll have to add funds and your sponsorship will start showing up.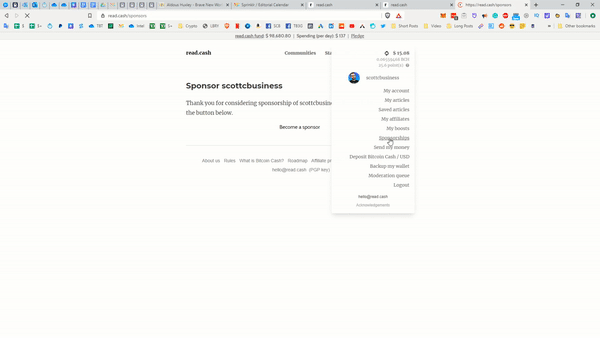 I am keen on testing this out and getting the sponsorship system going. I will happily sponsor anyone who is actively posting. Just feel free to leave a comment and let me know and I'll submit to sponsor you :)
Also, in the notifications section when you click on persistent notifications, you will see options for email updates. More importantly, you will the option to automatically add sponsor blocks to your blogs that you don't manually add them, this is a great way to not have to worry about this but still incentivize and attract new sponsors.
Thanks for all of your support so far and I will continue to post and share content on Read.Cash.
Sponsors of scottcbusiness
Just click "Become A Sponsor" above and get started.
I also may be doing some guides and tutorials soon. Stay tuned and let me know in the comments what you'd like to see covered!
The new requirement is your account must be a month old and have activity. Looks like people are just creating new accounts for this now.
See my ongoing sponsorship list for everyone who is sponsorable and who I am sponsoring or have sent a sponsorship request to: https://read.cash/@scottcbusiness/the-sponsors-list-23fa2096
In
communities
:
Crypto and Tech

(c20c)
,
Free wall post anything you want

(97ec)
,
Write Everything

(7db5)
,
Any Writing Content

(d75c)
,
Promote Read.Cash

(05bc)
,
MrWrite Official - Any Post

(e8d7)
,
Earn Passive Income

(1b7b)
,
Frugal

(ad03)
,
Freelancers

(db65)
,
Earn Money

(a25b)
,
Marketing

(e7d8)
,
Cryptocurrency for beginners

(a74f)