I was supposed to include this in my previous article 1 Year Of Amazing Journey With You, but I was just exhausted last night. Honestly, writing that said article took me forever to finish, so I decided to just separate the announcement and just do it today instead.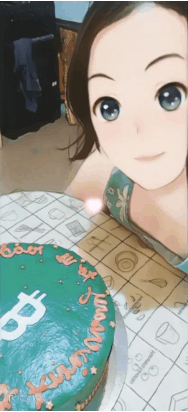 Before we begin, let me just THANK everyone for joining in my article, When I Was A Kid, as well as for sharing your wonderful childhood memories with me. It was fun reading them all and made me realized the other fun stuff I did when I was a child that I forgot to mention in my article.
Things like going gaga when the rain comes. Back then, we would go out to enjoy the rain or make a paper boat and do some racing with friends. We also played that "bahay-bahayan" or playhouse and usually, I got the role of either being a daughter or a mom. We also experienced making our own toys from scratch because my parents never spoiled us with lots of toys.
There were many to share, but I only stated 10 facts about my childhood. Nevertheless, so grateful that you guys participated because your articles helped me remember those things that I failed to mention in my article.

Anyway, going back to the g1veaway, there were 50+ who participated but only 50 users shared their link to my 16 Days Before My 1st Year Anniversary On My First BCH Platform Ever. Out of 50, only 27 got it right since the rest did not share 10 facts and only wrote 5-9 about their childhood experiences. Oh, there was 1 entry that was already been removed by the author. This means, 27 qualified, 22 disqualified, and 1 removed by the user.
Let me highlight the 27 qualified users. Feel free to read their entries here:
Now, for the most awaited part, the announcing of lucky names. Yay! I used Wheel of Names to identify the winners. I was really tired so I did not do the video like the usual, but I did screenshot their names.
Just a quick recap, there will be 8 names to be chosen, and the prizes are:
$0.50 - 5 persons

$1.50 - for the 6th user to be chosen

$3 - for the 7th

$5 - for the 8th or our grand lucky winner
So the first 5 names who are lucky enough to receive $0.50 are the following:
Congrats, to our first 5! Now, for our $1.50, we have:
Yay! Congrats to you! You will soon receive $1.50 in your entry. I'm sure you're excited to see who wins for the $5 but let's focus on the $3 first. Let us all congratulate this next user for winning $3 from my g1veaway.
Yahoo! Congrats! Enjoy your $3 later! Now, for our main event who will receive the grand prize of $5. Yay! Congrats for being the luckiest among the lucky names:
Yes, you won! This is not a joke! Congratulations! I hope I made your night happy because of this.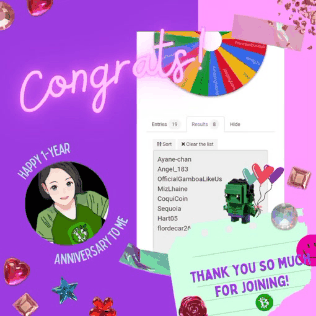 So there you have it! Our lucky 8 users! Thank you so much for participating in my 1st Year G1veaway. I hope you had a great time writing your entries as much as I enjoyed reading those.
As mentioned, everyone will still get a little amount for participating in my g1veaway. Those who were qualified but didn't win will still receive an extra $0.10 aside from the upvote I did yesterday while the disqualified ones will only receive $0.05.
After publishing this article, I will soon visit the winners to give them their rewards. The rest will receive theirs tomorrow. Congratulations again, and thank you all for making my 1st Anniversary G1veaway successful!
Prizes to be given away:
$0.50 x 5 = $2.50

$1.50 x 1 = $1.50

$3 x 1 = $3

$5 x 1 = $5

Total: $12
Consolation prizes:
$0.10 x 19 (qualified) = $1.90

$0.05 x 22 (disqualified) = $1.10

Total: $3
Upvoted for their entries
Overall: $20.20
Shout out to our dearest, @PVMihalache, for donating $5 for this. Super thank you, PVM!

Once again, CONGRATULATIONS to all the winners, and thank you so so much for taking the time to participate in this. Most importantly, thank you for celebrating with me on my 1st anniversary. Until next time.
This article is 100% plagiarism-free. It has been checked and double-checked on Grammarly and Duplichecker.
---