Hello, hello, hellooooo! :D
This 14th article of mine was inspired by the  Getting To Know You More Challenge: When I Was A Kid article of Ate bmjc98 and was followed by my co-writers who also participated in this kind of challenge wherein they shared their memories in their childhood years.
In this article, I will share 10 facts and happenings when I was still a little kid. I know that all of us has our childhood memories, either it be happy, sad, or embarrassing moments that we tend to just laugh when we are remembering some of those. And, sometimes we are asking ourselves, "Did I really do that? Did that really happen?" And, will be so shy afterwards. 😂
And, now? Join me while I tell you this 10 facts and happening (mostly kalokohan. HAHAHA!) about the kid version of me ... Let's get started!
Please, allow me to use both English and Filipino language for me to be able to express my thoughts more clearly.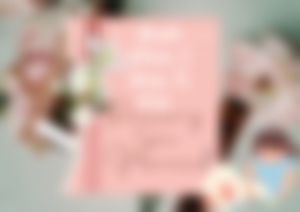 This is the most clear memory to me when I was still a kid. Since that I am the first born grandchild of both of my Papa and Mama's parents, they used to spoil me so much. Especially my grandparents on the mother's side. When I was just on my Kindergarten year (around 6-year old), Lolo used to teach me on how to garden. It was still clear on how he used to build me a small plant rack on the side of our house and he even made me a small garden with a greenhouse. Though it was small. Kapag may pupunta noon na mga classmates ko 'nung Kindergarten? Lagi nilang sinasabi na ang ganda ng mga halaman ko kaya ayun, bibigyan ko sila. 😁 He made that place as "my space" wherein I can do all my wants. Aside from planting, when I say that I want him to make me a doll made with paper cuttings? He will immediately do it. He teach me how but until now? I still don't know how. HAHAHA! There was so memories with him, but sadly, he was not with us anymore. If he was still with us? I know he will support and guide me just like how our parent's used to do.
Before, when I was still a little girl, we used to have this kalan na kailangan ng kahoy para makapagluto. Nasa labas ng bahay namin 'yan kasi masyadong mausok kapag nasa loob mismo. Everytime na tinapa ang ulan namin, doon nagluluto si Papa. Ewan ko ba kung bakit, eh pwede namang sa gas stove iluto 'yun. 😅 Kalimitan, gabi kami nag-uulan=m ng tinapa. At dahil Papa's girl ako noon? Lagi akong nakabuntot sa kan'ya. Taga-bilang ako kung ilang tinapa 'yung maluluto n'ya. At syempre, bago namin makain 'yun? Wala ng mga ulo. Kasi kada lagay n'ya sa plato ng tinapa? Tinatanggalan ko na agad ng ulo at kakainin pagkatapos. HAHAHA! :D
We live in a compound wherein we are living as a relatives. The house in front has this small trailer that they used in their fan. That time, my two closest cousins (3rd degree cousins) was always with me. We used to play at that trailer. At dahil nga mga bata, ayun. Nahilig din kami sa acting. Ako madalas ang bida. 'Yung bida na inaapi. HAHAHA! Tapos pupunta ako 'dun sa dulo ng trailer at kunyari ay mahuhulog ako. Then, isi-save naman ako 'nung pinsan ko na lalaki na kunyari s'ya 'yung knight-in-shining-armor ko. 😂
Like any kids out there, I also hate afternoon naps. Whenever that our parents will command me to sleep? I will immediately lay down the bed but won't sleep. Tatakpan ko ng unan 'yung mukha ko tapos bibilang ako hanggang five hundred. At dahil bata nga, mali-mali ang bilang ko. Hahaha! Minsan tumatalon pa. XD Ayun, magagalit si Mama hanggang sa makakatulog na talaga ako. Nang totoo.
Pero ngayon? Nagagalit na s'ya dahil tulog ako nang tulog sa hapon. Ewan ko ba. 😅
Dati, 'di talaga ako mahilig sa hotdogs. Sabi kasi nila gawa daw sa mga bulate 'yun. Syempre bata nga, ayun. Takot na takot akong kumain ng hotdogs. Ang natatandaan ko na sinasabi sa amin ng Lola 'nung closest boy cousin ko is, "huwag kayong kakain palagi ng hotdogs kasi gawa sa bulate 'yan." Just, seriously?
Before, we are prohibited to say the exact word for boy's private parts, our grandparents used to call it as "a bird" whenever we are near them. So, me as a kid? Nagaya din ako sa kanila. Kasi for me, bad nga talagang sabihin 'yung mismong tawag 'dun. Nakakahiya! At for sure, kapag sinabi ko, namin 'yung word na dapat itawag 'dun? Papaluin kami gamit ang magical hanger ni Mama. XD Pero, 'nung namulat ako sa mundo ng Wattpad? Naitatanong ko sa sarili ko na "bakit bird? Paanong naging bird 'yun?" At, na-realized ko. Baka dahil magpa-fly s'ya? Fly kasi tawag minsan 'dun sa Wattpad ih. 🙈
Oh, I clearly remembered this one. Whenever they will asked me to buy something in the store nearby, I will always calculate it on mind. Wala pang dali-daliri ah. Haha! Pinagmamalaki pa nila Papa dati na magaling na daw akong mag-solve ng basic Math computations. At ako naman si uto-uto, ayun. Nagpapasikat kasi baka bigyan ako ng premyo. 😂 But, now? I don't know kung nasaan na 'yung galing ko sa Math noon. Lumipad na yata sa kung saan at wala ng balak pa na bumalik. Ghoster ih. HAHAHA!
Maybe I was in Grade 2 or 3 that time, I envy my classmates who can already speak in English. So, when there were no classes? Expect me to be in the SM. Ay, SK pala. SK as in Silong ng Kaimito. :D What am I doing there? Practicing, of course. Practicing on how to speak in English language. Pero, 'di eh. Ewan ko kung anong language ba talaga 'yun. Kasi para lang akong nagbi-baby talk eh. 😅
Alam n'yo ba 'yung mga walls na 'di napalitada at purong hallow blocks lang? 'Di ba may mga butas-butas 'yung mga ganitong walls. Ang ginagawa namin is susuksukan namin ng walis ting-ting 'yung mga butas. Kahit kaninong bahay pa 'yan sa compound namin. Imagine mo na lang na punong-puno ng ting-ting 'yung dingding ng kapitbahay namin. Hahaha! Syempre, ubos din ang walis namin 'nun. Kaya ang ending, napapagalitan pa kami. But, why do we do this? Naniniwala kasi kami na pang-kontra 'yun sa mga multo.
My old self be like: Ginagawa mo noon? Para kang ano. 🙄
Do I still need to explain why? Halata naman siguro sa mga pinaggaga-gawa ko dati, 'di ba? HAHAHA! Right now, while I was writing this article, I was scolding myself for being so gullible. But, I was also laughing in my mind. Grabe, self! Sana 'di ka na uto-uto ngayon. At, huwag kang magpapauto kay crush. Bahala ka, ikaw din. Masasaktan ka lang. XD
---
I hope you enjoyed reading this "soup article" of mine. Hihi
---
This article will also served as my entry to Ate @bmjc98 's giveaway. Read this article of her to know the mechanics: 16 Days Before My 1st Year Anniversary On My First BCH Platform Ever.
What are you waiting for? Join and let's enjoy reminiscing our memories when we are still a kid! <3
---
For more articles, just visit me here in read.cash:
imanagrcltrst: https://read.cash/@imanagrcltrst
And, we can also have a chitchat in noise.cash:
imanagrcltrst: https://noise.cash/u/imanagrcltrst
---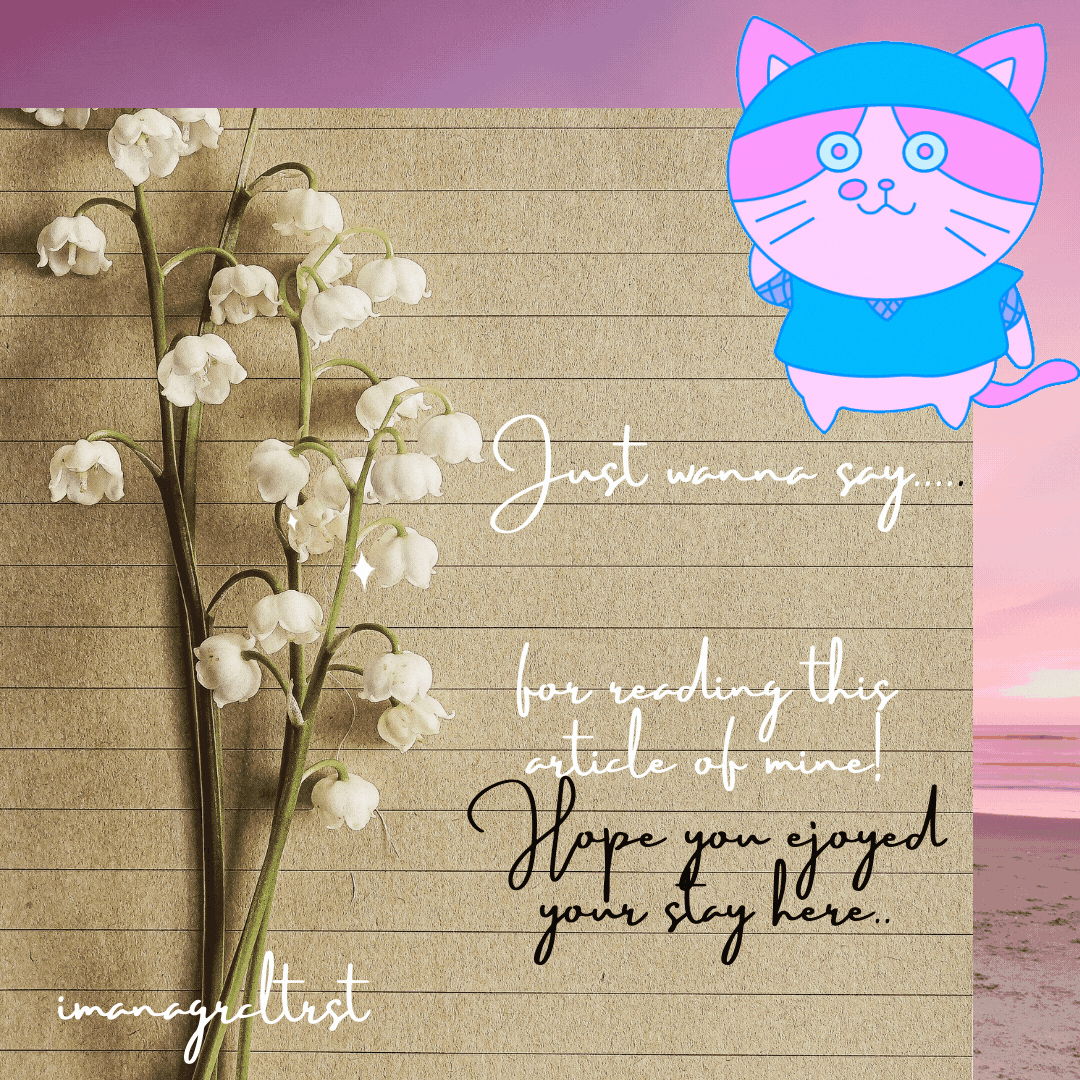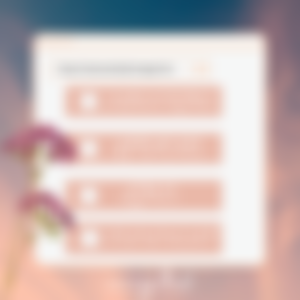 ---
LOVE LOTSSS! <3
Published by July 29, 2021