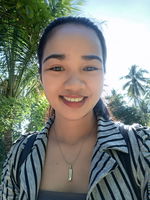 Lead image from Unsplash
Looking back of few memories is fun. I have read few articles about it. It was @Pichi28 article that I got to read last night and I was hoping to be tag to do the challenge as well, but I didn't expect her to tag me that instance. It was unexpected at the same time happy. Thanks for the tag pich. I hope you will enjoy this version of the challenge I got in here. 😁
Later in that evening while continue browsing my notifications, I found out that I was tag by @Janz the other day with this challenge as well. I am so sorry memsh for not noticing it. I am happy that you tag me along with this challenge.
I have known that this challenge was started by our generous co-writer here @bmjc98, so I will give the credit to you friend for starting the challenge. If you want to read his/her article you can click this link for more readings. To know the mechanics, if you want to join this challenge. Of course you can join freely.
Anyways without further a do. Let's get started.
My 10 memories about my childood.
Well, I have lots of memories in my childhood good and bad. Serious and funny. But I choose to have at least one or two of different events.
I want to be a boy
The very first thing that comes up when I tried to look back in my childhood is this one. Yes, I really wanted to become a boy, badly that I, dress like a boy and I pee like a boy.

That childhood memories lingers most of me because as a girl I got to be bullied by boys and as much as I wanted to fight back, physically I am weak because I am a girl. Moreover my brother put a fight with us, his sisters, even though he knew that we are physically weak. Well, that's maybe the very reason why. But I am not afraid. I always fight back and give all my strength.

For me also dressing like a boy is cool than dressing so girly. And I even peed like a boy. 🥴😁 Well, who doesn't want to pee like a boy when you don't need to get down together with you shorts right? Showing all your butt. Plus they can pee wherever they wanted while us girls need to hold our urine that made us feel horrible.

Even now I still want to be a boy. That ridiculous wish still in me. I want to become a boy for me not to experience red days every month and even be pregnant. But I don't have much of a choice. This is what God's will and purpose. Maybe I am much functional in this way, I guess.
I hate sleeping at noon
One of the reason maybe that I am vertically challenged is because I hate sleeping at noon. Before siesta was a punishment and I hate it every time. Mom would always insist and would spang us if we don't sleep, so I would always pretend that I am sleeping and whenever she's asleep I would slowly sneak outside the house and play with my friends. Bad kid.

But now, I regretted it. I regretted for not sleeping every noon time. Now that I love sleeping at noon, mom would always disagree. What is it for anyways? She says. The days were gone when she wanted me to sleep for my own benifits and now it's late. Huhu. Sorry self. I deprived you of such opportunity to atleast grow a little centimeters. 🥴😁
I smoke using paper
This was fun. Me and my siblings used to do it for fun. Especially when parents were not around. And we play role playing. We always try things that we saw adult had been doing such as smoking, we saw it as cool thing to do. And since we are not allowed to use cigarette. We used paper as our cigarettes.
I have lots of question
Whenever I look back I could say to myself that I am little bit weird. I have so many questions that I thought would make me crazy. Questions like,

Why I am here? What I am doing here? Why is that I wasn't made like the tree? like the birds? Why is that I can't feel others feeling? Why is that I never had the chance to chose a family? What would I feel if I am dead? What would be like to fly? To be in heaven? And so much more.

I don't know why is that I have so many questions before. But I guess all of us experience that phase. But now I guess all of that questions was already answered.
I was put inside a sack
This is a very hilarious yet traumatic experience that I've got. Among us four siblings, I am the only child who was being put inside the sack. Am I that bad? Yes and no. It was because of a joke that my brother started and later become serious because when I got to give back that joke to him he got mad. I prefer not to give the details of that joke because it was so humiliating. What I want to share to you is that how I was put inside the sack.

When brother told mom and how humiliate he felt. Mom called me with furious eyes raging with anger. She has sweep made from a coconut leaves in her hands. I know it would be a lot of spanking to do. I was afraid to approach her knowing what would happen to me. So, I keep on running while she was chasing after me. Not knowing it fuels her anger. Because of that I received two rewards ,she spank me and she put me inside the sack. It was a joke gone wrong and it wasn't all my fault. But because of the way I responded I ended in such situation.

I always remind my nephews to never do the same joke to anyone for I have poor history about that joke.
I am an evil sister
I am really ill-mannered sister before. I am quite had this short-tempered attitude in me. That whenever my siblings would triggered me, we end up fighting. Everytime things go wrong I always put the blame to them. Get mad and would throw anything near me. If they would not give or do what I say, I would be angry to them. Put a fight and would end them crying.

Happy to know that I changed, a lot. And whenever we look back with that memories of fighting and disagreement. Me, and my siblings end up laughing and prove to me how an evil sister I am to them when we were in our childhood.
I love champorado
This is my simple joy, my comfort food. Whenever I missed mom, I would love to cook or eat champorado. It would signifies home and good memories to me. Even now that we are adult, me and my sister still request mom to cook champorado for us.
I have trauma with dogs
I have trauma regarding dogs especially stray ones. It is because of an incident in my childhood.

I was going to watch a movie in a neighborhood since we don't have a Tv of our own, even now. So, I saw this movie in in the neighborhood from a far. It gets me excited for I know I would like the movie, especially it is an action movie. Because of too much excitement, I hurriedly went to our neighbors house running not knowing they have dogs who just got her new born babies. It was so dark and the dog was black that I didn't notice it was in the door, so near me. Because I was running the dog got alarmed and chased me. Running for my life, my soul departed me. She run faster than me saving her own. 🥴🤣🤣 I was trembling that time and crying went home running like I was chase by seven devils.
I had a girl crush
Way back in primary years, I had this girl crush. I don't feel boyish at all but she was so beautiful in my years that I fellnin love with her beauty. She was my ideal girl plus she was very nice to me. She has this fair skin complexion that made her shine before the class. Her long hair shinny hair sway in her every move that made her sexy. Her deep dimples in both side of her cheeks made me smile whenever she smile. She's a total goddess. I still do admire girls now but not the same way as before.
I am weak and always sick
I am skinny and weak before. I always got sick and out of the class. My fever would always visit me and would linger for more than a week. And it would comback the next month again.
Reminiscin g the past is much enjoyable. Though it bring back good and bad memories but I am happy as I type this challenge. Sharing it with you is good. I know there's a lot more to learn from me this is just a bit of it. This is it for now friends. Thank you for reading. I appreciate you all. I love you 🥰😘
I also wanted to tag my friends @gertu13 @Princessbusayo @dziefem @IamEm @Amethyst.grace-5 @Marinov and @gwapojohn You can take the challenge if you wanted and not taken it yet. I will be looking forward to it. Enjoy!
Sponsors of ThisisGrace21