My mom never buy me a toy. Her only token or price for us are food. So most of my toys are DIY by me or I'm going to save the money that my mom always giving me for a merienda just to buy one. So most of the time, I spend my time outside the house and play while saving. So my childhood is very adventurous had alot of fun and laugh. And that practice I carry until now, I'm into crafting that now I can use in small business. If I need something, I saved instead borrow money to others. And im still intact to my childhood friends.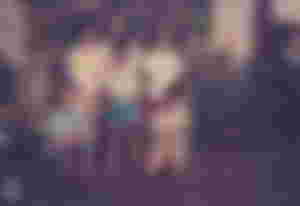 My grandma always make a merienda and I'll sell it on my neighbors and she will pay me for that. I even sell some of our fruit that came to my grandma's garden like santol, star fruit and custard apple... Sometimes, my neighbor who had a first woodcraft ordered me to put a sticker on their items. They pay me too. The funny thing is - the sticker that put in the item says it's made in Japan 😂✌️. After I saved enough money, I asked my grandma's helper to buy me some junk food and toys that I need and I start my mini sari sari store. I was just on a second grade that time. So ever since, I'm really into selling 😂.
In my grandma's house where my family live too, my Aunt have the most clean and pretty bedroom. I always enter there secretly everytime she forgot to lock it and will open her wardrobe, drawers and just stares at it. She have alot of clothes, make ups , displays and nail accessories. That time, I always say to myself that , when I grow up , I want to be like her (not a dinosaur 😂). Will work in Adidas as a manager and will buy like what she have that time. But because I'm still a kid, I just didn't state on that and day dreaming, I play with her stuff and boom! My other aunt caught me with my sister playing the make up 🙈😂. And they picture the evidence 😂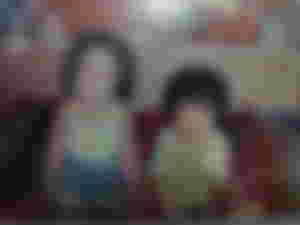 My Aunt have a friend jokingly tells me that when I grow up, he will court me and marry. His statement scares me alot and make me cry hard. I'm just a kid that time and he's already an adult . I always hide everytime he visit and he's aware that I am afraid of him, so he's always tease me more. Because of that , I really pray that - when I grow up, I hope he's already dead 🙈😂. Don't worry , he's still alive today and married 😂✌️.
Because I have a crooked foot since baby, I grew up without confidence and busy avoiding my bullies. I really love dancing and I know I can dance well even my steps are minimal because of my foot. Because my bullies are always ready to tease me, I dance secretly and I even choreo secretly when I was in elementary 🙈.
I didn't grew up in fairy tales or any Disney stories, my mom always use the bible for bed time story. So since I was a kid, I know that God created human and Adan and eve are my great great great great grand parents 😂. But I really admit that I easily believe to what other people say specially if I see an evidence 😂. So when I was in grade 4, my teacher told me to report about caves and how java man live before. I was amazed about my report specially when I memorize it. After my report, my teacher explore it more and tell us that people are came from monkey and we are developed homo sapiens that's why there are people have hairs on body. When she said that, I stare to her arms right away, and I was like - oh, her ancestors are monkeys, cool.. Mine is came from garden of Eden. 😂✌️. Anyways, that's teacher is already a Born again.
Me having a thick face is also shy on the camera 😂. My face freeze everytime they're trying to pic me solo. I don't have confident and I really feel shy. So in the end, I look mad 😂. And you can't repeat the shots because it's a camera with film 😂.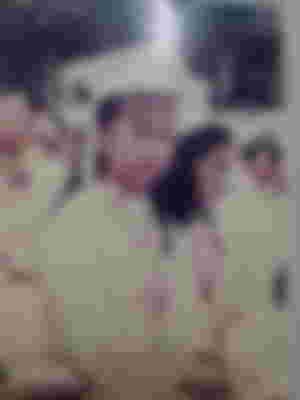 Me and my brother have a punch and bite relationship when we're was a kid. He always ruining my food like, he put some vinegar on my noodles 😒. And I'll blame my mom why my noodles taste weird 😂 and ending is , my mom will hit me because she thinks that I'm just pretending so that I won't eat my food. But when I found out that my brother did that, I never sit next to him anymore. His cuteness won't fool me anymore 😒.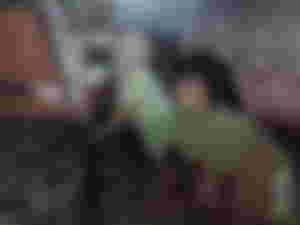 One of my childhood friend is boyish and have a bit strength like a boy too. We had a big fight that turned out really bad and she threatening me that she will going to punch me, because of my pride I said - come here and punch me, and she did 🙈😂. I lost my balance and close my eyes and pretend that I lost my conciousness because if I'm going to get up again, I'm afraid that she will repeat that and it really hurts 😂. That's really 🤬😂.
I know that most of kids will tell you that their dreams is to be a doctor, teacher, fire fighter etc. But me, I want to be a wrestler until I hit grade 4 🙈😂. I grew up with bullies and I want them to wrestling 😂. I even took a karate but my dad move me in Arnis because my right crooked foot can't kick lol 😂.
Well this is my entry for @bmjc98 when I was a kid challenge. And I want to know more my friend @AwakenToLife so I hope you open your account here and join. 🤪
For those who to join , check this out
https://read.cash/@bmjc98/getting-to-know-you-more-challenge-when-i-was-a-kid-8246d4fd
Enjoyed this article?
Earn Bitcoin Cash by sharing it!
Explain
...and you will also help the author collect more tips.