by Gracee / Monday / July 5, 2021
Last Friday was my 28th birthday. It was nice and happy but my celebration has not yet ended on that day. Sunday (yesterday), was part two of my birthday celebration. :)
---
This is not a planned article yet today I think separation anxiety is just around the corner and might attack me again as I am alone again at home. As I have mentioned in my last article, I celebrated my birthday last Friday with my whole family which means we are complete. My parents, brothers, sisters, and nieces are at home. Our family has reunited again after a few months of being separated due to their works. We were just so happy together for three days, from Friday to Sunday. We often chic-chat and catching up on the news they missed about what happened at home while they were away. We also talked about our future plans for our house's improvement.
Those happy days have ended yesterday afternoon as my mother and youngest sister went back to work and my brother, sister-in-law, and my nieces went back home. My boyfriend also went back to his job earlier. Technically, I was not really alone for my father and oldest sister left with me yet my father always has some errands to attend to while my oldest sister and her live-in partner have their own house that is why I am literally alone at home. And leaving me alone at home always gives me the feeling of sadness which I think they called separation anxiety.
As I do not want to entertain this feeling, I decided to write this article to reminisce the part two celebration of my birthday to at least cheer up myself. I know that this separation anxiety that I started to feel will not take for so long but if I entertain it then I might feel the emptiness again that I hate the most. So yeah, let me end the sad part of my day here and start to share the happy moment yesterday.
---
A birthday celebration is not complete without our crazy yet true friends. ( Take note: I'm not sure if this is applicable to everyone, this is just my opinion. hihi)
Sunday morning, was gloomy yet it did not bother us for that day was a busy day for our family. I, my mother with my brother went to the wet market to buy our food for lunch and snacks. It took an hour and a half for us to buy all the ingredients we needed.
After we came back home, we ate our breakfast then cleaned and prepared all the ingredients. I and my sister-in-law cleaned the seafood we bought while my mother and other sisters cut and prepared the vegetables needed for the viands and as well as for our snack.
After we prepared everything, my friends and boyfriend arrived. They helped me cooked the buttered garlic seafood for it was my first time doing it. The recipe I made was only watched on youtube. Fortunately, we got the taste we want and that was so satisfying. We also cooked a few rolled shanghai that was brought by one of my friends and also boiled a few eggplants and okra. Later, we prepared everything on the table and ate the food together while chit-chatting at the balcony while my family was at the kitchen eating the same food.
So here are some of the photos we had.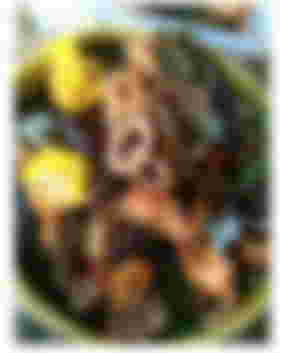 (These photos were taken by my youngest sister.)
---
Then, for our snack, my mother cooked a very simple ginataang bilo-bilo, while I and my friends made sushi and fried the kikiam.
Here are some photos for you. :)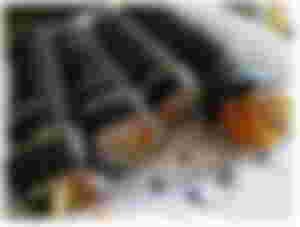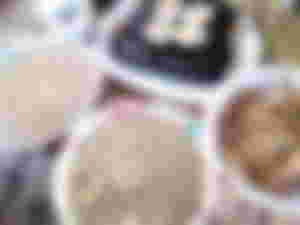 We ate these foods together and a never-ending catching up with my friends. It was a very nice day with them for we talked with each other like we were just graduated yesterday. Nothing changed on how we bully each other and on how we are very vocal about what we feel about each other which made our conversation happier.
Then, we ended our day strolling in the town while my relatives went back to work and their homes.
---
Reminiscing yesterday's celebration makes me miss them, want to see all of them and be with them again. Thinking how happy we were yesterday fades my separation anxiety away little by little but I wish I could go back yesterday and make the day longer.
I am going to end this here because I am afraid that this happiness will turn to loneliness. But if you read up until here, then I would like to say "Thank you". :)
-Have a good night! 😊
---
Thanks, @meitanteikudo for the sponsorship's renewal :)
---
MY OLD ARTICLES:
A Simple Girl's Birthday Celebration
Catching Up in the Middle of Black Out
A Sacrifice from Parents' Lies