by Gracee / Friday / July 2, 2021
Today is a special day to a simple girl who is so close to my heart and that is no other than myself. 😊😊💚💚💚💚
---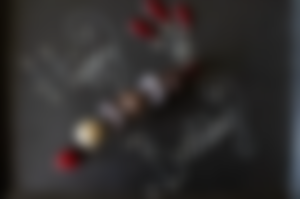 Twenty-eight years ago, my mother gave birth to me and that was Friday like today. It is so nice to know that a simple girl like me was given a chance to live in this world until now and still counting that is why I am so grateful for it.
This is maybe just an ordinary day for others yet it is so special for me. I started this day with a wide smile on my face and prayer after waking up this morning even though I was still sp sleepy because of sleeping too late last night. But I just did not mind the sleepiness I had earlier was set aside for I just feel so happy and blessed to have another chance to celebrate my born day with my family.
This morning, I took a class like a usual day while my family members were so busy. My mother and brother went to the wet market and bought some ingredients for our lunch and merienda (snack). For lunch, they cooked some Filipino dishes like papaitan, chicken kaldera, and sinigang na pata ng baka for my father and his friends. haha including adobong bibe and fried fish (not included in the photo).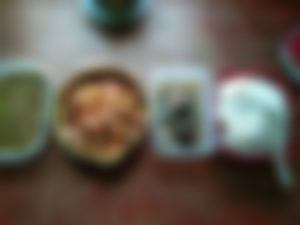 It was a very nice lunch not only because the food is delicious but also because I ate this food with my relatives.
Then, after our lunch, I suddenly felt sleepy again, maybe because of my full stomach. haha so, I took a short nap while they cooked food for our merienda (snack). My aunt and my mother cooked pansit guisado and fried wrapped cassava. While the puto (Filipino steamed rice cake) was made by my auntie earlier this morning.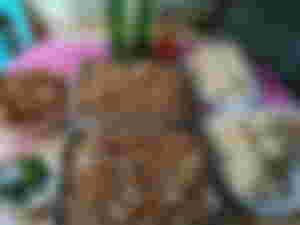 We happily enjoyed the food while chit-chatting. Later in the afternoon, some of my relatives already went home while we left and cleaned all the clutter and washed all the dishes. haha.
---
It was just a simple celebration yet it was a wonderful and memorable day with my loved ones.
I must say it was not a perfect celebration as I imagined in my mind yet I will not think or mind too much those things that are missing instead I enjoyed the day with the people who are with me. Furthermore, I still can say that it is a day that worth remembering in the future because all my family members spent their time with me as well as some of my relatives and my father's friends who joined us in celebrating my birthday too.
In addition to that, this birthday celebration I have is indeed unforgettable for BCH has a part on it. I transferred 0.09 BCH to my coins.ph from my earning last month and added to my budget. It maybe not so big amount but it is already enough to make my loved ones happy for I still have a little money on my pocket. I can say that this platform and BCH is a great companion for they help me when I needed help financially.
But what made this day more special is seeing my family happy, safe, and healthy. That is already enough for me as a gift. The food we enjoyed today is just a bonus blessing.
-the end.
Have a good night! 😊
---
MY OLD ARTICLES:
Catching Up in the Middle of Black Out
A Sacrifice from Parents' Lies