Sharing $50 and 10 NFTs for my 21st Birthday Celebration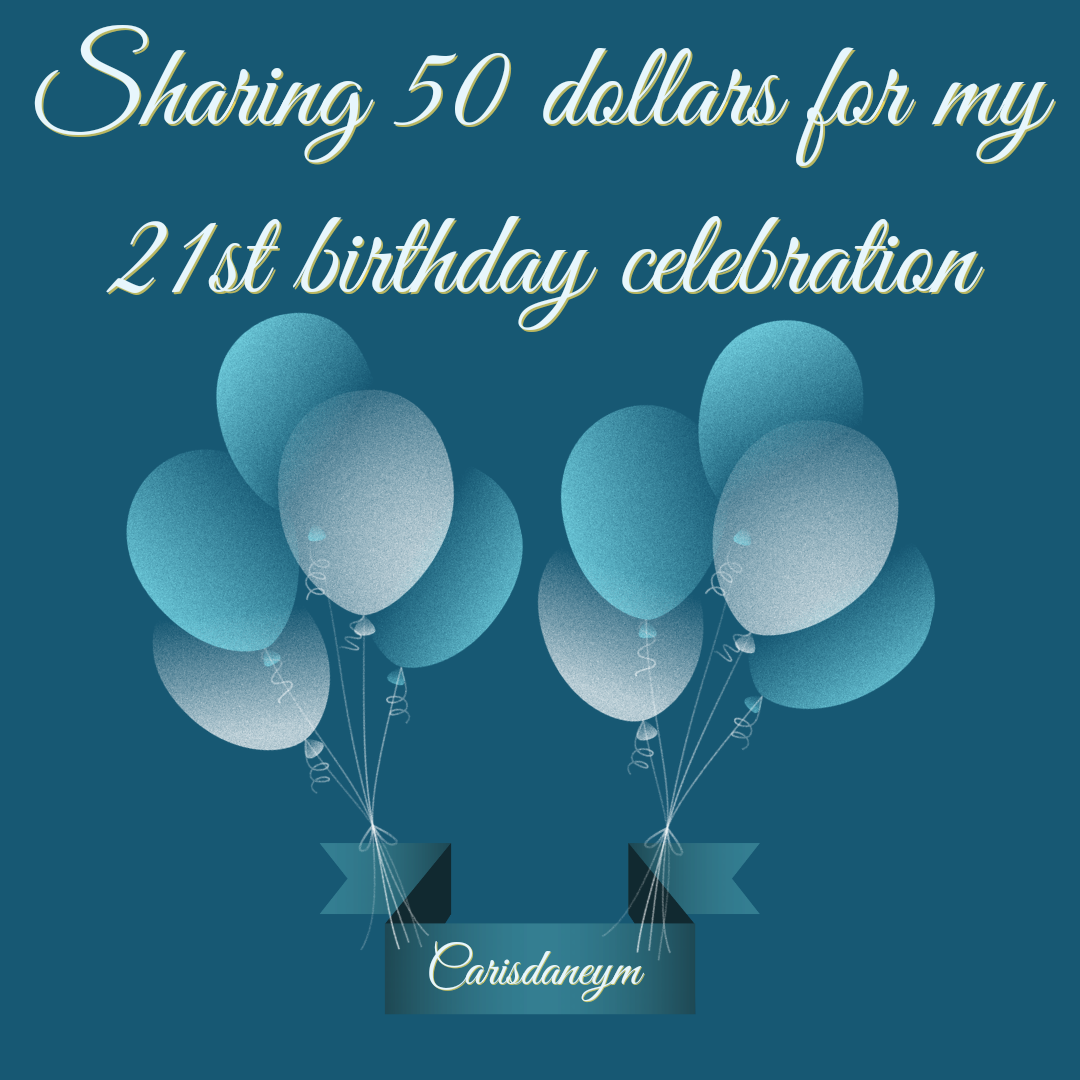 Being thankful for everything and I just can't help but to be thankful everyday and whenever I had a chance to look back on where I started. It's been a year!
Looking at my progress, I can't even say it in words but to be so proud of myself and thankful to achieve it with all of you the reason why I decided to make my birthday extra-special this year.
Yesterday, I turned 21 and since I was busy on my special day I was not able to celebrate it with all of my virtual friends here. Here's what happened on my birthday. https://read.cash/@carisdaneym2/a-day-to-cherish-a8146860
And yes, by reading the title of my article you already know what will be the main topic. I decided to share my blessing by doing a giveaway with a twist and I hope I can meet new writers again :)
The reason why I want to do this is to share what I have received and achieved because of BCH and its community. To be honest, I started my journey on crypto-verse here on read.cash just to blog and make it as my online journal while I can earn some cash for my internet bill. Fast forward, It was like bliss and I am here now. Before, I was the one who are so eager to join in every giveaway, airdrops and so active on writing like there is no tomorrow for me. But now, I am happy that I am the one who is hosting a giveaway for you guys! and it was just so amazing like a splendid journey indeed.
Top 1 will receive 10 dollars

Top 2 will receive 7 dollars

Top 3 will receive 5 dollars

Top 4-6 will receive $3 each

Top 7-10 will receive $2 each

Top 11-21 will receive $1 each
The prize is not that huge, but maybe if you don't have a topic to write about you may want to join as well and I would love it very much :)
For my giveaway, the main requirement is to write an article and must answer all the given questions below:
What do you see as your best character trait? (I wanna know you better)

What mistake did you learn the most from? (it inspires and motivates me a lot and I want you to remember that you're trying to be a better version of yourself. You're doing just fine💜)

What is the most important thing in a relationship? (because it's Feb-ibig month!)
you can do anything you like and be creative not just by answering the questions plainly. You can share your own experience or you can make something fictional, you may choose only 1 question or you may answer them all :D
Mechanics:
The article must be published with 4 minutes of reading time or even more than that.

Submit your article on our Google Classroom (kindly click the add or create then submit the link of your article on read.cash)

Tag at least 1 friend here :)
Criteria:
Originality - 50%

Creativity - 20%

Grammar, writing style, point of view and etc - 30%
Be a reflection of what you'd like to receive, if you want love, give love. If you want truth, be truthful. If you want respect, give respect.
I also want to share some of my NFT collections on SmartBCH 💜
5 CATTOS, 2 SMART WAIFU and 3 $RAT NFT.
Kindly join on our Noiseristificationism Google classroom and comment your smartBCH address💜💚🎉
This is just a simple celebration for my birthday and a thank you to everyone. Without your support, I am not here standing still to where I am right now.
Thank you so much sweeties, see you on my next blog!
Author's Note:
Article #113 (February 06, 2022) 💜
Thank you for sincerely reading my content and I really appreciate your visits, likes, upvotes, comments, and subscriptions so thank you so much. I hope this article helps you in a little way. Any violent reaction is open to the comment section.
Noise.cash | Twitter | Torum | Reddit | PublishOx | medium| Facebook| memo.cash | Telegram|
My Communities