October 3, 2021
I was standing in front of the west part of the house facing the sun setting down after a long day's journey. Even the sun feel tired as well, I guess, as it wanted to rest and go down below the horizon.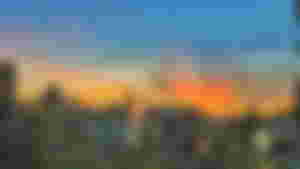 As it hides behind the skyscrapers, the autumn light casts silhouettes of tangerine and painted colors on the fading blue sky that glows beautifully before the dusk falls upon them. Just a moment later, the darkness starts to cover the sky and buildings start to light every room inside them. Autumn is here and seems like time flies so fast. There'll be longer nights and shorter days again, but every day is always productive and long for me.
There is always something about dawn or sunset that hooked me up. It somewhat reminds me that no matter how tiring and tough the day is, it always ends beautifully and colorfully. And the reason why I like watching the dawn is that it calms my debilitating mind and draining body. At least for a moment, it gives colors to my eyes and relieves my tired soul.
Remembering the setting sun made it come to sense that the sun is not resting, in contrast to what kids thought. Yes, that's what I thought when I was a kid. I thought that Mr. Sun takes his rest at night and it's Ms. Moon's schedule to carry out his work. I also wonder back then where the Sun rests at night. A curious small kid I was, and the scientific explanation about that phenomenon was still unclear and incomplete in my mind.
Is the sun even resting?
Of course, as we grow up we learn that it isn't, just like the world that keeps on revolving. Even though the sun dips below the horizon where we are standing, it will still appear on the other side of the world. And the world will continue to revolve around the sun, both are unstoppable. Even though the rain showers water in the world and makes it darker, the sun is still there, just hiding behind the thick dark clouds, and waiting for the rain to recede. The world never stops revolving, and as so as the creatures living inside and outside of it.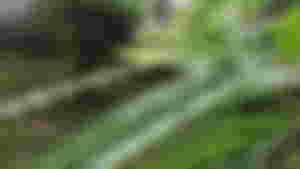 Thinking about the sun, the moon, and the world not resting made me think of myself as well. When do I/we rest in this world? A question of @HappyBoy that stuck in my mind. And contemplating about the answer, "I guess I can only have a full rest in this world once I cross the bridge of life towards the afterlife." Knock on wood, as I don't want it to happen yet because my purpose in this world is not fulfilled yet.
But before I reach my final ultimatum, I have to live my life to the fullest. Can I even do that? I hope I can. Despite the struggles in keeping my equilibrium of life balance, I have to deal with everything right before the sun dips below the horizon and be prepared for the next day.
This reminded me of @Olasquare question, How do you live? Am I even living it right or following the right path? Am I living the life I wanted and pursuing the right goals?
Back to the question, how do I live?
Every morning when I wake up, I would open the balcony door, face the east, and greet the rising sun, but sometimes it is hiding behind the thick clouds and hesitant to show up. My routine would follow, do this and that, stretch my muscles and flex my body just to carry things out at work.
It will continue until my break, but do I even take my break? When taking rest means grinding more. And just like @bmjc98, I am grinding more when resting as it is my only opportunity to write articles, make some noise, and interact with the BCH community. After the rest, my work would resume up to the end of the day.
I will again face the west and watch the sun setting down while giving colors to the sky. As dusk covers the world, it should be the resting time for us, but not for some, especially not for me. My work will continue until I hit the sack. Do this and that, write this and that, make some noise, etcetera.
When do I really rest? A question that I've been mulling over as I can't find the exact answer to it. Even my holiday is a working day for me. Grinding on my phone just to save more BCH. And I am certain that it's not only me who's making such hustle and bustle, but also you. Because even if we want to slack, our minds would wake us up and remind us that we are wasting the opportunity that might not happen again.
What makes a single lady do such hustling and bustling?
If I will count the reasons, they are more than my fingers in my hands. What can I do? I guess this is my real purpose in life, "to live so others could survive, my loved ones." Even though I don't really live the life I wanted, at least, I'm doing my duty in this world and impacting other people's lives. That is what matters most.
But I am certain that I am channeling the right path and doing the right thing. And I can say that I am still lucky compared to jobless, homeless, and sick individuals.
Some who stepped into motherhood have lost their freedom. The lives they have before aren't the same anymore because more responsibilities have been thrown on their shoulders and they should do their duties as mothers to their kids and loving wives to their husbands, and accept the changes in their lives. But just like what @Eybyoung said, she found her real purpose despite losing her freedom, and that is to become a good mother and wife.
Some are still dwelling on their past and it's hard for them to move on. Those dark pasts are still dimming their lives and happiness. However, allowing the dark memories of the past will only compromise our present that should be lived beautifully. But the same as what @Eunoia did, let bygones be bygones and end the dwelling on the past, beat things up and surround yourself with new beautiful things in life.
Each time I feel pain in my body, it's giving me pleasure in some sense. Due to performing my role in life, I am feeling those pain and it's satisfying. Although sometimes, I also feel like being left behind. The real FUD at its finest is taking over my system. Deactivating my other social media accounts was the best action I did to stay away from toxic FUDs. But then again, it's not over yet because it is inevitable, but just like what @Jeaneth said, "don't give up." Negativity is overwhelming but I have to shrug them off my mind and accept the life I have chosen and find my inner peace to continue my journey.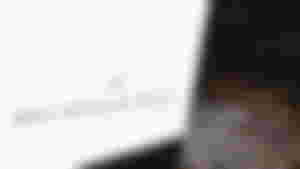 There are people out there who love me, and so I should love myself too. I may be living so others could survive, but that is my real purpose and so I have to accept the challenges that may come my way. Besides, at the end day, it's not how we suffer that counts. It's not how we leave behind that count. Like @FarmGirl said, it is how far we extend our hands to others who need it the most. To the people we love and even to strangers battling with their lives on the road. It is how we impacted other people's lives in our own little way.
And I can say that, when the time comes that I need to leave this world, I am certain that I impacted other people's lives through my simple words and actions and all my sleepless nights and stressful days will be all paid off. I will leave a legacy that will be remembered even if my body already turned into ashes under the ground. And I can proudly say that "I've done my do." And others should do their parts too.
So even if I'm tired, seeing my small achievements in the past and knowing that I am carrying out my duty in this world encourage me to stay up, with the help of this virtual BCH community. I may be tired physically, but I am still strong mentally and motivated with the fact that I have enough to live my life to the fullest while doing my duty.
And I know it's not only me who is strong, but also you. It sometimes takes challenges for us to know our real purpose in this world, our real role in life. It may be tough to carry out our duties, but then again, we should not give up. We should continue our journey and shrug off the negativity in life.
Live life to the fullest as the quote implies. It doesn't necessarily mean to be grand and luxurious, because even a simple thing could make us feel great. Even a simple smile could make our day complete. Even a simple rainbow could make our life colorful. It's just how we deal with life and how to live it to the fullest in the simplest way.
Sorry for the tag guys, I just feel like your articles are connected to my story for today. This is just my personal blog today but I guess this would fit the challenge of @McJulez to connect each title to make a story but I altered some titles though and I used different users' articles and not all are mine. But today, I want to challenge all the names mentioned above 😁. Happy writing 😁.
Thank you for reading and have a better October 😁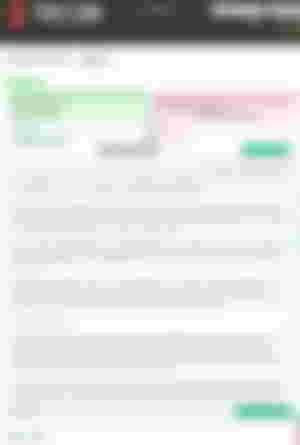 Time of writing: 5 pm 10/01/21