My Job Daily
Way back I always tell other people I don't have a job, I'm a full time mom and house wife to be but as I am turning 2 years in the crypto space.. I just realized, what I am frequently doing isn't just an extra income anymore but I am taking it seriously as my "job"as I am committed on doing all of it not just that, I love what I do.
Some people in real life keep asking me what is my job? I just replied;
"Online job, or work from home, or just extra income"
Because it's hard to explain what I am really doing online haha!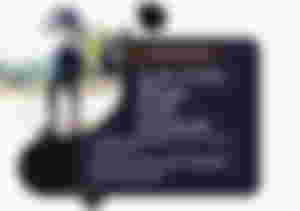 If some people who have their titles has their degree after mentioning their names, like.. Simon Wilson, Software Engineer, etc, etc especially if they studied masteral or doctorate or whatever.
Well, me as abnormal citizen who didn't manage to achieve title in real life.. I'll just stick on making one for myself lmao.
I call myself content creator when I wrote crypto related articles especially about other projects, as it's a way of promoting a certain community or project through my content.
Such as writing about BCH, UMA protocols, or joining writing competitions. Since I wrote those stuff diligently with research and according to some of my experience.
Usually content that can give educational purposes to newbies in crypto space such as guides or summary of a certain projects on a layman's terms.
I'm still the usual writer sometimes that I do blog different random topics, this is why I have diverse topics as I have lot of different interest as well.
Sometimes I blog about parenting, self improvement, personal problems that I go through since writing is one of my way to release heavy loads in my head.
There are even times I wrote inspirational stuff that I read as way of sharing what I've learned from the inspirational quotes that I've read.
Since I indulge myself in playing play to earn games, such as Axie Infinity and Pegaxy.. I proclaim myself as a "gamer" since playing Axie Infinity is a strategic game and winnings in Arena battles depend on players strategy, so I felt like I'm a gamer.
Gamer sounds cool in my end, like despite I'm a busy mom.. I still manage to play strategic games. Although, it's a pity I abandoned my Splinterlands long ago as I cannot spend more time on it.
So, I think gaming runs on my bloodstream as well.
One of my greatest ambition as of now is to be a good trader, but due to time lacking.. I didn't manage to do trading better.
My Bityard, KuCoin, Binance and SmartBCH has funds for trading different coins but sadly I didn't manage to master it.
If you wonder why I used different platforms it's because I got some funds on Bityard from making content and I didn't withdraw it to other exchanges. I used KuCoin for bot trading while in Binance it's more on P2P transactions only for cashing out since I decided to halt my future trading journey.
While SmartBCH DEX trading has bigger funds but due to I didn't manage it well all my tokens are usually in negative. So I just stop and hold the tokens hoping it'll bounce back.
Due to all the reasons I stated, I still fall on the loop of a "noob trader" as I didn't manage to trade better, main reason is that I can't give up writing. I love writing, I spend more time on writing after I grind all my P2E games.
There's a saying "You can't serve two masters at the same time" same goes with what we are trying to pursue we can't perfectly achieve what we aim if we don't focus on it, it should always be one master at a time.
Maybe, I'll just manage to learn trading when my daughter grow up since I'll have more spare time to do so..
---
If you noticed, some of my links articles below on has different category such as recent personal blog, recent crypto related topics, and fiction stories.. because that's my genre in writing, diversity at it's finest XD.
Btw, I'll use the image above as my new footer image.. after this one, already used it on my "6 Pegasus In My Stables" article. Just wanted to share hahaha! Kbye.

Recent personal blog:
Opportunity Seeker Vs. Getting Rich Quick Scheme
How much does it cost to achieve peace?
Struggles Of Cesarean Section (CS) Mom's
Working Smart Vs. Working Hard
How Did You Come Up With Your Username?
My Child(ren) Is Not My Investment
New Start Doing Small Business
It Started From $0.01 - Before I've Got $1000
What If I Didn't Know Crypto World?
---
Find me at:
•readcash •noisecash •Publish0x •Hive •Twitter •Telegram •Discord •email
Date Published: March 28, 2022