I always believe I'm always productive everyday since I'm hustling nonstop, playing play to earn game, making content at noise.cash, reading and writing articles at read.cash..but I am more feeling productive if I can do more things in real life as well.
Today, March 24.. Thursday I felt so productive because I was able to mix crypto and real life hustles..let me tell you how my day went so productive.
We woke up with my daughter at 7:30AM, since my mother already cooked our breakfast.. well she usually do it, I just have to eat and feed my daughter. While feeding her I'm racing my Pegaxy, 3 rent horses from Chad and AxieBCH guild. Each Pega's has 14 energy, I've done racing it almost 10:AM..after draining my rented Pega's I proceed on grinding my Axie Infinity, I just burnt 10 energy in Arena then decided to stop as we planned to gather some firewood in the forest again.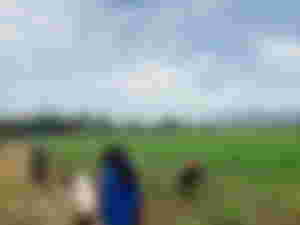 This is the only photo I captured while we were heading to the forest to gather some firewoods. My daughter friends tagged along with us too, and lil girl as well.
**Personal blog**

I've done racing Pegaxy and drain 10 energy in Axie Infinity.. I stop and we will went to forest again to gather firewoods.

I always like to tag along because it's like taking a break from screen and breathe fresh air. While we we're on the road I see people working in the field of sugar cane..

I used to work the same like them before. My daughter tag along wearing yellow jacket haha

Source: noise.cash post
That post explain the photo I captured.
We went back to our home exactly quarter to 12 noon, when we reach home after resting a bit I gave my daughter food for her lunch. I let her feed herself while just watching her because she does not it well if she's not being supervised. While supervising her I am writing article draft entitled "5 Pegasus In My Stables" I finished the article quickly.
After my daughter eat almost 12:30PM I opted to continue writing, since I was done with my first draft.. I wrote another one entitled "I'm Still A Scholar" I was hungry already in the middle of writing so I grabbed my lunch too..I just finish it quickly, so after I finish my lunch I already finished two article draft at 1:00PM.
At 1:30 PM I let my daughter had her afternoon nap, while supervising her to sleep, I continue grinding the remaining 10 energy of my Axie Infinity.. I finished grinding it 2PM onwards and my daughter fell asleep too, so I took a nap as well.
We woke up at 4:00PM, I took a bite of banana cake that my mom bought while I give my daughter her milk..
I decided to race my Pegaxy again, each horses has 7 energies..so I drained it as fast as I could while I teach my daughter again to write her name. Since we came back to our province she didn't practice writing again and she already forgot it, I'm having hard time to teach her again.
Just look at the photo the second line was her penmanship, while mine is on top for her to copy. I just let her write one line, after she wrote.. I let her go outside to play with her friends. I'm alternating on teaching her to write her name and letters again.
After draining all the Pega energy, I wash the dishes while mom was cooking our meal for dinner. Then I decided to wash our laundry (me& daughter) only.. I finished at 6:30PM including taking a bath.
Then I had dinner, while the kid already had her dinner given by her granny..I just bathe her then fix our bed. While doing that I publish my article here at read.cash and do read some articles and leave comments.
After that I am finally relaxed and opted to watch movies for me to relax after a hectic day, but I felt so productive then an idea came again which is to write how productive my Thursday was haha! I halted to watch movie just to write this..
Now that I came to this point, I'll continue watching now.. maybe this is enough, if you wonder why I worked so hard today it's because I'll have an off tomorrow, we'll visit my cousin's place with my old friend to have bonding.
So that's all, it's seldom to be productive both crypto and real life so it's very fulfilling on my side..you know haha!
That's how a good daughter, a gamer, hustler and a mom rolls in Thursday. I think I'm a good daughter, despite I'm hustling nonstop to earn I still make sure I help sharing labor at home.
Shing! Done writing in 30 minutes, so I able to write 3 drafts for today. Kbye, time for a movie marathon, then I'll sleep at 10:30 PM.

Recent personal blog:
Opportunity Seeker Vs. Getting Rich Quick Scheme
How much does it cost to achieve peace?
Struggles Of Cesarean Section (CS) Mom's
Working Smart Vs. Working Hard
How Did You Come Up With Your Username?
My Child(ren) Is Not My Investment
New Start Doing Small Business
It Started From $0.01 - Before I've Got $1000
What If I Didn't Know Crypto World?
---
Find me at:
•readcash •noisecash •Publish0x •Hive •Twitter •Telegram •Discord •email
Date Published: March 25, 2022