Opportunity Seeker Vs. Getting Rich Quick Scheme
As I indulge myself in crypto I've been grabbing opportunities here and there as long as I can manage to make it work or I can commit my time on it since I'm always a busy bee, being a full time mom is always preoccupied much more that I am an "opportunist" in a good way though, not the bad side of it.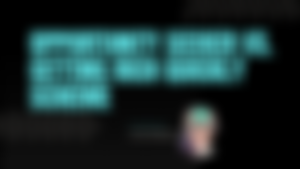 As I socialize from different communities I've seen other users interest towards certain opportunity. I've seen how much they are interested to the project or service based on their interest and that shows what they are up to.
There are users who are opportunity seekers like me, these people are interested to get involved in certain projects, likes to be part of the community for learning and growth purposes and earnings are just secondary on their perspective.
It's normal that it's always lucrative to be part of a community or to grab an opportunity that will compensate you with good digits but some users likes me who aims for more learnings and growth always grab opportunity even if it doesn't give much earnings as long as I can learn from it.
These people usually looks for quick profits and always question how much other users earn or how quick they have gain. They don't take seriously getting involved in the community or the project, they don't care how the project progress or it's roadmap, they're always looking how many digits are they going to earn.
It's funny sometimes because they keep asking how much and how quick when everything in crypto investment gains always varies due to capital differences.
There's this guy who dm me in discord how to get in Chad's P3 Racing Guild, I sent him the link for an invitation and he quickly joined..
Then he asked me how many percentage are the profit sharing and I said "10%" and he never replied to me anymore and didn't even say "hi" to the guild upon knowing the percentage sharing.
It's obvious he's only up to profit, as he is part of AxieBCH Guild that shares 50% on Pegaxy.
He didn't even bother to read the server's rules, and didn't know that the guild will increase it's percentage sharing up to 20% depending on how you contribute in the community as well as the guild will give 2 Pega's so it'll be 40% in total.. still lesser than AxieBCH guild shares but to add on his rent stables it's already very good since it's hard to rent on market place.
***
Some people does not appreciate little things, they always likes to get bigger things or income right away which is very wrong mindset in my opinion. All things start from little things before it gets bigger.
People who appreciates little gains always prosper than those who are greedy in the beginning. Just like how Chinese prosper on their businesses because they'll just add little amount on the price, as their mantra goes like this "it doesn't matter if it's small as long as it flows continuesly" which means they're selling their products on cheaper price so the flow of customers are continues rather than having big profit but happens rarely.
Small things will get bigger as long as it keeps coming. Just like opportunity, you'll never know your portfolio are growing if all of those small sats keeps coming on your wallet, than risking big time just to get bigger profits.
That's why I always appreciate small earnings as I believe it'll get bigger sooner as long as I don't stop. Just like here in read.cash I started from penny but my portfolio was built from the sats I've collected in here.
I'm always hungry for learnings and experience so I am grabbing opportunity without looking at the percentage or earning digit.. because the knowledge and wisdom that you'll get from engaging various projects or community is power, and earnings will flow accordingly.
Well we can't compare, since we all have different preference as well.. but it's just that people who can't appreciate little things can't get satisfaction easily since they are always up to bigger things rather than starting from scratch.

Recent personal blog:
How much does it cost to achieve peace?
Struggles Of Cesarean Section (CS) Mom's
Working Smart Vs. Working Hard
How Did You Come Up With Your Username?
My Child(ren) Is Not My Investment
New Start Doing Small Business
It Started From $0.01 - Before I've Got $1000
What If I Didn't Know Crypto World?
---
Find me at:
•readcash •noisecash •Publish0x •Hive •Twitter •Telegram •Discord •email
Date Published: March 18, 2022