Failure and Success in Dating Apps
I wrote this in 2019 sharing with you my failure and success in using Dating Apps.
Well, I met someone in the place I am currently living in. I showed him around and it was his last two days on my island. While he already left for another island, he kept on sending me messages and asking me if I was interested in visiting other islands with him. I was hesitant. He was even interested to see me again maybe in another country I'd never been to.
I followed him on a Visayas backpacking trip although I've been to those islands already which he had to visit for the first time. We also did scuba diving in Leyte, Bohol, and Cebu while visiting Siquijor and Dumaguete in between.
It's actually a long story but to make things short, after a month of the backpacking trip, he invited me to go to Myanmar. So I booked a one-way ticket and see what was going to happen between us.
Although I've seen so many red flags, in the middle of the journey, we split. We separated. He hurt me. Too much drama. I traveled solo in Hpa-an, Mawlamyine, and back to Yangon.
After Myanmar, I flew to Bangkok and stayed there for two weeks. Went to Phuket for only four days with a friend I met in the hostel as we were excited to see the beach.
Since it was just a short trip for us, why not use a dating app? So I met this guy and he was fine. We started exchanging messages on a messaging app. Later on, I found out his nationality, the same as the previous guy. I said to myself and to my friend, please never again.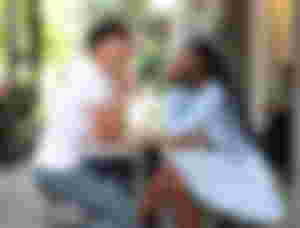 We managed to meet and I introduced him to my friends at a disco club in Patong. We just enjoyed the night dancing until morning. Later, he needed to leave as he was already sleepy, which was fine.
While my friend and I went on some island tours, he invited me again to visit some around Phuket.  He told me that he planned on a getaway to Phiphi island for three days. I told him I had to leave Phuket, it was nice meeting him and I go back to Bangkok.
The day of the James Bond island tour with my friend was also the day of his journey to Phiphi island which I believed we would never see each other again. My phone had no internet data and the next day was a flight to Bangkok.
Arrived outside of the hostel very exhausted while my friend and I were talking. I was shocked when he just appeared in front of me and said, "Surprise!"
Couldn't help but we hugged each other tightly as that would be my last night in Phuket.
He told me why he had returned from Phiphi and he sent several messages all day but I was unresponsive. He waited for me, he asked the receptionist if I was still around in the hostel or already checked out.
Sorry, this is quite a long story but…
He proposed to me if I could stay longer in Phuket and have a getaway together on Phiphi island. Telling me it would be his advance birthday gift to me before I turn 30. I was hesitant because everything was set to go back to Bangkok for volunteer work in a hostel. He convinced me to make amendments to my plan as he wants me to get to know him better. My four days in Phuket got extended to 11 days.
Originally published at: https://www.itravelrox.com/2019/02/07/ultimate-reason-delete-all-dating-apps-while-traveling/
That's it for today's article. Check out my previous articles:
I Deleted All my Dating Apps when I turned 30
How To Use Dating Apps While Traveling?
Are you a Digital Creator on Facebook?
A Sunday Off Away from my Laptop
A Japanese Guy asked me for a Date
I am a traveler by heart: questions to answer
Funny Tinder Matches in a Hostel
How I got my first Japan tourist visa with a PH passport?
3 Dating Apps I Used While Traveling
My Deer Feeding Experience in Nara, Japan
I met Draco Malfoy in Tokyo, Japan for real!
Happy 4th Meetup Anniversary in Phuket, Thailand!
Why Cebu Tops is temporarily closed?
A Stranger Paid for my Surgery