A Japanese Guy asked me for a Date
Sharing with you my Yokohama Day trip and this is what happens when you travel solo. You will meet a lot of people in the hostels, in the club, or maybe in the bar. Who knows, just a seatmate inside the airplane?
When you meet another solo traveler, you will decide if you want to travel together. If you meet a local in that place, he or she will offer to show you around some places you've never been.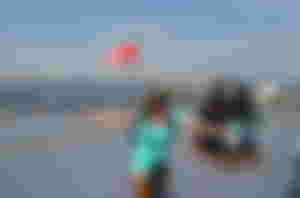 If you remember from my previous blog post about first my solo trip to Japan, it was a mix of disaster, fun, and adventure.
Related Article: My First Solo Trip to Japan – A Mix of Disaster, Fun, and Adventure
I met this Japanese guy (his name is Hide), inside the club and he decided to ask for my Facebook. As of the moment, I am not sure if we are still friends on Facebook because I seldom see his updates. Anyway, this story happened two years ago already back in May 2015.
I am reminiscing about this funny moment as part of my journey as a solo traveler.
He asked me nicely on Messenger although his original plan was to bring me to Shibuya to go shopping. I declined the idea of shopping because I didn't want to buy stuff.
I suggested that he would show me around Yokohama. Yokohama was not on my itinerary but being a spontaneous traveler, I would love to experience it.
Hide and I met at Shinjuku station. Please take note that Shinjuku is the craziest as it is the busiest subway in the world.
I got lost, and we lost each other for a while due to the fact that I never had wifi connection in Tokyo. Thanks to 7-11 stores for the free wifi. At last, we made it and we met at a specific exit.
Getting to Yokohama depends on which the nearest station where you are from. From Tokyo, there are 6 different trains for you to reach Yokohama without train transfers.
From Shinjuku, Shibuya, Ikebukuro you can take the Shonan-Shinjuku Line. The only route which you can reach Yokohama without the need for train transfer.

The famous Shibuya as we all hear from anime can hop on to Tokyu Toyoko Line. This line is convenient as you will get to the main tourist attractions of Yokohama.

You can take the Keihin-Tohoku Line from Tokyo station, Ueno, and Shinagawa.

Board to Tokaido Main Line from Tokyo station, Shinagawa, and Ueno.

From Shinagawa station, you can also take Keikyu Line.

From Narita Airport, you can go straight to Yokohama using the JR Yokosuka Line.
Source: https://matcha-jp.com/en/1950
What a lovely sight of the Nipponmaru as it was beautifully built. We got inside the Nippon Maru for free as it was the Yokohama Port Festival.
Luckily that it was Yokohama Port Festival and getting inside the museum was free for three days.
There are a lot of things to do in Minato Mirai. It is better to get around if you can lend a bike.
When I saw Hikawa Maru, it reminds me of the movie Titanic.
When I was here at Yamashita Park, I felt envious of the kids because they were having fun with the waters. It was really hot at that time. It was the month of May, Spring just finished so it was approaching summer.
In Chinatown, we went to the fortune teller but I forgot already what the fortune teller told me. It was in Nihongo or Japanese so I could not understand anything.
There are some places I haven't visited yet and other photos I haven't uploaded on Instagram and Flickr. It was a tiring day because we met early in the morning.
I went back to my hostel in Tokyo at eight in the evening and suddenly, a Dutch guy asked me with an annoyed voice, "What were you doing in Yokohama?"
I just answered, "I went on a date!"
The Dutch guy sent a Facebook message that morning but I was in Yokohama already as he was expecting me to arrive from Osaka to Tokyo. But the moment I arrived at my hostel at 7 AM, I just had a quick shower, left my backpack, and went to Yokohama. Ah, anyway that's another story. The spontaneous Yokohama Day Tour ended well.
Do you have any funny and crazy stories while traveling to Japan? Share your experiences below. Hope you get some ideas for making that Yokohama Day Trip.
Don't forget to follow my Japan Travel Series!
Originally published at: https://www.itravelrox.com/2017/09/14/unexpected-yokohama-day-tour-japan/
That's it for today's article. Check out my previous articles:
Funny Tinder Matches in a Hostel
How I got my first Japan tourist visa with a PH passport?
3 Dating Apps I Used While Traveling
My Deer Feeding Experience in Nara, Japan
I met Draco Malfoy in Tokyo, Japan for real!
Happy 4th Meetup Anniversary in Phuket, Thailand!
Why Cebu Tops is temporarily closed?
A Stranger Paid for my Surgery