A Stranger Paid for my Surgery
This is the beginning of my AFAM search on dating apps and I found this guy on OkCupid.
A stranger paid for my surgery. Someone I never met in person and had no chance of ever meeting him. We started chatting online before my trip to Boracay in May 2014. It was just a simple hi, hello, how are you until we talked on Skype almost every night. He lives on the other side of the world, six hours behind Philippines time. We talked as if we'd known each other for a long time. He is from Romania but works in Denmark.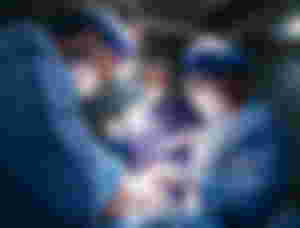 I was working Canadian time, the night shift from 10 PM until 6 AM. He was a friend whom I can talk to about random things for several hours. Because of his presence online with a video call, I was able to survive working on a night shift just talking like he was a colleague at work. Although I also had video calls with the team from Canada, the US, the UK, and Romania. I was the only Filipino on that team and it was awkward for me since I wasn't a conversationalist.
Most of the time, we talked about traveling, our own countries, about his next trips, and mine. You know, just updating each other's lives. Also, we talked about our time differences, the weather, religious beliefs, and his personality from childhood, marriage, and divorce. He mentioned his inventions and Math equations because he was a successful engineer at the young age of 28 at that time. Actually, the conversation all started with the love of photography as we both have the same brand of camera and shared ideas about technical stuff with cameras and lenses.
Related Article: 3 Days and 2 Nights in Camiguin – Budget, and Itinerary
After almost four months of chatting, we got comfortable with each other like friends. That was when I told him about my health. I went to the doctor for a check-up and the doctor suggested I should set a schedule for my biopsy. I asked him if I should skip the biopsy to pursue my Hong Kong trip or use my travel fund and not pursue Hong Kong at all.
He knew how much I prepared for my Hong Kong trip until he offered help to cover the expenses of the biopsy. Shocked in disbelief I asked if he was serious. I told him I would pay him back if I have the money because I need to work hard and save money for it, but he said no. He wasn't asking for anything in return which touched my heart. He wanted me to be stress-free and not think about money. I told my mom about him and his offer. Mom knew what happened and was relieved about the help. My mom was able to say hi to him during one of our random video calls.
Related Article: My 4 Days 3 Nights Hong Kong – Macau Trip Last October 2014
Later on, he revealed that he liked someone else. Of course, I was hurt. He was hesitant at first but I encouraged him to pursue her, get married, and have kids. After a few months, after our last conversation, he told me he needed to cut off our communication as requested by his girlfriend. I respect his decision and wished all the best for everything. To make the story short, he is now happily married with a kid.
Everyone deserves happiness and he has found one. Luckily they found each other. I, on the other hand, said it wasn't the best time for me to be in a relationship. To be honest, I was heartbroken at that time together with the pain I was feeling after my surgery. While suffering the pain, I told myself to travel a lot in the future. I wasn't bitter, but I was thankful I've met someone online who is unbelievably kind. Sometimes I asked myself what I'd done to get such help instantly.
Related Article: How a Painful and Traumatic Health Threat Forced Me to Travel More
He quickly sent the money that I was able to schedule a biopsy for the next day. The experience was traumatic. It took like 2-3 hours for the surgery. But I don't want to elaborate on what happened. I was thankful I got immediate help.
I have to see the good things about what happened because I received kindness. I believe in karma. Since I cannot thank him enough, I just have to pay it forward with kindness to other people. In order not to be bothered being heartbroken, I just needed to move on and get focused on something else. Unexpectedly, I got an invitation for a free one-way ticket to Palawan.
Originally published at: https://www.itravelrox.com/2016/05/16/a-stranger-paid-for-my-surgery-to-pursue-my-love-of-travel-to-hong-kong/