The Past Days Mema
Hello there, read.cash!
Since April Fools (I haven't pranked nor fooled), it has been hectic for me and I planned on spending my ends of the week as lazy days which turned out the opposite. Saturday was a serious annoyance. We had power interruption for more than 6 hours and I was sweating like crazy like a grumpy lion. A grumpy sweaty momma lion.
Another thing, I was unable to cook since I only use electric stove in the house. I'm terrified of using gas stoves. I'm scared of fire. Fortunately, I had a few charcoals available and needed to use my old-school clay stove to prepare for our lunch. I chose to cook chicken since that was the only meat left in the refrigerator before I could defrost. The meat was not much so I chose to simply cook monggo beans (mung beans). I likewise had one piece of ampalaya (bitter gourd) left and thought I'll simply add that to the dish. It's also my daughter's favorite vegetable so it's going to be all okay.

To all my non-Filipino friends, this is how I cooked the monggo beans (mung beans or green beans).
My ingredients:
Monggo beans, chicken meat left in the ref, sliced tomatoes, chopped garlic, sliced onions, sliced ginger, cooling oil, salt, seasoning, cups of water, and a sliced whole piece of medium ampalaya (bitter gourd).
This is how I cooked my monggo dish using my old-school clay stove
I first boiled the monggo beans in a pot until it softened (set aside)

Then heated the cooking oil in a frying pan

Then I sauted the garlic, onion, and tomatoes

I added the chicken meat I had in the ref and cooked until it turned light brown

I mixed the them all in the pot of boiled monggo beans

I let it boiled for about 3 minutes

I added salt and seasoning, covered it until the beans becomes a little more tender.

I put the ampalaya and cooked for 2 more minutes

Tadaaaaaaa! Lunch time!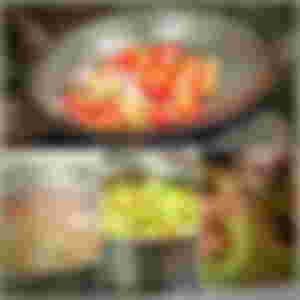 By the way, I didn't use a chopping board slicing the herbs and ampalaya this is why it doesn't look pleasant lol. Also, in the Philippines, cooking monggo should be a little dry, but my daughter wanted more soup so, that was it. She had 2 and a half cups of rice. I am guessing it was good lol.
While we were having our lunch, our 2 stray cats were arguing who gets the chicken bones later. Hmmmmm.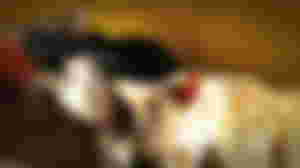 Yesterday, Sunday (earlier), I had terrible headaches and took everything light and easy. Although I still did some gardening and stuff (stubborn huh?), module tutoring and a little bit of cleaning, I spent the rest of the weekend watching tv and taking naps in between. My head stars to hurt again including my back ughhhh!
It's now Monday here (over and hour past midnight) and I need to be up again early in a few hours. Sooo, that ends my random ramblings (mema) for today. I hope you guys had a wonderful weekend and ready to rock and roll for the new week. I'll leave you here for now and talk to you later. Goodnight, beautiful souls!
May the fourth be with you!

One love,
You can also find me here:
noise. cash   - Hive  -  Blurt   -  Appics - DTube - 3Speaks
#Bloghound #Bloghoundism and I am a member of #ClubBrokeBch
April 4, 2022
1:20 am PST
In between the farm and the beach
Philippines
(All photos posted are my own and taken by me and unless stated otherwise)