"Finally, Our Lights are On!"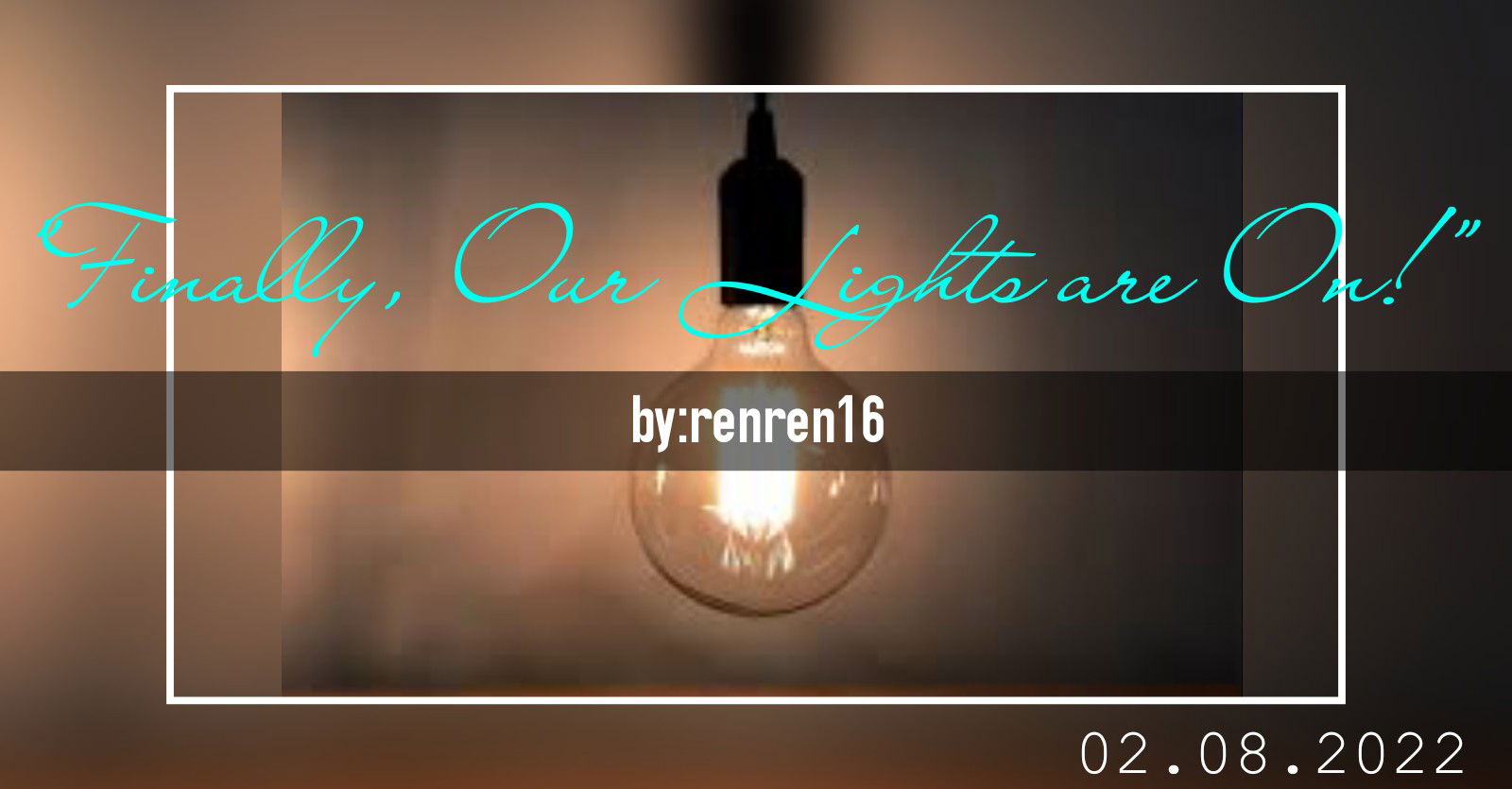 |#188- |8th Article of the Month
|02.08.2022 @11:50PM|
Lead Image: https://www.housebeautiful.com/uk/lifestyle/a22684252/cost-leaving-lights-on/ edited using Pixlab App by yours truly.
The second time I had experienced a Super Typhoon was last December 16, 2021. Unlike the typhoon Yolanda, the last Super Typhoon "Odette", I think was considered to be the greatest disaster among Filipinos, especially from Visayas and Mindanao areas. Lots of houses has been destroyed. Sources of income has greatly affected. Scarcity of food and water and a total brownout has been experienced.
Despite all of that, lots of generous people spent their time and effort to help those who are greatly affected by the typhoon, including us. We received reliefs goods from LGU (Local Government Unit), different NGO's (Non-Government Officals), DSWD (Department of Social Welfare and Development. We also received 1k Cash Assistance initiated by our Municipality, and two pieces of roof. Their are also those who donated some cash and goods for our Barangay. And some who has generators, allowed us to use it for free so that we can charge our mobile phones, emergency lights, and chargeable flashlights. The main source of our light was our kerosene or oil lamps and candles. For almost two months, we managed to live without the kind of lightings that we were used to have before we were hit by the ST Odette.
With the collaboration of BENECO (Benguet Electric Cooperative, Inc.) and LEYECO (Leyte Electric Cooperative, Inc.) all people that belongs to the Division of Leyte, has given high hopes to them to be able to give us back the lightings we used to have before ST Odette destroyed it. Rain or shine, all the line mans and other electricians helped together to replace the posts that has been fallen on the ground, they re-assemble the wires, replaced all things that needs to have a new one. They spent almost a month day just to fixed the wirings and all the posts. Here in our barrio, BENECO was the one who fixed the posts and wires. And guess what? One of the line mans who became viral in social media also helped in the fixing processes. But I didn't take a picture with him. What I have in mind is that, they should finished it as fast as they can, so that we can have our lights back. ("Atat yarn? Ang akala siguro eh, madali lang yung pag-aayos.Haha.XD")
They had spent three days connecting the disjointed wires and tapping it in the posts. The Barangay officials also helped in getting the wires from the ground. They also prepared the meals for the BENECO staffs. Of course, everyone should give a helping to finish it already. Around 5:30 pm yesterday, my papa came home from his work and asked my mama why she didn't switch on the lights. My mother and I thought that its just a prank. Lol. XD. My papa turned on the circuit breaker and then..."Let there be Light!" :))
My papa and mama turned on the lights' switches; their room, my room, in the kitchen, and in our living room to see if the bulbs are still working, especially in my room. The ceiling leaked during the typhoon and the leaked flown in the bulb. My papa also re-assembled the wires for our speakers and tried it out if its still working.
Finally, our Lights are On! Three days from now is our Barangay Fiesta Celebration. And the Barangay officials planned to have a Thanksgiving for the BENECO staffs.
That's it for this article my read.cash fam! Thank you for reading...(◍•ᴗ•◍)✧*。
________________________
I want to extend my deepest gratitude towards the people that keep supporting my works in here. To my avid readers, likers, subscribers, and upvoters. As well as my sponsors; (old, new, and renewed ones), I thanked you all. Thank you for making my read.cash journey fruitful. And, thank you for our virtual friendship. May the Lord God bless us more fruitful days, months, and years to come!
Special thanks to sir @ErdoV for being my newest sponsor.😘

xoxo(◍•ᴗ•◍)
________________________
Enjoyed this article?
Earn Bitcoin Cash by sharing it!
Explain
...and you will also help the author collect more tips.