Love Month: This or That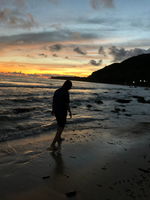 The of February is the fastest month for me because it only have 28 to 29 days. I've been busy in my internship because our work started from 9 am up to 6 pm and I am also traveling everyday.
Anyways, for this article I would like share my answer on "This or That" content of @Coolmidwestguy. I saved his article two days ago and I will just try it now haha. Just sharing, I haven't been in a relationship since birth but I do know what love is lol.
I want to received it both but I prefer practicality haha, so I will choose chocolates lol. I am not into sweets but with a few exceptions haha. There are chocolates that I like which are not too sweet for me, like cadburry, toblerone, kitkat hehe and they are even better they cold.
I will go pink, I don't know, I like a lighter color and it seems pure and bright lol. For me, pink symolizes a clear intention and innocent love.
I will choose stay at home, and just have a simple dinner. It is a plus points to me if my man knows how to cook or will be the who will prepare our meal. I don't know, it just ao cute that he serves you like a queen and as they say "to win a man's heart is through his stomach" or vice versa lol.
#150
:Tuesday
:February 7, 2023
:Re-joyce