High School Check Edition part 3
Date: April 20, 2022
Author: JustMaryel
Does everyone feel how hot the weather is? Co'z here in us it feels like h€ll no matter that I just take a bath it really does the hot weather like sweats are dripping down, no joke. Anyway, as I stared, my mind flew into my highschool experiences that I am happy to share with you.
---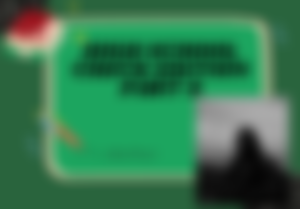 Δ Had a serious injury at school
Yes I did but I never take it so serious because I am afraid on Mama's and probabaly she will never allow to play again. I've said previously that I am softball player where I fell in love with the bat, gloves and ball and my most desire position is the catcher though it's quite dangerous for some instance the batter will just throw the bat. Year after I joined the softball team our coach decided to trained me as a catcher where I was hit in ball in my eyes and many parts of my faces that always makes me teary eye at the point make me wants to quit. The worst was hitted at my chest that really leave bruises and never dare to tell Mama.
Δ Enjoyed studying
I have but also I never ever enjoyed studying. I only felt the joy in studying when I was at grade 8 level where my classmates had the vibes and helped each other. Those years where I truly express myself  without being afraid of being judged. We are all united in aiming to pass and of course united in sassy things. Most especially that school year makes me experience the things I wanted to experience without hesitation. I never did because of family expectations where I always feel the pressure and never let them see that I am discouraged.
Δ Stuck a funny note on someone's back
I never did but I experienced this one at grade 8 level. I do have boys classmate that who loves to play around and sticking a funny note is not a big because there is much more than this such as putting stones or rub inside the bag, tying shoe laces to other shoes and hiding somethings. Luckily, I just experienced the sticking the note.
Δ Impress someone who dislike me
I never impress someone who dislikes me, if he/she dislikes me then so be it. However, if someone whom I help a lot but when I ask for small help to him/her and it didn't help, gosh surely I will do my very best to impress slash revenge. I experienced this countless times.
Δ Acted cool to get attention
I never did as I don't want attention from anybody. I will never seek any attention because I enjoy my own pace.
Δ Stolen someone's lunch
I never did and never will. When I was at highschool I chose to go home during lunch because Papa needed my assistance to help him out because at that time he was already diagnosed with cancer. Also my parents taught us to never steal anything from anybody because the moment they know they will punish us.
Δ Hit someone hard
I never did though while I laughed may kasama talaga hampas hahaha. As much as possible I distance myself in physical involvement because I know I might hit back if someone does.
Δ Played Prank
I did but I will not spill the beans of what it is. At first it was a prank but later on as the emotions boiled up between us I decided not to tell that it was a prank and good thing we are okay now. Of course, until now no one knows it was s pranked hahaha.
Thanks a lot my dearest sponsors😘❣️
---
Recent Articles:
Never Have I Ever Series:
Previous Articles: