Shawarma Rice and Colorful Nachos at Jagna Food Park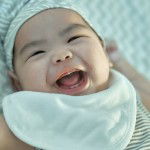 Howdy, everyone! I would like to share with you this new food venue in Jagna, Bohol. We visited this a few weeks ago when we were still in Bohol.
Previous article: Dream with Solenn, Nico, Anne, and Erwan
Food parks are gaining popularity in Bohol. Back when my husband and I were still living in Cebu City, we usually visit Sugbo Mercado, a food park within IT Park, the BPO hub in the city. This I believe became a model to other towns and cities surrounding the island and so in the midst of the pandemic, the simplicity of food parks started popping out on the island of Bohol, and not too long ago, the neighboring town of Jagna had opened up its own food park too.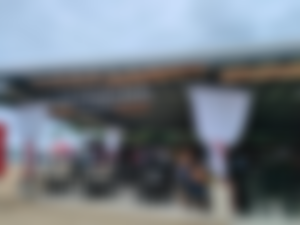 Late 2021 when it was established, its grand opening was in February 2022 so this is still very young. My husband and I had planned on going here this weekend but we decided to visit it when we went grocery shopping on Wednesday morning. We came for lunch.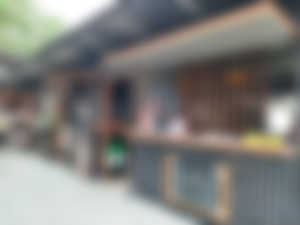 Stalls offering 99 meals.
Food parks usually have this kind of setup - a roofed area where the tables and plastic chairs are placed and where the visitors and diners can eat. Then it will be surrounded by food stalls, these stalls offer different options in food, drinks, and desserts.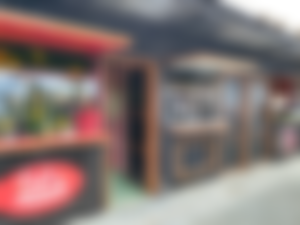 Sol's offers Filipino dessert called halo-halo.
The cemented part was the covered area while the ground was filled with small rocks and pebbles, evenly covering the entire ground.
Every food stall has its own unique design and food offerings. Upon getting inside, we found those which offer unlimited Korean food, there were also those which are into the Mediterranean styles, Filipino cuisine of course, and desserts, so far, we only spotted Sol's halo halo opened but there was also a milk tea station but was still closed during our visit.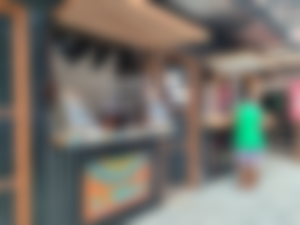 We got our shawarma rice here at Dominga's.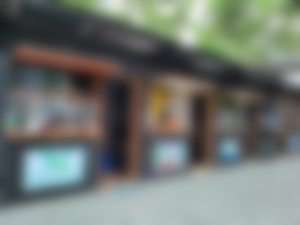 Filipino food offerings here.
Since it was still 11 AM when we arrived, there were only a few tables occupied. We roamed around, checked every single opened stall, and ran through their food options. Jagna by the way is well known for its Calamay, a sweet Filipino delicacy inside a coconut shell. If you want to know more about that, try googling!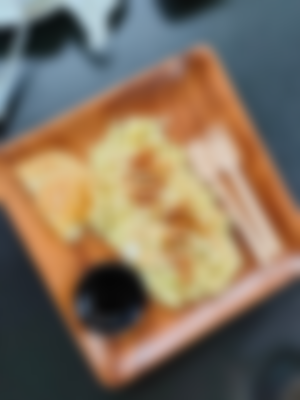 Priced at Php 110
I went for Dominga's Shawarma and Rice and I ordered Shawarma Rice with Egg, which has beef meat in it. I got it for Php 110. The plate looks exactly as how it was on their menu so I wasn't complaining about the small number of meat toppings but I appreciate that they used a wood utensil and plate. This is good for Mother Earth!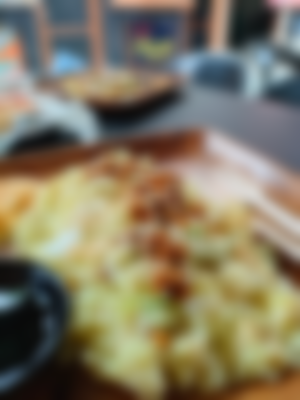 Closer look at the shawarma rice.
I just don't understand why they had added soy sauce because I tried putting it on the rice and it didn't suit well, maybe it was for the egg? But I had already eaten the egg before noticing the soy sauce.
Anyway, the flavor was there, it was a little spicy, just enough but I didn't offer this to Matti.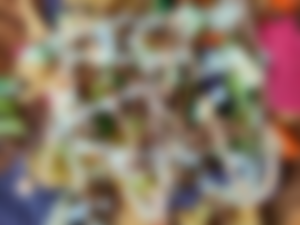 Domingga's Nachos at Php 120
I also ordered Nachos from the same food stall. This one was priced at Php 120 for a plate. I was expecting it of course to be filled with meat and dressing.
It took only a few minutes before they could serve the nachos, it was served as well on a wooden plate and I was surprised that it was colorful! They used colored nachos in purple, green, red, orange, and yellow festive colors!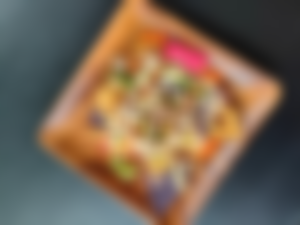 Really colorful plate!
Unlike the shawarma rice, this one got more meat indeed. I ate it after finishing my shawarma rice though but the chips still were crunchy! I love that they used fresh tomatoes and cucumbers too for the salsa! They were crunchy as well.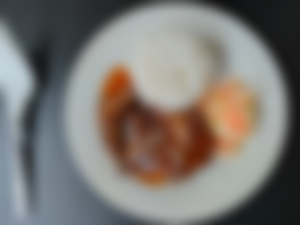 Grilled pork ribs meal at Php 210
As for my husband, he chose Kamalig Catering's, kamalig means tiny native house and they offer a lot of rice meals. He got himself grilled pork ribs for Php 210.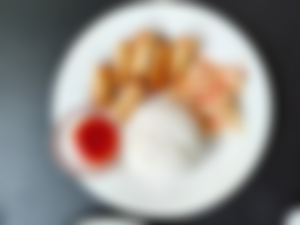 Lumpia meal at Php 90
For Matti, since he loves lumpiang Shanghai, we ordered the rice meal which was priced at Php 90. Matti ate the lumpia but didn't like that which has coleslaw sauce in it. James, my husband ate the rice though because Matti is not a rice fan.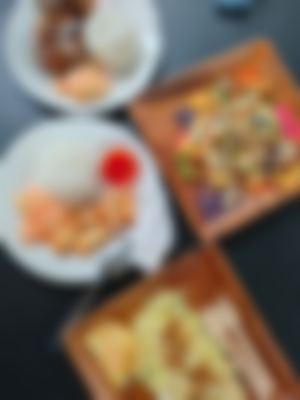 Our table food at Jagna Food Park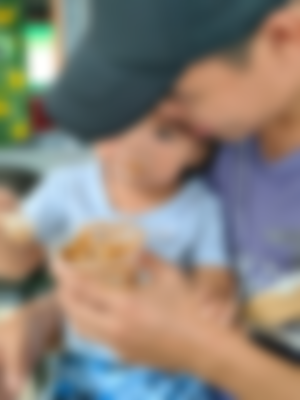 Matti trying out the Mango Tango from Sol's.
We didn't get ourselves any cold drink but we decided to have Sol's mango tango dessert instead which was priced at Php 75. This has a lot of powdered Grahams which dominated the entire cup. I wished they had placed only a few!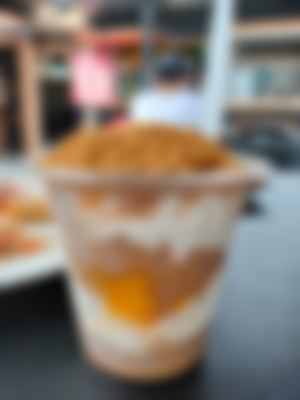 Mango Tango at Php 75.
Still, Matti liked it and he ate a few spoonfuls. I finished the entire dessert after my husband and baby tried it. I didn't like it that much though but since we paid for it, I have to finish the entire cup. I wished we had ordered their halo halo instead. It's another excuse to go back though.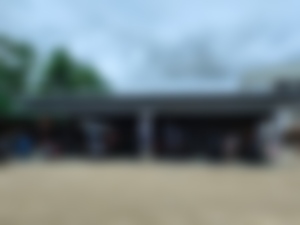 The Jagna Food park view from the baywalk.
What's good here is that it has a view of the port and the baywalk offers great ambiance when sundown. I guess we will have to go back soon and have dinner here too because the sunset view here is magnificent too! Plus, they got a live band as well starting in the afternoon until the evening. The food park is open from 11 AM to midnight. Everyone visiting here can enjoy the beautiful view, the sea breeze, and good food.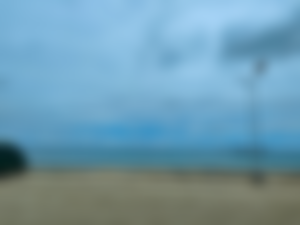 View of the nearby Jagna port.
My husband and I, were full with what we had ordered, another good thing about food parks is that customers can keep coming back to try out other food options. You can either settle for your favorite one or go explore other viands and cuisines!
Have you been to any food park?
---
Check out my other photobooks here:
---
If you are interested, check out my recent travel articles here:
---
Food trippings:
---
xoxo,
momentswithmatti Mother | Boholana | Cebu | Philippines | Travel | Photography Enthusiast | Calligraphy | Art | Crypto Noob