Photobook Collection: My First, More Than 10 Years Old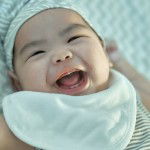 In a previous articles, I had mentioned about my collections of photobooks. Since I am fond of taking photos and traveling, I make sure to keep a tangible item for these travels. I still have a lot of backlogs though due to the changes in our location and so many things to do with the baby and my side hustles online. But I will keep and create them soon.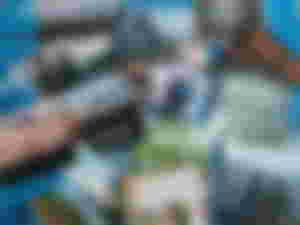 Today, I'd like to share with you one of my photobooks. When we visited Cebu City a week ago before heading to Oslob, I had the chance to check on these photo books. I am so glad that I did because I was able to remember again these events of our lives. So, I will slowly be introducing them to you all, first, of course, we will start with the very first one.
This one here is my first photobook:
This is more than a decade old but what's so great about this is that even if it is just a softcover, the colors had not faded, even the cover page still has the photos in good color and form. I keep it inside the hard envelope which came with it when it was delivered.
This photobook contains the images which I had edited before as a digital scrapbook. I only was able to take photos of some pages though. One of which is my all-time favorite photo of us, my husband and I: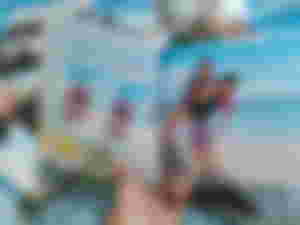 The images above were taken in Virgin Island, Bantaya, Cebu.
I love this photo because we were very young at that time, newly graduates, just landed on jobs and I believe it was our first trip together outside of Cebu island aside from Bohol for a vacation. Technically, this was still within the Cebu province but since we have to take a boat to reach Bantayan Island. Back then, I had already brought James with me to Bohol quite a few times even when we were in college as I introduced him to my parents and family.
Bantayan will always have a place in our hearts that's why we had visited the island quite a few times already even after getting married.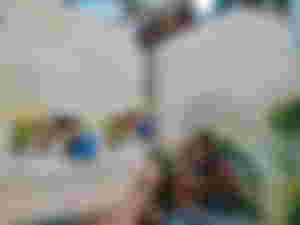 The above photo was taken in another outing with my colleagues. I am glad that our company allows us to bring our partners during team outings.
I love making digital scrapbooks before. It was a hobby that gave me calmness and de-stress from my call center job. I was into the traditional scrapbooking back then when I was younger but when I was introduced to Photoshop, I switched to the digital one because it's less hassle, less mess, less maintenance too, and the scrapbooks last forever, I do hope they'll stay forever!
Unlike the traditional scrapbook where I have to keep them in dry boxes to keep the pages safe from water and moisture, digital scrapbooks require only harddrive spaces and I can even upload them to cloud drives most importantly if I lose one copy, I can reorder it online for printing again.
So, with this digital scrapbook, I do it whenever I am at home after work and I work numerous hours for different scrapbooks which I put up online. I was even paid by Google Adsense for this blog. Unfortunately, when I went to Dubai, this page became unmaintained.
There were 30 pages and each page contained digital scrapbooks. Today, there are many online resources where we can create digital scrapbooks, one of them is Canva which is also a tool that I use.
I remember before, I'd share a downloadable link on my art blog where readers can download the PSD format as a template so they can also create a scrapbook on their own with their own photos. I never really thought that someone would view my website but I was surprised when I received comments about them using my template, I also noticed the traffic on my blog was also increasing and the best thing about that as well was those audiences usually were from the United States.
I actually regret not updating the blog site. It is still available though if you'd like to check it out. Visit: https://freescrapbooks.blogspot.com/
Aside from digital scrapbooks, I also give free background images, clip arts, tarpaulin designs, and many more.
That's it for now. Thanks for reading!
---
xoxo,
momentswithmatti Mother | Boholana | Cebu | Philippines | Travel | Photography Enthusiast | Calligraphy | Art | Crypto Noob
Sponsors of Momentswithmatti