Respect mine, I'll respect yours
Date: April 25, 2022
Author: JustMaryel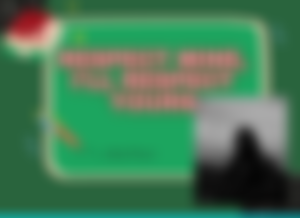 Few more days to go before the election happens which is the most awaited day for both the candidates and voters. This is my second time to vote but first to vote on a national level. It is very visible how politics runs today especially in social media where many relationships are ruined just because both parties have their own candidate that is opposite to the other. It is so sad to see how friendship ended just because of having different points of views and choices. Years of relationship also ended because of the same reason which is so sad, like just because of that they choose to end the connection and relationship they have. I think the most worthwhile thing is when strangers mocked you just because you were wearing a shirt that is a theme color of another candidate which I find ridiculous.
This morning while we were eating breakfast our topic went into the political side where Mama, ate and ate husband expressed their opinions to their candidates while I just kept silent so that if a misunderstanding happened I could be their mediator. As the topic went through I could sense that one wrong move was misunderstood but thankfully they understood each other's opinion. By the way, the candidates are at the local level, specifically the mayor candidates and also they didn't fight, thus they exchanged information and platforms of each candidate as well as their accomplishments in our municipality.
Voting buyers are not new to us, especially when you live in a province and every community rally candidates make sure they have something to bring, like for raffle just to attract people's interest. I've mentioned yesterday that I went to a rally to listen to platforms because I am still undecided. I've seen some people who have their candidate choice already and they went to others after knowing there will be a raffle. I will be hypocritical if I deny I didn't judge them but when I think deeper and know who they are I tell myself "they come because they are in need" as the raffle prize is 5 kilos of rice which can feed the family for days. Talagang pera-pera ang dating and how much more this coming May 9, 2022 but I am still hoping the candidate wins has a heart of serving people who think first for the sake of his people because if not we are the one who will suffer.
Back to this morning scenario, I jokingly teased them and said "family over hahaha" and mock them by assigning one candidate they will vote for that makes them burst into laughter. That's how we end our breakfast with so much laughter.
Closing Thought
No matter whom we choose in this coming election, hopefully respect will always manifest to each other and let us not end relationships just because of different views and choices. Like what happened this morning, understanding each other and respecting others' opinions.
Thanks a lot my dearest sponsors❣️
---
Anyway, I would like to insert the article of @Athaliah "please pray for my sister's successful operation" written for her sister who went into operation in the appendix. If you want to extend some, I'll leave the bitcoin address below. Thank you so much for your giving and prayerful heart.
bitcoincash:qraytxe8wg799c4qqtkvv2ht78ukgufcgqjxlgh8xe
---
Recent Articles:
Never Have I Ever Series:
Previous Articles:
Lead image is mint edited in Canva.