Rally Sunday
Date: April 25, 2022
Author: JustMaryel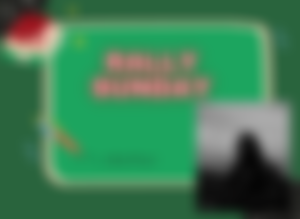 Happy blessed Sunday read.cash citizen❣️ I am so happy and blessed that I am able to attend church service today because two successive Sunday I didn't attend church service. For those two Sunday's I really feel something missing in me and that is hearing the word of God. Also I missed the fellowship with my co-churchmate. The word of God really makes my heart overwhelm because I feel God really spoke to me and His word suited my current situation. Though I am so hesitant to go church today for some reason, imagine I woke up at 6:00 in the morning and be flabbergasted when it's already 7:20 am and 10 minutes to go the service will start at 7:30 am. During that 10 minutes I move quickly from taking a bath and getting dressed. Probably, I went to church at 7:45 am where praise and worship had already started and I felt embarrassed to enter as I am a late comer but I just ignored the thought and walked confidently.
After the service all the youth gather together to make a prayer over to our one of the youth. he will go to Japan to work there. Some of the my church mate give their farewell messages. Also, the sister of @Athaliah where rush at the hospital because of her appendix were trigger and she is under in monitoring at the hospital and any moment she will undergo the operation. I know this platform helps a lot not just in our lives but also other lives and I proved and experienced that one. Athaliah will write about the status of her sister maybe today or one of this day to write for cause that will be used during the operation and aid some hospital bills and medicine.
Moreover, during this afternoon I attended a rally of one of the mayor candidates with his vice mayor and councilors. Honestly, I am still undecided who I am to vote for our municipality candidates but I need to because it is our municipality's sake that is why I decided to attend the rally to listen to their agenda and listen to some feedback from the experiences of the elders. I am so happy about their agendas and hopefully they will execute  and make all their projects possible. Sadly, they say something against other candidates though it is true but it still sounds backstabbing. May the best man win after May 9, 2022 the election day and hopefully my co-citizen in our community will choose the man that has a heart of serving. Thus, I am so solid and firm on my presidential candidate choice as well as the vice president. If we are not the same then let us respect each other's choice.
Thanks a lot my dearest sponsors❣️
Mare @Expert thank you for renewing❣️
---
Recent Articles:
Never Have I Ever Series:
Previous Articles:
Lead image is mine edited in Canva.