Handbag Raid
Date: April 23, 2022
Author: JustMaryel
I could feel the result of my reckless action and decision yesterday for skipping my meals and due to the hot weather na sobrang init talaga even though I slept early my head still spinning and aching that until today I endured. I think we all experienced how climate change affects our life due to the status of our earth. Let us take out action to save our earth even in small way. Anyway, let me back to the topic I first crossed this one in @Usagi article " what's inside my handbag" leads me to make mine also co'z it sends the vibes of being a vlogger like what I've seen in youtube. Mind you, nothing special in my handbag but the most thing I have with me the important things I might needed.
Cut with so much blabbering, lemme start😊...
---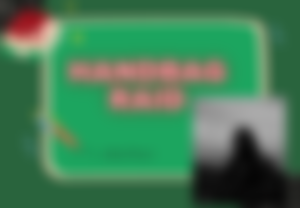 My wallet na walang laman hahaha. Inside of my wallet of course some money, ID's such as student ID, National ID, SSS TIN ID and some cards but not atm card instead it is a promo card. I have a Palawan card where I always used it  when I cash out my earnings and also my vaccination card. At yung iba resibo na kaya makapal tingnan hahaha. In my wallet, I usually keep aside the coins in the other wallet or I just put it inside the other pocket of the bag and let it shattered.
Aside from the mask I am wearing, I bring an extra mask because one time when I was at school processing something my mask accidentally tore kusang bumitaw hahaha that makes me panic and uneasy considering how strict the protocol is. Then, a friend of mine saved me by giving me his unused extra mask.
I always bring tint though I am not that tint user and also I am wearing mask but then I bring tint co'z there are time I look pale. Also, when I feel I want put some I can put anytime and borrowing tint to other is not my thing because my lips is kinda sensitive that is why I am into organic tint. By the way, my tint is quite very old co'z it's been a year with me and I just use a little bit of it.
I am a handy person. If food is life then hanky is life for me. Everything I go I always make sure to check if I already have a handkerchief in my bag and I don't go if I don't have one. Fun thing, I love hanky but I just owned probably five then I lost some of them during face to face class because of too much talking and having fun I forgot where I put it. How I wish someone would send a gift full of handkerchiefs though there is a saying that "if someone gives you a handkerchief it means that someone will just make you cry" which I don't believe.
Before I loved to style my hair by braiding it but I stopped doing it since the pandemic started. I ponytail my hair especially when I travel to avoid distraction, specifically taking a jeepney vehicle where the hair must be tied because it might fly into someone's face.
Cellphone should not be forgotten because who knows if an emergency will happen . I could contact my family or someone to ask for some help and used to kill boredom especially when I process something and there is a long queue.
Thanks a lot my dearest sponsors❣️
My kabit @Probin thanks for renewing❣️
Those are the things I do have in my handbag, what's yours?
---
Recent Articles:
Never Have I Ever Series:
Previous Articles: