Meeting SB19 in Person: A once in a Lifetime Concert Experience | 2
04/25/2022
---

Meeting SB19 in person is one of the most beautiful moments in my life, not just because they are popular artists, but because they are very close to my heart. Their music, personality, bonds, and talents got me. They saved me from sinking into sadness way back the last months of year 2021. Deciding to stan them in the beginning of this year, is one of the best things I did, and I thank myself for today.
Have I told y'all that attending an SB19 Concert is one of my entries under my Bicket List 2022? No? Now, you know! Isn't it amazing, that I have checked this as early as the second quarter of the year?
If you're gonna ask me about how I felt, it was all worth it. The efforts, the money I spent, the stress, and all, it was all worth it, the very moment I saw them emerging on stage. I finally met them.. not just in dreams, but in reality! This is actually one of the days I'd surely wanna go back to if I just had the ability to travel through time. I would love to meet them boys over and over again. I love them so much.
It's not a secret that I am writing this with a smile on my face. It just feels unbelievable until now! It has been almost two days, yet the feels are still here. I can't move on, I don't wanna move on. It feels good, and it energizes me throughout the day, whenever concert moments flashes back in my mind.
---
Well, here's the FIRST part, you gotta read it first, or else, you might be confused with the chronology of events.
And another related article, just for a cutesy intro:
Now, let's start the SECOND part... Now!
---
Among the things we prepared, the most important ones are the concert ticket, vaccine card, and valid IDs, of course. Other things we brought are alcohol, extra shirt, power bank, water, etc.
I think we're on a camping Lol. But as I said earlier, better ready than not. It's a first ever time for the both of us to attend a concert, so we could not let any mishap happen.
We arrived to the meet up place several minutes after 11 a.m. , and the five of us are already complete by 12 in the afternoon. We commuted through jeepney, a bus, and a train to Araneta Coliseum. From time to time, I sent updated to our family group chat, so our parents would not worry much about our long distance travel on our own. It was just kinda annoying that the internet connectivity sucked, but bearable. We had no choice.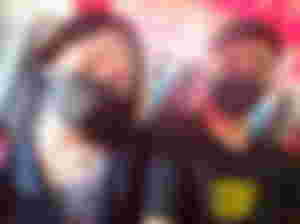 There are not much people on the train, so we just relaxed ourselves in the seat, and enjoyed the air conditioned facilities, while looking at the view outside, you know the tall buildings, the never-ending traffic, and some billboards of artists, I remember seeing one of Stray Kids, a 4th Generation Kpop group. Here's a photo of us chilling on our seats.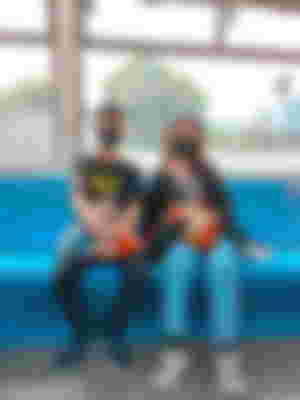 By 2pm, we arrived at the Gateway mall, and had our late lunch at a restaurant called Bonchon. We rested for a bit and parted ways after that. The agreement is, together in the travel, but separate in the concert events. Because we have different seats; therefore different gates to enter towards our designated places. My bro and I are in the Lower box seat, and Patron A area respectively, as I shared earlier, and the other three are all in the General Admission area.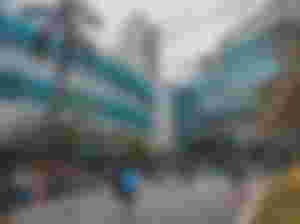 I am quite unsatisfied that I did not get to take a photo of myself with Araneta Coliseum as the background LOL. I got into the queue as soon as I arrived the area.
This is the only photo I could only take of the Big Dome outside: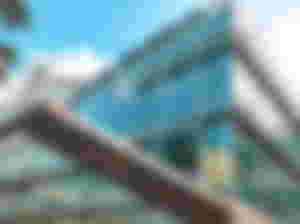 By four o' clock in the afternoon, we were already inside the Big Dome itself, after those long queues of all of us A'tin, who were so looking forward of meeting SB19.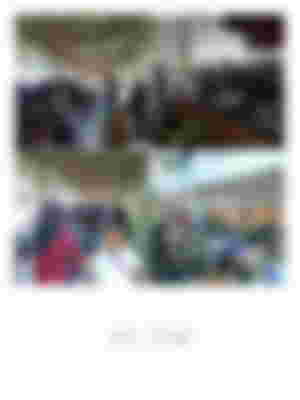 I took lots of photos while most of the seats are still vacant. It was still too early for the concert. I took videos, and was actually amazed at how the Big Dome looked like in actual life. I was looking around like a child, and did not hesitate that much to talk to other fans like me, and we also took photos together. Near the stage, near our seats, or wherever it is, we enjoyed taking lots of photos.
One of the funniest things that happened is my bro and I trying to locate each other. We were seated in areas far from each other, and since Araneta is such a big place, I struggled to look for him in such big crowds, even we both knew each other's exact seats.
Finally, after several minutes, we got to locate each other. It made me feel relieved knowing I could look at him from time to time to check on him, even from afar.
In a few more hours, screams were already heard as the concert host arrived on the stage and energetically welcomed us to the start if the concert. The real fun.. begins now!
Even it's not yet SB19 who actually performed first, we still enjoyed the performance of other artists. Moreover, there were also fun games for the lucky chosen A'tin. I laughed a lot, listened intently, and made sure to enjoy every bit of the event.
The other artists we got to see perform live are Yara, Matthaios, and Kaia.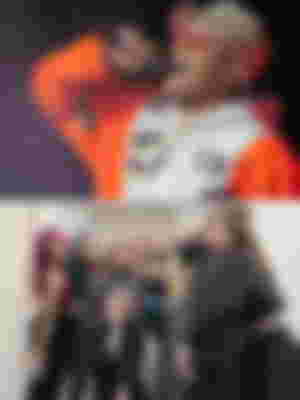 In photo, Matthaious, Yara, and Kara. (Source: Matthaios and Kaia Official twitter accounts)
---
I wish I could write more, but I am sorry! Of all times, the internet sucks the most now! Shout out to Globe telecom and Dito telecom! Please fix your service!
I could not upload pictures that much, and my patience has been tested more than ywenty times within a few hours. Tomorrow, I hope everything goes well, so I could share more photos, especially of #SB19 , of course. I have lots of pictures of them, but I have not much patience.. especially with the Internet.
SLOW internet is one of my biggest pet peeves. I am actually pissed right now. LOL. But trying to light up the mood by sleeping as soon as I publish this. One hour before ten pm yet I still can't finish because of the faulty internet.
Anyway, thanks for reading the second part.. This is more about the travel stuff, and before the SB19 main event part.. Let me show you a small teaser of what I'll show in the THIRD part of this mini-series!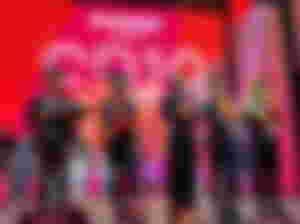 For now, please anticipate for the next part of this, and while waiting, read the other related articles for this one.
I do hope everything's fine on your end right now. To boost my mood, and yours, too, here's a song recommendation from yours truly:
🖇️ NIKI - Every Summertime
What do you think about this article? Show some love! Feel free to leave a like, comment, and share it to your friends! If you want to support me in a different way, be one of my sponsors! This user loves sponsors! 💯