What is Love?
04/02/2022
---
Yeah, remember that legendary song of TWICE, "What is Love"? I haven't listened to this track today, but this idea came up to me. I also wanna know, know, know, know.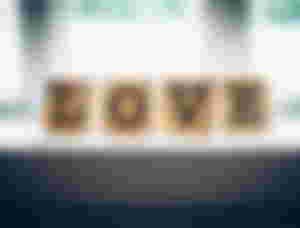 I missed the legendary April Fools' Day posting yesterday. I was about to miss today, again. But I decided to write this before I sleep. It's be a waste if I go on being inactive for three straight days.
I plan on visiting all, or most of the unattended articles after writing this one. By the way, I started checking out my previous articles for this year 2022 last week. I was almost 75% done, and I guess I could not continue tonight because my eyes are getting heavy at this time of the night. Thirty minutes before ten o' clock in the evening.
Another random blog from yours truly. Actually, not that random, since another set of thoughts were suddenly rushing in my mind, and I want to write them here before I get to other things again.
About love. That's what I wanna talk about now. It's something unfamiliar yet familiar to me. You know what that means? I know about the other forms of love, like for the family, love of God, friends, even my favorite artists, and other things, such as music, writing, among others.
Yet, this one, I am always intrigued by this one. Romantic love. Love between two people. I only got to see it on dramas, the sweet gestures and expressions. It is not something I get to see in real life, you know? The warm hugs, comforting words, holding hands, little kisses, and cheesy words, yet makes me feel giddy for some funny reason.
Yet, I am still curious about it. It's like something that's really magical, like how it's said in songs. I mean, imagine how two complete strangers would eventually end up being each others' wings, being the reason for each one's happiness. Whatever, it does seem strange, but I live for that mystery.
Being someone who has never experienced that before, I am always eager to understand. Why people can be as brave as heroes who are willing to sacrifice their lives for the person they love. How simple encounters turn into heart-wrenching stories that leaves marks into the heart.
They said one would not understand it, unless they feel it themselves. I guess, they're right. I believe I am not yet ready for that kind of love. Well, they also say it comes unexpectedly, whether I am ready or not. Isn't that scary? Why would it just come like that without warning?
They say that's the thing with love. It just comes as a realization, something that just gradually fills up a person's system without one knowing. That's why I grew suspicious of the people who can say the exact day they fell in love, because how is that possible? I think one can only say "Oh, I am inlove!" but not exactly, "When". Please let me know your thoughts on this. Do you recall a very specific date you knew it was love? Don't ask me, I did not get to this level yet.
Is it because I am about to get older this year again? I am more curious than ever. It's like I want to experience it, at the same time, not. I keep joking about wanting to be in a relationship, yet I ignore those who give me a sign.
I took it as something like being not prepared for commitments yet.
I can explain myself as someone like this.. I want to experience the feeling of being giddy, smiling like an idiot, because of that one special man. Late night conversations, weekend dates, exchanges of sweet remarks, eating together, cuddles, reconciliation after petty fights, and being there for each other's important and major moments.
Those were indeed beautiful moments I can get to have if ever I commit into a relationship. But like any other segment of reality, love is not all flowers and rainbows.
Whenever I imagine these cheesy things I mentioned earlier, I also think of other realistic stuff, like being involved in arguments because it's normal to have differing opinions, limiting time with other people because it may risk the trust, additional responsibilities, building relationship with his/her family and close friends, and other limitations one has to take note when committing in a relationship. And of course, the fact that you have to try and work it out together, for years.
I had many thoughts like, what if I get tired of him? What about the things I'd have to give up just to be with him? The things I'd have to do to keep the spark? The efforts to make the relationship going? The risks of third party, other people around not approving your relationship, and many more.
And other stuff, honestly just thinking about all other possibilities stresses me.
I am still that one person clueless and unprepared for something that big. Relationships are big deal to me, as I am not fan of flings, or casual relationships as other call it. I think sincerity is not there, and sincerity is one of the most important things in love, in my opinion. This is my opinion, so I respect if we may differ in this.
For this reason, I can say I am not ready for relationships yet. Yes, maybe I am curious about it, but I have no plans on entertaining it when it knocks, for now.
I still don't know the signs I'd look out for, but until I am ready, I will go for it. Again, as they say, I will just know it, if that person's "The One". I don't have to rush.
But others also say that if I don't work for it, I might grow old alone. They say it's sad. It's bad. Well, for me... it's okay? I don't think growing old as a single independent woman is not bad after all. As I mentioned in a related article of mine many months ago, being in a relationship or having a family is not everyone's end goal in life. Some are contented to live alone.
If you're gonna ask me, I still don't know in what side I am on. For now, I am not ready for it yet, but maybe the possibilities may open soon. I won't rush it, I won't pressure myself.
Good things take time, right? Maybe mine's still in the making. Maybe it's coming soon, maybe it's not at all. Either way, it's fine.
Now that I am still single (and no clear plan to mingle), I am still having fun and enjoying myself with multiple crushes, and love stories I either read on books, or watch in shows. I am having fun, and that's what matters.
Heya, users of read.cash! How are your weekends, so far?
I came by to say a bit of a hello, because I am not in the zone to focus. I just wanted to relax this weekend, it's the choice I made.
Still, thanks for coming by here. I hope you won't get tired of my ramblings. If you want to share your own love moments, or insights, I would love to read them, so share them in the comment section below.
If you relate to this blog, don't forget to leave a like, and share it, too! Thank you so much again, and until next time!

What do you think about this article? Show some love! Feel free to leave a like, comment, and share it to your friends! If you want to support me in a different way, be one of my sponsors! This user loves sponsors! 💯
Find me on Appics! (Username: Ellehcim)
Lead Image from Unsplash