Since pandemic, there are things we used to do that were put on hold. Some of us miss traveling, café hopping, sports - but I will not talk about that. Let's talk about things that even though pandemic did not happen, there are things that you have done before but will not do it now or avoid doing as much as possible.
I have written in one of my posts about an event that I covered. That was during the time when I just bought a camera. There was eagerness in me and there is that drive to try things and experience them.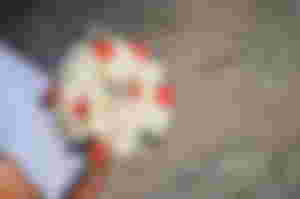 That was a photo of a the bride's bouquet that I attended. The bride was a schoolmate of mine. She initially asked me to cover her wedding. However, since I only work alone, I can't do video. What they want then was someone they can hire who will do the whole thing. So she dropped me as photographer but still invented me to attend the wedding which I did.
Their story was something to be shared.
My batchmate and her husband haven't met even once before their wedding for they live apart. They were introduced through a common acquaintance and that's how they got to know each other and eventually fell in love until they decided to marry. It was here that they get to see each other and it was during their wedding that they had their first ever kiss. I find that kind of romantic. They live together now and still going strong.
She then chatted me a few weeks after the wedding asking me if I can edit their wedding photos. I asked her why and she gave me sample shots . I was saddened for the photos she showed were okay but the lighting was not. The shadows are visible in all the photos that it is distracting especially in their portraits. Lighting is one of the aspects of photography that one would have to consider including the shadows. She wanted me to edit those shadows out. Unfortunately, I'm not that expert in editing so she had to find somebody else to do that.
Those are precious memories so it has to be at least perfect.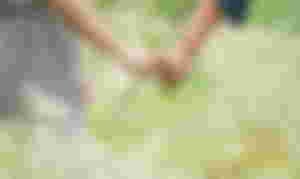 The photo above was from a prenup shoot of a friend's friends. My friend couldn't think of a gift for the couple who are both her friends so she then asked me to picture them instead and that will serve as her gift to them.
The location was one of the trails that I frequent. Wild white flowers were in bloom at that time so it was a perfect timing for us. It was a fine day as well so luck was on our side.
We attended their wedding but couldn't stay long. The ceremony started really late, maybe two hours after the said time. Everyone was there except for the ringbearer I think. I wanted to say my piece about that but I'd rather leave it at that. That's why we had to leave early for we had other appointments too.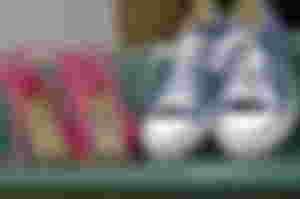 Those are the shoes used by a couple on their wedding day. This is by far the most detailed well-thought of event that I had covered so far. It's meticulously executed even those "I Do" on the bride's shoe.
I was surprised though during the photoshoot right after the ceremony. We are used to taking photos of family and friends of both the bride and groom. However, in this event, the list that I am used was cut in more than half. Only a handful of photos were taken. That's fine by me. I am just the photographer. It was up to the organizers anyway.
A few days after the wedding, I was hired by the sister of a bride to take photos on her daughter's birthday which was held in one of the fast foods in town.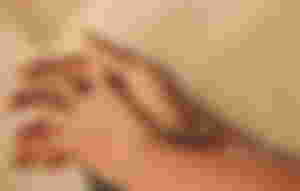 The photo above was during a prenup of another couple. Me and my friend did their prenup photos and wedding photos. Of all the weddings I covered, they are the most fun. Their wedding was the second biggest that I attended. They had to butcher several pigs to feed the crowd who came and celebrated with them. Of all the brides, she was the emotional one for she did cry a lot. Tears of joy, of course.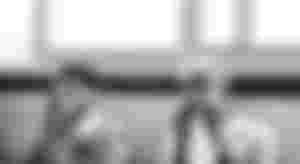 Speaking of emotions, this was captured during one wedding I was referred to by my cousin. These are the parents of the bride. A few weeks after I covered my cousin's wedding, she referred me to her friend. It was the simplest wedding I had covered and it was limited to family and close friends which I find intimate and what every wedding should be I think. Celebrate with the people you really knew and who you think are important.

The couple in that photo above were the friends of a my co-photographer. I served as his second.
There were other events that I covered that I lost copies of. I started with relatives and friends before finally venturing out and accepting referrals.
I had to stop though because the camera's weight is taking toll on my wrists and hands. It's from years of work. You may think that the camera weighs only this much but holding that all day long is tiring. Also, taking photos by itself is the fun part. However, I am not that keen on the editing part. Although I have covered events, I'm not that people person. I still have my reservations, misgivings and apprehensions. It short, I'm not that confident still. I haven't taken classes although I wanted to then. I did want to learn and acquire new skills. What I do with photography are influenced from what I have read or watched online and just put it into practice.
When my camera broke, I didn't buy a new one and didn't pursue that field any further. I still like taking photos of things but I am only using my phone now. It is light and convenient. Besides, the capture of these phones are almost at par with what real cameras can do. There are lighter cameras nowadays but I'm not sure I would be willing to take that kind of hobby again.
How about you? What are some of the things you like doing then but had to give up?
There are things in life that had to happen and we must accept them for we are being redirected to do better things.
I am not a professional photographer so I really appreciate those who appreciate my photos. I'm grateful for your kindness.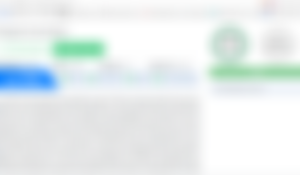 All photos are mine.
These are some of the photos that are still saved in my soc med account that I wanted to share it with you.