Helloooo. I'm baaack!
I don't really have a good explanation as to why I wasn't active here at read (huhu sorry sponsors), except that we went to stay at my parents' house for over a week.
Speaking of sponsors, please check out their profiles!
Ever since the pandemic started, J (my husband) and I decided to schedule a stay at my parents' house for at least one week of every month. It was just so that my family could spend time with mi bebe at first because she's our family's first neice/granchild. But as months went by, and with an additional bebe (not mine), these week-long stays became something that I would look forward to because I get to spend time with my family. Nothing like a pandemic to make you appreciate your family more.
Because of the ever-changing lockdown restrictions last month, we weren't able to go visit. We were supposed to match our stay with my Aunt's vacation leave, but her schedule got affected too. So as soon as the restrictions were loosened and my Aunt's leave confirmed, mi bebe and I went ahead on the 15th with a plan for J to follow suit in the weekend.
This Aunt (lets call her Aunt J) is like a second mother to us that is why it was very important for us to go see her. The last time we saw her was on my elder sister's ( @mgrshgian ) wedding before the pandemic, which feels like a long time ago already. Too bad Ate wasn't able to come while Aunt J was around. But we'll get together next month, minus Aunt J but still I'm excited!
Two days after we arrived, we celebrated my niece's 4th month of being out in this world. @Micontingsabit kind of documented it on her article "Monthsary or Milestone?" . Her baby wore a Nezuko costume and it was sooo cute. If you looked at her pictures and didn't know the anime it's from, you wouldn't guess that the character is a demon and the short bamboo stick's purpose is to conceal her fangs haha.
Aunt J had to return home a few days after so I quickly finished crocheting the bag that was meant as a birthday gift for her. She didn't know that what I was crocheting was for her, so she was surprised when I handed her the bag. I'm posting the picture here first before my craft pages haha.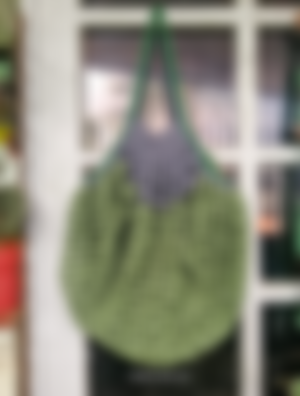 We stayed at my parents' place longer than Aunt J so we could make up for August. Mi bebe spent almost everyday playing with her grandparents, her aunts, and her cousin to the point that she's all so sweaty by the end of the day. She couldn't stop exploring her climbing abilities. She climbed everything she thinks she could climb: chairs, tables, beds, headboards. Good thing she knows how to calculate her movements. Still, her carers needed to be on high alert!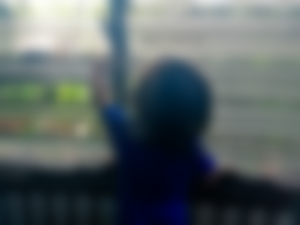 We also watched Squid Game as a family, some episodes at least. Tatay and I watched the first few episodes together. The whole family watched one episode during dinner. Nanay and Tatay binged watched the rest of the episodes the same night while we took the babies to bed. The next day, I couldn't trust my parents to not spoil the show for us so my sister and I finished the episodes we missed. The show was so brilliant we couldn't stop talking about it!
We went back home yesterday afternoon, and I admit I'm quite sad. I guess I won't be sad for much longer because we're going back in two weeks time. I just hope that Covid cases would lessen so very strict lockdown restrictions wouldn't have to be put in place. Then we could see our loved ones from other places more often.
Do you have family members you miss being with? When was the last time you spent time with them? How do you cope with being away from them especially during this pandemic? Please share your thoughts in the comments. I'd love to read your stories.
---
Lead image from geralt from Pixabay .
If you have spare time, please check out my previous articles:
Let's make noise at noise.cash!
Please check out my amazing sponsors below. They're very interesting people with very interesting articles. If you like my blogs, please consider being my sponsor. :D
I'd like to thank everyone, my sponsors and everyone who reads, leaves comments, and upvotes my articles, for encouraging and inspiring me to write. The process is getting easier because I'm getting a lot of practice. Going to read more articles and get more ideas for topics too!