Me? I can safely tag myself (and my wallet) safe from this madness...for now. For some reason, I didn't feel the urgency to check out some of things I have in my online shopping cart, which has hundreds of items and is never empty (see screenshot below). I think my exploration of noise.cash and read.cash in the past few days distracted me from checking my online shopping apps and buying stuff I didn't need. So thanks noise.cash and read.cash! You truly are a blessing.

Adding things to my online shopping cart/s sort of became a hobby that started when I gave birth to my daughter. I was in bed most of the time, recovering from having a CS delivery while pushing to exclusively breastfeed my baby, when I realized that we still didn't have enough baby things. So I would just add baby stuff in my cart, ask my husband if we could afford it, then proceed to finalizing my purchase and wait for the orders to be delivered.
Mind you, we're not rich. Exclusively breastfeeding and using cloth diapers instead of disposable ones really helped save extra money. Money which then we could use to buy not only things that we need, but also thinks that we want. I wouldn't say that I'm an online shopping addict, but I definitely feel pleasure every time a product I ordered online arrives. More satisfaction if the quality of the item I received exceeded my expectations.
I didn't participate in the 8.8 sale, but it doesn't mean that I'll be safe from online shopping for the rest of this month. We have already bought a number of things in the beginning of August even before the 8.8 sale, so I'm hoping that spending-wise we should be good.
To stop myself from browsing through the items on my cart and looking for things to check out, I decided to just document my online purchases from the previous month. This will be the first time that I'm going to stop and list down what I've spent on online shopping for one month and I'd like to think that the money I spent was spent mostly on necessities. I hope I'm right.
With this list, I'll also provide descriptions and a review of the products that I bought. I'll also include the product links for the readers who might be persuaded to add these things to their cart for the next sale in line haha. Disclaimer: I'm not sponsored by these shops in any way. If you find something you like, just click/tap on the image of the product and will automatically redirect you to the shop/product link.
────────────────────────────⊱⁜⊰────────────────────────────

This has been my go-to wipes for almost a year now. We were using an expensive brand of saline wipes for the first few months of our baby's life. And while that brand was nice, has lots of extra moisture that makes it easier to wipe poop off of my baby's skin (and in my skin too lol), the wipes themselves look like they will not disintegrate in the next 5 years. So I went looking for other brands.
I did find eco-friendly ones, most of them boasting about using pure water solution. However, they turn out to be so dry that when you pull one wipe out, you get 10 sheets instead. So when I saw video on Facebook about an experiment testing the biodegradability of a few wet wipes brands by burying them under soil for a few months, I took note of which brand disintegrated the earliest. It was Organic Baby Wipes. It's biodegradable and has the right amount of moisture that I prefer. It's also made from natural plant extracts, like Aloe Vera and chamomile, that are gentle to the skin. And just like with other baby wipe brands, this brand does not contain parabens, alcohol, chlorine, or any harsh chemicals. It smells nice, too!
Toothbrush and Toothpaste

The first baby toothbrush that we bought from Nature to Nurture was one that has bamboo charcoal bristles. I ended up traumatizing my daughter with our brushing routine for quite a while because those bristles turned out to be too harsh on her gums. I'm glad that they now have brushes with ultra fine bristles. She now enjoys brushing her teeth so much that she always insists on holding the toothbrush herself. As for the toothpaste, my daughter loves the taste haha. 50ml lasted us quite awhile since only a smear is required for toddlers under 2 (or maybe 3. I don't remember).

I love the smell of our current baby Shampoo Baby Care Plus. My daughter inherited her dad's overly productive sweat glands, so every time we get back from our little walk (we're lucky to be living in a spacious neighborhood where we don't bump into people when we do our walks), her body, especially her hair, would already be covered with sticky sweat. Usually, kids who sweat that much would be amoy araw. But because of the shampoo, her head would still smell like powder. The Shopee store ran out of the variant that we're currently using, so I just opted for the blue one. I haven't tried this variant yet as we're still finishing our current bottle, but I'm 90% positive that this product would have the same effect as the other variant.
Mosquito Patch

We've been using Bite Block insect repellent patches for quite a while now. I say WE because my mother would ask me to save the rest of the sheet where the patches are from. Each pack has 12 patches separated into two sheets. The extra spaces beside the patches also have a fragrant citronella smell on them, so my mother would cut them out into small pieces and stick them on her legs. She says it really wards mosquitos off of her when she works on hers sewing machine. Yes, it does work!

Because dede is life for my daughter, she always has milk residue on her tongue. Brushing doesn't seem to get it all off that's why I got this online. Although this was listed as a baby/toddler product, I haven't been able to use it on my daughter because the scraper thingy is still too big to fit in her mouth. Good thing the toothbrush we purchased from Nature to Nurture has a tongue cleaner at the back of the brush head itself. For those who have bought and used this, does this work?

I know, this is a beauty product. Why am I listing this under baby stuff? Mommies in cloth diapering Facebook groups swear by its effectiveness in lightening dark spots. Since cloth diapers are kind of bulkier compared to disposable diapers, there would be a lot of friction in the groin area for babies who can already walk. And, as we all know, too much and constant friction on skin would cause that area to darken a little bit. So I would smear small amounts of Human Nature Sunflower Oil on my baby's groin and inner thigh area every nappy change to help lessen the friction that would cause these skin areas to darken. I would also put a dab of this oil on insect bite scars. This did help remove those dark spots gradually.
By the way, this is also a great make up remover!
We're very grateful to have friends and relatives who have given us baby clothes. A few of my cousins, who also have daughters, have given us clothes that their children have outgrown. Some of these clothes look almost brand new. They would say that most of the outfits were worn only for a few times because babies grow so fast. Babies do grow really fast! My daughter is now outgrowing those lovely hand-me-downs that's why I'm now frantically looking for clothes that would last her until she turns three lol. The frog suits I specifically looked for. The others, Shopee suggested. It's sometimes scary how Shopee knows me well.

This one I bought from a work at home mom who primarily sells cloth diapers. She announced on her Facebook page that if you get at least one product from her Shopee store, you're entitled to one other product from her brand and it would only cost 5 pesos. Yas! I chose one dress and then checked out the 5 peso product, which later on turned out to be training pants that's originally priced for 160 pesos. Good deal!
Bath Toy

This one I bought only because I had less than 50 pesos left on my Shopeepay account and a few free shipping/discount vouchers that were about to expire. Although not a necessity, I would still consider this a good buy because it's cheap and my daughter loves playing with it.

Raincoat

Look at that product name...

The heavy rains a few weeks ago really put a damper on our walking routine. So my husband told me to browse around Xhopee and get our daughter a raincoat. He wanted to let her experience the rain without getting wet that much. However, shipping took way too long that by the time this raincoat was delivered, it wasn't raining that much anymore.
This one is more like a Tiktok budol. When it comes to shopping for baby stuff, my husband gets easily convinced by products shown on his social media feed. Once, he saw an ad for a bubble maker that looked like a gattling gun. He immediately bought it even though we already had a bubble gun. Both baby and daddy really enjoyed playing with that gattling gun bubble maker.
Same with these flash cards. These aren't your ordinary educational cards. Here, you can pretend to color in the pictures just by putting water in the brush pen (see photo below). When the water dries, the picture goes back to white and you can pretend to color it again with your brush. Amazing, right?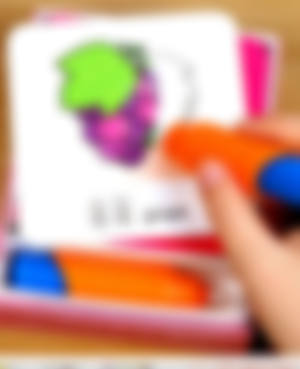 Husband was so amazed by the video he almost bought all the sets available. My daughter already knows how to hold a pen and pretend to write. This one's perfect for her because this time she can pretend to color.
Basketball set

Uh-huh. Basketball is only for boys. Duh.

My daughter loves playing with our neighbor's basketball. She would pick up the ball, try to bounce it to other people, then squeal with delight when they catch it. Seeing her happy that way always makes my day. So regardless if it's a sport for boys, I'd still let my daughter play basketball as long as she wants. Besides, girls play basketball too.
I use Mr. Bundles' Oxy Wash liquid detergent for my daughter's cloth diapers. Sometimes there would be stains that are hard to remove, like stains from the zinc oxide cream that I would use for my daughter's rashes. I was glad to find out that Mr. Bundles released this product so I didn't have to buy from a different shop. I only use little amounts on the diapers because it said in the instructions that the detergent can be quite strong. And it works!
It has been quite some time since we bought new underwear for ourselves lol. But if you're going to buy underwear from Shopee, please check the reviews. A lot of these listings mention brand names and would give you the illusion of being able to pick and choose which brand/s you like, but their products would all be the same mid to low quality products you could also find in street vendors along Divisoria. I'm not saying that these are unusable. I'm just saying that their quality is not at par with the ones being sold by official shops of the brands their touting to have.
The fabric is thinner than expected. Although the size in the tags are right, you'll definitely feel that they're not all the same when you wear them. The stitches are not that sturdy. My husband accidentally caught his foot in the fabric while he was trying to wear the briefs. The stitches connecting the garter and the fabric broke and unraveled. Now this underwear has a hole the length of his hand. But we shouldn't expect more if the price is cheap right? We still use them, but we'll be definitely buying directly from official online shops next time.
Raincoat

This we bought so we could terno up with baby when we play in the rain. But, again, we haven't been able to use it because it doesn't rain as much anymore.
────────────────────────────⊱⁜⊰────────────────────────────
So this is the end of my online shopping rundown for the month of July. If you noticed, the bulk of our haul are baby stuff because when you become a parent, the well-being of your child comes first. And my husband has the least number of purchases, always lol.
I know some of the reviews sound like justifications of why I bought something I didn't need to buy. However, I'd like to think I was honest with the reviews I provided for each product. And listing down all these purchases made me realize that OMG we did spend a lot of money on online shopping last month. Now I'm actually concerned.
Now that Lazada's and Shopee's payday sales are looming around the corner, I know I couldn't stop myself from buying stuff online. But at least now I've had the realization that we have already spent so much and it's time to cut back.
I'd like to make this online shopping documentation a monthly series to make myself accountable lol. I will try to cut back on my online shopping, so don't be surprised if the next article about this topic will have fewer reviews for fewer items haha. See you next time!
────────────────────────────⊱⁜⊰────────────────────────────
This article took me a week to write. Mommy duties would only give me free time in the very early hours of the morning. But, even then, baby would still wake up and demand for my presence. Phew! That's why, I'm so proud to have finished this. Having a sponsor really pushed me to not give up and try to continue writing. So, thank you @bmjc98 for being my first ever sponsor! I'll stick it out and try my best to write more.