Making a Spiderman Keychain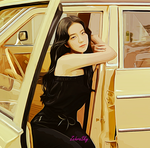 Truthfully, I do not know how to start this article. After all, I am feeling so sleepy and drowsy now since I have already taken my medication.
Maybe let me start this by saying that I have no idea about superheroes stuff before I met my partner. Sure, I have heard of the names and I know what they look like. Well I know what the common superheroes look like. But I do not know their stories nor did I have any desire to know more about them beyond their names.
But my partner introduced me to this amazing world, and I am slowly learning why so many people are fascinated with the superhero movies.
It still does not change the fact that I do not have much knowledge on the topic.
But I can appreciate the character design. And one thing that I love about being able to crochet is that I can challenge myself into making a crochet version of these superheroes.
I had the chance to do that with a superhero known as Spiderman. This is actually not my first encounter with this hero.
Back in Novermber 25, 2021, I had already made a crochet project inspired from this hero. It was a gift for the sister of one of my best friend. She is a cute kid so I gave her a gift.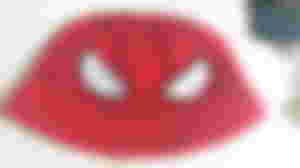 This was my first time doing a superhero themed crochet project. And thankfully not the last time.
Just this week, I received an order involving the very same superhero. A coworker of my sister wanted a Spiderman keychain. Her coworkers know of me since they already ordered a lot of crochet headset covers from me. Most of my sales are definitely from word of mouth.
At first, I was hesitant to accept the order. I do not have much experience with doing superhero themed stuff, and the amigurumis I did in the past were all cute things but definitely not human shaped at all. So doing a Spiderman keychain is bound to be challenging.
Still, I decided to accept the order when it seemed like the client is not one who expects handmade items to be cheap. After all, I was going to turn down the order if the client's estimated amount for the keychain is P50.
When I was told that I could price it however much I want, I decided to continue. I told the client that for amigurumi the suggested price is P100 per inch. The keychain I was making was 3.5 inches. Supposedly, it would be P350, but since I apreciated the client's willingness to pay for handmade items, J gave a discount of P150. So I sold the item for only P200.
I will not be doing a tutorial on this crochet project since I did not write the pattern. But I will be sharing some pictures of the process.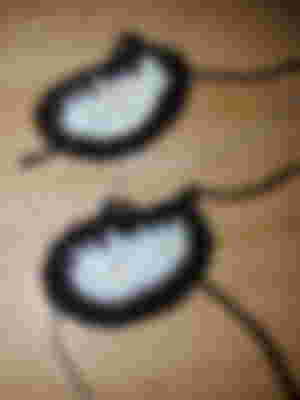 The first thing I did is to make the eyes. These are actually failed eyes and I did make another pair which I ended up using.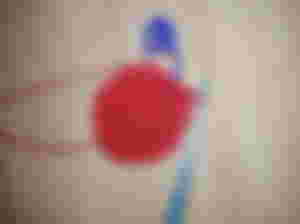 Then I started working on the head. Random thing to mention that I have no idea where this exact hook is. I am currently missing 2 hooks and I have no idea where they are. Thankfully, the missing ones are different sizes so I still have a spare hook for both sizes.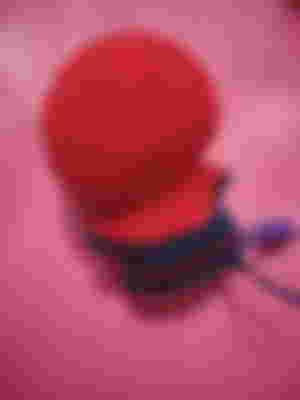 Then I got to working on the body. This is my first time trying this technique of doing an amigurumi doll.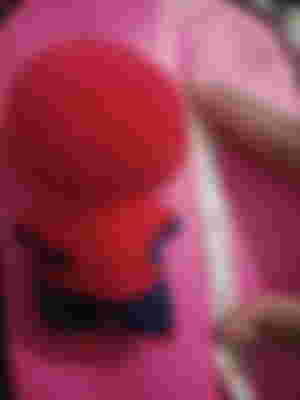 And then I added the legs. This picture is the one I sent to my customer when I said that the price for amigurumi is P100 ero inch, and the product I am making is 3 5 inches.
Then I added the arms.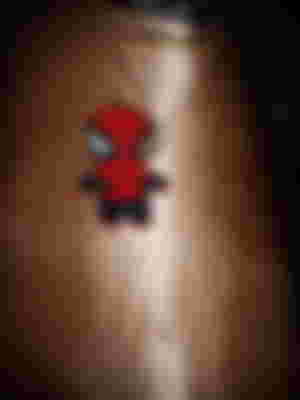 Here you can see another learning I had. Which is to use my pins to hold the items in place. I used to not do this and my amigurumi ended up wonky so now I use pins to hold them in place. I may have went a bit overboard in this one though.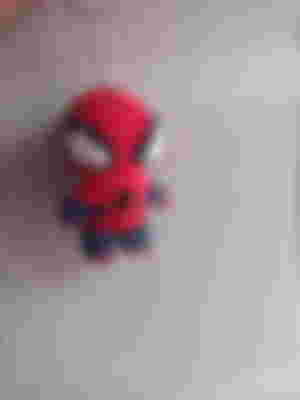 Then I added the keychain as well as the tiny spider on the outfit of our Spiderman keychain. I know that a spider does not have six legs, but whatever. It still looks like a spider anyway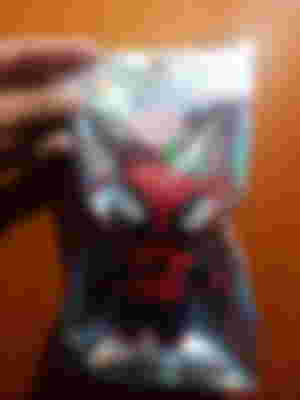 I then packed the item in a holographic pouch. I do not have any boxes for amigurmi which is why it is only on a pouch.
I hope you enjoy seeing the behind the scenes photos of the making of Spiderman keychain. I look forward to sharing more crochet projects with you.
If you are interested in getting a crochet keychain or any crochet item, you can send a message on my online business. I also accept BCH as payment. The only downside is that this is only for Filipinos since I do not know how to ship items to other countries.
Facebook page: https://www.facebook.com/zehrasky.yarns
Shopee store: https://shopee.ph/zehrasky.yarns
---
---
Thank you for reading this article!
If you want to read some more articles of mine, I have monthly summaries here:
December 2021 Articles Summary
November 2021 Articles Summary
September 2021 Articles Summary