The Hard Life of Being Deaf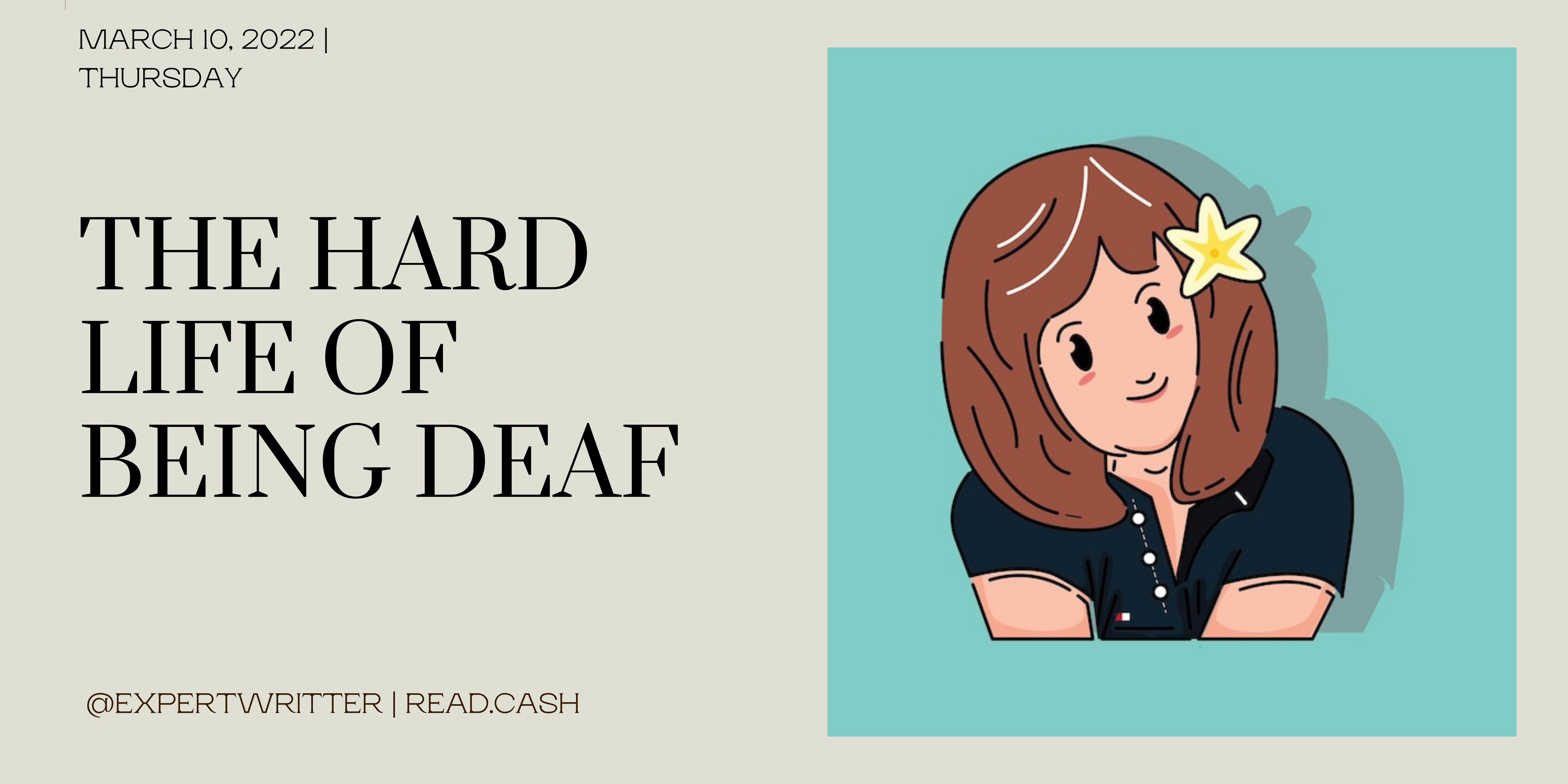 You know, I am just curious if how was the life of being a Deaf Person. Don't get me wrong, I don't plan to bully those people who has this kind of Condition. What made me think this is because I onced hope during that time when I heared some words that I don't like to hear anymore-that someday, I will never heared the voices around me so that, I can't hear the voices of nagging or should I say, hurtful words that every time I used to hear since when I was stayed in this kind of house.
That time, I just remembered a person before. When I joined to the contest of poster making back when I was Grade 6 in SM CITY Rosales, Pangasinan. I remember the Girl around my age that she was joined to that contest even if she is deaf. I was amazed to her back then and I don't see her as other person just like some bullies does to some people who are born to be incomplete because for me, she is just only an ordinary kid like me, she is still a human and she is also a God's Child. So why would I bully or think of her as other person?
In fact, I also became friends with her that time. We have some more time to travel to Places before the competition started. Well, I was a shy type person and does not talk to other people before so, she is the one who talk to me first. She asked some informations about the Contest just to make sure if she didn't forgot anything.
You know, the first thing that I did when I talked to her is, Keep Repeating the words or Sentences that I always answered to her Repeat Questions. I still remember the feeling of almost pissed that time but I hold my Patience because, I was taught of being professional when it comes to this kind of things when joining contest I mean.
Then that is the moment that I knew that she can't hear me. Not Totally that she can't hear me but she said that her left ear can't hear clearly and because of it, the right side was affected. I was sorry to her that time because I don't know about that so that is the first time that I adjusted my voice being loud so that she can hear what I always say to her.
Oh, Before I proceed and continue what happened next, while Typing the words above, I just remembered how she looks that time. She is Thin, her hair is messy, she wore a fake eyeglasses (the trendy jejemon type of glasses before), and she also wearing her uniform because that is what our coding Clothes before. I seen her ID and even know her name and Her name is "Theya".
Like I said, we still have some time before the Contest Start. So I invite her to eat and roam around because I was bored. Attending contests, one of the things that I don't like to attend because I really don't like wearing black shoes and white socks and a lot of practices of drawing.
But because of this contest, It give me a chance of holding my Crush hands because he is the one who trained me to draw that time. *I should erased that memory to this topic because it is not included, My Gosh!*
I invited her to roam around but before that, I should also asked for permission to her Adviser and to my Adviser too. They are both shocked because they didn't know that we sill became friends. They both agreed but of course since, I have some phone that time already (the first keypad phone that I hold that my Mom give to me), My Teacher told me that she will call me when we need to go there already and so I nod.
Travelling with her is really nice as I hold her hands roaming around. We laughed when we find something funny and that is the first time that I became comfortable with a Stranger.
After roaming around, we are tired so we sit in the corner and eat our Ice cream. That is the start that we shared some things. Getting to know each other. Sharing about life and that is the first time that I know if how was the life of being deaf. She told me a lot of things esp. Her experience.
So for today's article, I will share you the information if how was the life when the person can't hear.
When you are deaf, All you can hear is like the sound of Mole Cricket during night
She said to me before that she is not totally deaf. She can still hear before she was a Child but she got an infection to her ears but she don't know where she get it maybe because she is not cleaning her ears before because they can't afford to buy a cotton buds. She is not rich and they are just poor.
When I asked my Uncle back then about that because he is a nurse, he told me that I should clean my ear always because onced that you are not cleaning your ears, there is a possibility that the earwax will form big and it can also be the caused of clogged in the cannal of your ears that's why, Our Mother Advices us to clean our ears regularly and not being stubborn if I don't like my ears to be infected like that.
So she is still familiar with how the sound of the Mole Cricket during at night esp if it was raining. That's also the reason why, she can't hear the voices clearly because it was loud.
When you are deaf, You can hear the voices that you missed to hear the most
She said to me that it was though to live everyday because she misses the voices that she wanted to hear. The Voices of her Mother, The Voices of her Father, The Voices of her Family. She is also crying every night because she is young to experienced that kind of life.
How can I forgot about her crying while she is telling me those things? Esp,
When you are deaf, Other Kids will treat you differently
I am aware with this kind of treatment because I already watched it in the Television. That if you are born to be incomplete, The other Kids will bully you, make fun of you, and it was rare to find some friends because of that.
But she was thankful because I became friends with her and I was with her during that day because she was nervous attending a Competation like this because she was scared that some of the other kids will also know that she can't hear.
All I can say is, she was braved. I admire her for being brave in the younger age and I do understand her even if I'm still young back then, I was aware with what's she is experiencing. I admire her for attending to the contest despite of her condition.
I told her that her life is not different from other people because nobody is perfect in this kind of world because even the world is not perfect.
I told her that I also experienced the same even though, I can hear. I also experienced of being bullied by others because of my appearance and because of the state of our family so I guess it's not far different from what she is struggling. We are human after all.
Maybe there are some things that other people can do, they can have and You can't have BUT there are also some things that you can do that other people can't and you can also have some things that other people didn't have.
That is the last words that I realized after she won to the contest. How can I forgot that? That is the first time in the history of my life. Imagine, I can hear but I was lost by someone who can't hear but you know what? I was happy to my lost because she deserved it.
We have a selfie back then and I also made it as a wallpaper but my Phone broke so I don't have it anymore. How I wish that my phone before can fix because our photo together was there. You know what? I Still finding her after that. Attending to field trips is not trendy back then when we became First and Second year High School. So It was late for me to find her during Field Trips to 3rd year and 4th year until Senior High School. Until I give up and forgot her Last name.
Every time that I go to SM, I always eat some Ice Cream that we used to eat before because that is the only memory that remains of her presence.
Ah, I missed eating Ice cream. Even if I don't like vanilla Ice cream flavored like what I give to her before, I still eat it because she is the only Stranger friend that I meet and comfortable to be with.
I have a lot of questions right now while writing this one. You know like, If How was her life after those years? It's been 12 years past already. Is she is still the same before? Thin? Wearing fake eyeglasses? Her hair is messy? Is she is still studying? How many awards did she got or recieved from contests after she won before?
Actually, she is not the only girl that I have met with that kind of condition because I have also a classmate during my time when I studied TESDA with my Sister. She is beautiful actually and I admire her beauty. She is using a Hearing Aid so that she cab hear some people around her and because of that, she is also a genius. She told to us why she joined studying to TESDA because she prefer doing a work that can fit to her condition and she doesn't have a choice as long as she can able to help her Siblings to study.
When we talked about her experiences about being Deaf, she told us that it was hard to live being like that at first but she is now get used to it like having hearing aid and used everyday is nothing anymore.
I observed her as how she live being with other people and I observe this one:
She used to look at our mouth everytime we talk.
I am curious so I asked her why she is doing that and she told me that she does that to read what we are saying when she can't understand us.
In life, being disabled person doesn't mean that you are different from other people. Like her, She can still do the things without minding the other people thoughts about her. Such doing what she loved and that is to show her talents despite of her condition. Salute to them for being Strong! I salute to the people who does have disability but they didn't make that as an excuse to become successful, to do their dreams come true!
How I wish that, children can understand the feeling of having a disability. That other people can act as if they are on their shoes. Right? I am mad everytime that I saw some bullies, bullying some other kids with incomplete body parts. I admit that I am being bad because I wished that they can also experienced being like that in the future. Sigh,
Not all people who have disability means that they are born incomplete, sometimes some of them are become like that because of accidents. Losing some body parts is hard because you can't back them again to the same old. So, as an advice for this, take care of yourself. Take care of your health, Take care when you go somewhere.
Sigh, I missed her. I am guilty of not remembering her for how many years and How I wish that we can see each other again someday.
Thanks for reading!
---
My Previous articles:
My Life after being Away from the Toxic World
Can I publish these kind of Topics?
Reviewing the products that I bought online
Night Swimming: Travel and Things