Can I publish these kind of topics?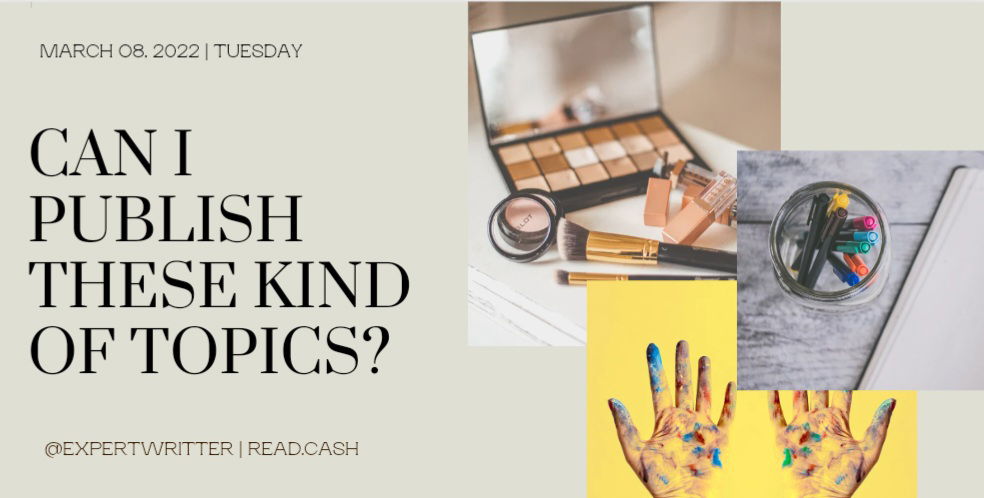 In How many months that I'm publishing here, this is my first time to think if what are the topics that I would like to try to published here. Since I don't know how to write about Crypto currencies, just a trading to metamask that is the only thing that I know about that topic. I write about the story of the half of my life often. Like a normal journal or blog that you always write and share too. I write about my own opinion about something that i was curious about. I write about the things that I bought to entertain you. I write about the stories that i would imagine. To be honest, Thinking a topics everyday makes my head hurt so to take a break, I just write about random things.
Yesterday, while I was masssaging my head, There is this thought that comes on my mind. I bought a make up. A eyeshadow pallete because I would like to practice my skills in doing make-up again. If you don't know, I once fell inloved of doing make-up since being a Photographer and or Fashion designer in the future became one of my dreams too. I was amazed if how Girls doing their make up. I have a lot of make up that my Aunt and Godmother gift to me but I didn't used it because, I am not good back then so my Sister is the one who always used that things for every important occasion such as: Wedding, Birthday Parties, Graduation, etc. She is the one who fixed our make up always.
So, The idea of trying to explore and trying something to entertain myself and distract me is to do something I like do. There are some topic(s) that I would like to write about here. So what are those topics?
When I was bored, I always do make-up to release my stress. I loved putting make-up to my face back then but because I hate having pimples and dark face, I decided to stop what I am doing and just take care of my skin. Because as you know, Make-up products can also damage our skin. It can caused to have a pimples in our face.
Don't you know that models and even the artists that you have seen in the Television are also doesn't have a good skin? Because of always putting make-up, their skin has a pimples too and they have dark spots. If you are thinking if they have smooth and fair skin, No. The filter of the pictures are white washed or they use filter to make it look better.
That's why, It was really rare for me to have pimple on my face. If i will, maybe because I have a crush or my period is now near. I am not also perfect. Maybe I don't have pimples but I also have dark spots.
I haven't try to write a make-up tutorial blog here yet so I am planning to do it if I am not busy tomorrow. It was supposed to be today, writing my draft and published it tomorrow, but I need to washed my laundry first.
Writing a blog like this, I just hope that every girls in this platform who would read my article will like the tips that I would share and if how I put my own make-up. Please look forward to it!
I mentioned a lot in my previous articles that I used to joined in to Poster making contest back when I am still a High School student. My Crush and I are both competator. We are at the same section and we are classmates but we used to be first and second in the contest but he is more popular more than me. If you would ask me if which of the contest or occasion in the school is my Favorite, It's Nutrition Month Celebration. Yay! I was excited because it was the most easiest poster making for me. You will just draw vegetables, Human that eating and doing proper diet, bad habits should be avoided, like that and the hardest for me is the Buwan ng Wika. They are always giving us a hard 'Theme' that's why, I always say that I don't like to participate in a contest and let him do it.
But now, I think... I would love to try doing a Poster making tutorial? Writing if How I draw this and that, If How I color and combine the colors. However the problem is, I still don't have some materials to use.
What are the Arts Materials that I needed?
Coupon Bond- this is what I am using to practice. Practicing if what I will draw, where is the better space do I put the image that I draw. Sometimes, If I don't hagd coupon bond, I always use a Paper only but It much better if we will use a coupon bond because we can imagine the outcome well.

Pencil and eraser- of course, I can't draw without pencil. I don't use a expensive pencil when it comes to drawing. I just used a simple and ordinary pencil that a normal student use. I used the Mongol Pencil no.2 because it was thin and I can control it because it is just a heavy pencil unlike to other pencil.

Oil Pastel- When we will talk about coloring, Oil pastel is the most coloring material that we are using. Unlike to crayola, we can't blend the colors that we are combining, oil pastels is good because it was smooth and it can blend the color cobination well. The brand that I am using is the Golden Oil Pastels.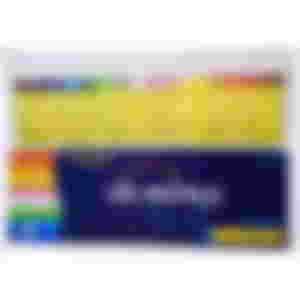 And I choose the 24 or sometimes, 36 colors because we can can choose some colors and there are many choices of colors.
And that are the things that I always use when I draw.
I mentioned this before to my previous article a months ago right? That I would like to do a read.cash journal notebook where I will print the memories that I wrote here as a remembrance. But, I failed because I didn't save a budget for buying materials as always, I used it for buying groceries and paying bills here so I don't have some BCH for this. I just hope that I can save some BCH this month for that because I am really excited from buying materials and sharing the designs that I decorate. *giggle laugh*
So, I would also like to share or try writing about this.
There are a lot of topics that I haven't try writing here yet and I bet you too. That you have a lot of hobbies like Doing Arts and I hope you can also try to write a blog about those things.
Imagine, we are in a months of being a content creator and writing here but we always share some things about ourselves but I haven't read some articles like doing tutorials if how the person do their hobbies or talents. I would love to learn more things that I haven't tried yet so I just hope that there are some people who will write about those.
Don't get me wrong, all of the articles that you published that I read, I like reading it. I don't do downvoting articles and I do upvotes your articles because I appreciate your efforts. Giving your own opinions too. I agreed or not, there is No valid reason for me to downvote your articles or not upvoting it down to $0.04 below, Even though the BCH right now is down. Because you are doing great. You are a good writer. I have enjoyed reading it except for those people who are violating the rules of this beautiful platform.
It's just that, I know that there are some people who are hiding their talents here right? They also have some things that they are good at and I am willing to learn while reading it. Hehe
As for me, I also like to share to you what I know, what I have learn, what I do, and the things that i used to do before. So I am hoping that I can try writing a blog about it soon to entertain my readers because I'm afraid that they are so done with my rants and about my life already. Let me write something and show my other side too to know me more not always about my family, not about my problems, not about opinions, and the other previous things that I shared but a new one.
Thanks for reading! I Hope that you enjoyed reading my article for today. Please look forward to those topics that I would like to share in the future. Have a nice day!
---
My Previous articles:
Reviewing the products that I bought online
Night Swimming: Travel and Things
Just My Normal but Important things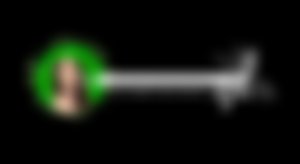 [ A/N: Sorry if I always change the title of my article. My mind is floating right now because of lack of sleep so I don't know if which sentence is correct. Huhu forgive me! ]