My uncle's exorcism story
This is a story of a my uncle's extraordinary experience which is totally unbelievable. It was a story that people will not believe happened in our family. It is because we were known as religious in the community so who will thought that this rare case will happen in our family. The whole story is based on the true events, I didn't altered even a single scene here. I was there. I was the one who videoed and captured photos because it was the tasked they were given to me.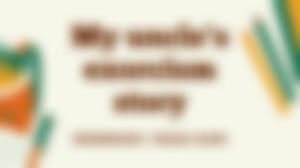 The eldest sibling of my father went abroad particularly in Saudi Arabia to find a better opportunity and raise her kids well. Her husband was not mentally good meaning he has some defect in his brain. He is healthy. Her husband was a good man who worked for them earnestly without fail. Their family was a good family and you know they are happy. However, her husband suddenly became ill and started to see things that our naked eyes cannot. Yes, he was seeing elemental beings in the tree. The whole story revolved when her husband was possessed by a Kapre.
You might now believed what will I narrate to you right now, but it's real. They are real. I was the one who accompanied them because her husband cannot walk properly. Why? It is because his two legs had deep wounds. Those wounds appear out of nowhere. As time went by, the wounds didn't heal and it started to have worms. A living worms. This may sound weird and yuck, but there are so many worms coming out from it. They tried to clean it over and over again. But it keeps coming back.
When there are no options left, they started to seek the second opinion. They went out first to a magtatawas who tried to figured out what's wrong with her husband. He found out that the man has something within him. Something dark and powerful. It is the elemental being called Kapre. The magtatawas cannot heal her husband because it was beyond his capabilities so he recommended them to a strong Albularyo.
They went to Maragondon to find the man. They strolled the mountainous and forestry which few cars are passing by. When they found the Albularyo's house, she cried. She cried because he was the hope she was looking for. Her husband was in deep pain and she cannot do anything to ease it. Even the painkiller is nothing at all. She told him the whole situation and the Albularyo started to check the man. As to what the Magtatawas said, Kapre is behind and responsible for what's happening to her husband. She asked him if he can heal and help her husband.
He said he will try his best. The Albularyo encountered so many cases like this so he knew what's the best thing to do. He started to cast some incantation and hold the man's fingers. The man was shouting in pain. He was uttering words which cannot be comprehended. Words that was used by those elemental beings. The Kapre was speaking and fighting back. The Albularyo reached his necklace, a necklace that contains some rings and crosses. He started to tapped it to man's forehead.
The whole situation was truly frightening. Both Albularyo and Kapre were clashing like two monsters in her husband's body. She was crying when she saw her husband was moaning in pain. She prayed. She did it for an hour or longer. She didn't remembered how many prayers she casted. When the situation started to calm, she thought it was the end. But, the Albularyo told her that the battle will just begin. She thought it was over.
The Albularyo tried to communicate with the Kapre and asked why he was disturbing the man. Why of all people he chose the man to possess because they are not like that. They are obsessed with women. A lustful creature. When the Kapre spoke through the man as a medium, it started to narrate the whole situation. The Kapre held so much her husband because they were friends since her husband was young. They actually knew each other amd played before. But the man was in good terms with the Kapre. They were having fun at night.
Her husband was visiting the Kapre every night to asked how he was. The bond between her husband and Kapre were strong and healthy. This may surprise you a little bit. The Kapre sensed that the man's life will end near. Yes, the Kapre sensed that her husband will die due to diabetes and blood problems. It is because her husband's family had a record of it so it was not surprising. The Kapre wants to hold the man's life. It didn't wanted to possesed her husband, but it had no choice. The Kapre wants the man to extend its life and be with him too.
However, due to his possession, the natural process was interrupted. The man stated to have wounds that kept appearing because the man's body cannot and will not be compatible to Kapre. The Albularyo told the Kapre to get out and release its hold to the man. The Kapre didn't do it at first. But, after several negotiation, the Kapre finally lose its grip to the man. And when they went home, her husband felt good and the worms are no longer appearing. After a week, the man's wounds were healed and some were still healing. However, the her husband grew weak every day. It is until a few months, her husband finally said goodbye.
I decided not to attach any photos because it was very disturbing. I might be reported by some users, so it's a no. Also, I would like to honor my uncle as well. He died fighting back and ended his life with strong will to live. It's been 6 years I guess when he left the earthly realm. He might not have a long existence here, but I know he was happy because he given us three good cousins. If he still here, I know my cousins will definitely be happy. They are happy. What I mean is, the happiness that can only be found inside the family.
Thank you my dearest sponsors. Check out these authors as well. Have fun reading! Thank you ate @Pachuchay for sponsorship renewal. Love lots.
My recent articles you might love to read: