How are you beautiful people of Read.cash.
Under a sunny day, my week is off to a busy but productive start. A lot to do and little time to achieve it, but I have always thought that with a little organization and giving a little more of ourselves we can achieve what we set out to do.
Morning of errands away from home, but with a wonderful weather that made me enjoy the outing. In which I didn't miss the opportunity to stop for breakfast with a croissant. Do you like croissants?
Because I love them. I was with my husband, so we sat down for breakfast and a couple of coffees.
Riding out the coffee shop in our way home, we had to deviate from our usual route because there was some constructions on the road. But just as in life unexpected turns can give us good surprises, by taking another route, we ended up on a street where the umbrella-shaped tree catch my attention.
Earlier, when I posted the header photo of this article in Noise to comment on the tree, our mad scotsman @TengoLoTodo, in his comment said: Happy Monday Eli, is that Umbrella Street!
Looking at the picture I thought, A what did you say? and then I answered him, that's it, the Umbrella Street, from today it has a new name.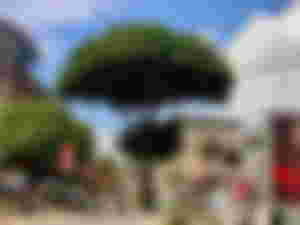 Later in the morning when I got home. I thought I'd read some articles in Read, and came across @HappyBoy's article One shot too many. And as I read it, the final scene of the danish movie Druk (Another Round) came to mind, where the actor Mads Mikkelsen dance the song What A life. Have you watched the movie?
After reading a couple more articles I had to stop. I had to make the lunch and rush off to take my son to an activity at school. And I thought that if @Lucifer01 kept his word and moved into the apartment next door. I would have just had to say Hello, neighbour!!! to enjoy a delicious meal.
So after dropping my son at school, for his activity. I thought of @Princessbusayo's article I had read earlier, Let's do what we can now. And what she says about we should enjoy our parents while we have them. And there is nothing more true, so I took the opportunity to visit my mom for a while since I hadn't seen her for a couple of days.
The visit to the supermarket was inevitable. I had to buy some things I was missing at home. Although thanks to @Loucy, the chills I sometimes get at the thought of going to the supermarket were mixed with laughter since I haven't been able to stop thinking of El infierno es el supermercado de mi barrio.
Rambling-Mumbling-Stumbling is not what I'm doing, although @rebeysa85 may believe it. But I will certainly be looking forward to the event she will attend next weekend in which the Venezuelan Orchestra System will try to break the Guinness record and put 12,000 musicians to play together.
Entering my home, I remembered that I had to check the results of the Bityard copy trading. Before depositing my money, I wanted to test the function. And as I had the 10 USDT that I got for the writing contest, yesterday I started to follow one of the users. I don't know if it was beginner's luck, but since yesterday with the 10 dollars investment I have a profit of 9.28 USDT.
Excellent results up to now, no too shabby, eh? Please note, this isn't a financial advice and always do DYOR. This article is inspired by @Jane article Just So Random, where she gave us the challenge to connect some titles of our articles or other users' articles and combine it with another prompt. In my case as she did, I used the acrostic and I mentioned some of the articles I read in the last few days.
To you, my dear readers. Thank you so much!
Thanks to all of my wonderful sponsors. You all rock!
All images and writing are my own unless otherwise stated.
© CoquiCoin  
You can find me also at Noise.Cash ⊛ Hive ⊛ Torum ⊛ Twitter
Until next time! ;)
November 8, 2021