"Friyay-Friday!"🤩
Heyah ladies and gents? Its Friday again! Yahoo! I know most of us are happy because tomorrow will be weekend. Time for leisures and relaxations. Well, I know some of you, still have work during the weekend but I do know also, you can still find a way to give time to pamper to yourselves with enjoyment. Am I right? Well, anyways, if your wondering why I posted a bit late today, then let me share my stories and experiences today. I hope you don't get bored of reading my articles about My Personal stories and experiences. Not to mention those who don't like my works. (So sad -_-)
Enough with that drama, here it goes...
Earlier this morning, I woke up because my pet dog and my mama were noisy outside my room. As for my papa, he was busy preparing for work. We took breakfast together then after that, my papa immediately rode my motorcycle for his carpentry job. I washed the dishes, while my mama took her bath. After her, I also took mine. Actually, I was planning to do my laundries after bathing but then laziness it is, I just cleaned my room, the living room and then listened to the radio.
During lunchtime, I cook fried egg mixed with mashed fish and seasoned with "crispy fry." After cooking, I called out my mama for lunch. We ate our lunch, of course with "Iking". My papa came home for their lunch break, but they have a free lunch, so he just took a nap at home. At 1 pm, he went back to the place where he work. Around 1:30 pm, my mama said that we should go to our "Ba-ul", like a farm, and harvest some crops- sweet potatoes and "karlang" Taro and make "Niligid" or "Nilidgid" in Bisaya. She said that she craved for it. Honestly, I was then not confident that we can harvest some crops because you know, we were hit by ST Odette and its expected that the crops were also affected by it. But still, my mama insisted. So, we went in our "Ba-ul". And this is what happened...
First attempt...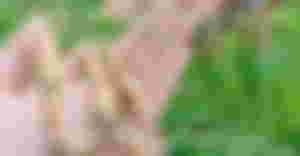 Aigoo! Poor sweet potato. It didn't grow big. Hehe. But my mama kept on searching for more. As for me, I was the one who put the crops inside the plastic bag because I don't know how to do it. (Dang!)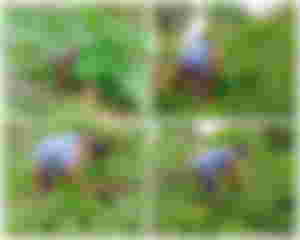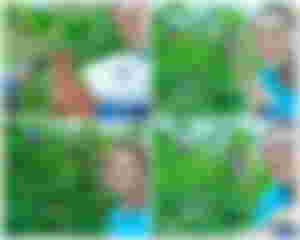 After almost an hour, we harvested all of this;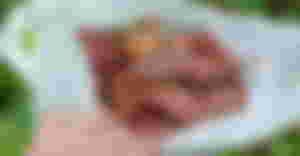 Small crops but they are plenty. What a blessing!
After another half an hour, we decided to go home and prepared all the things needed for the "Nilidgid." My mama peeled the crops while I boiled some water for the banana leaves.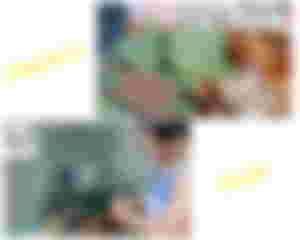 After peeling, I was the one who do the "kudkod thing."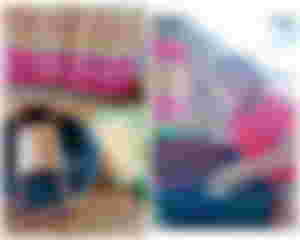 Its not an easy task by way. "Nakakangalay din sa kamay. Tas nagkasugat-sugat pa ang kamay ko sa kudkuran." My mama continued it and she said that I should just prepare the coconut milk. Then afterwards, its all set. Its ready for the wrapping.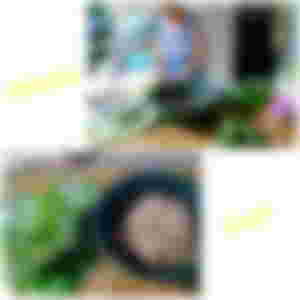 Look at how I did mine. Haha. Its very obvious that I am not good in wrapping. After wrapping, its ready to cook! We waited for 45 minutes and finally, its ready to eat!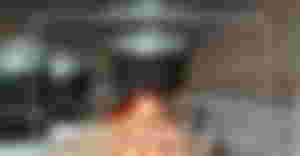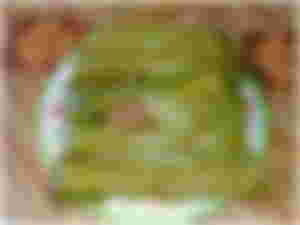 "THANK YOU FOR THE FOOD!"😌
________________________
The experiences I had today made me said, "Friyay-Friday!" I know its not that special, but for me, it is. It really it is! Of course, I just rarely experience the feeling of being with nature and the "harvesting thing". I considered it as one of the precious moments I had with my family. And that's it. I hope you enjoyed reading this one my dear readcash family.
________________________
Thank you for reading!📖
________________________
I want to extend my deepest gratitude towards the people that keep supporting my works in here. To my avid readers, likers, subscribers, and upvoters. As well as my sponsors; (old, new, and renewed ones), I thanked you all. Thank you for making my read.cash journey fruitful. And, thank you for our virtual friendship. May the Lord God bless us more fruitful days, months, and years to come!
inxoxo(*˘︶˘*).。*♡
________________________
|#196- |16th Article of the Month
|02.18.2022 @8:30 PM|
Lead Image source: edited using Pixlab App
"All photos are mine otherwise stated."
________________________
"Don't Hate, but Love!" https://read.cash/@renren16/dont-hate-but-love-5fe0753d
"My Seven Months old Iking" https://read.cash/@renren16/my-seven-months-old-iking-b1942a73
"Food Trip Moments" https://read.cash/@renren16/food-trip-moments-dd1335a8
"Finally, Wifi is Back!" https://read.cash/@renren16/finally-wifi-is-back-a07df7a4
"I Spent my Valentines Day this way!" https://read.cash/@renren16/i-spent-my-valentines-day-this-way-8974db9f
Enjoyed this article?
Earn Bitcoin Cash by sharing it!
Explain
...and you will also help the author collect more tips.