Dirty Linen: A Filipino TV Series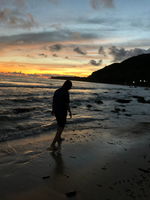 I've been busy in doing our journal (main requirements for our OJT) this week. Even though the deadline of passing it still far, I do it immediately so the works didn't file me up.
After all of that busy week, I still get a chance to watch my favorite tv series haha. I am not that fan of Filipino teleseryes but this one I'm binge watching has a great story and plot.
Dirty Linen is a Filipino Television series airing on Kapamilya Channel but you can also watch it through Iwant TFC. The first episode aired last January and it trends on social media because the pilot episode so great.
The story started with four house workers of a well-known family mysteriously vanish one by one without a trace. Meanwhile, the family members of four people set their revenge against the prominent family.
I like this series because it is not a typical pinoy teleserye that only have affair, sex scenes, or princess sarah vibes lol. In every episodes, you can watch different genre and new story. I am not a movie or series critic, it was only my opinion haha.
#184
:Wednesday
:April 19, 2023