Three ways to make your own crochet scrunchies (Part 1)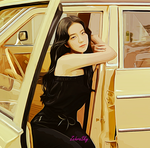 Crochet is the only hobby I picked up during the start of pandemic that I still regularly do to this day. Perhaps it is because crochet makes sense to me. Following new patterns may sometimes be difficult but I enjoy the challenge a lot.
I also figured out that I liked trying to make simple patterns of small projects as well. They are not as amazing as the ones being sold but they are mine so I am proud of them.
Since the patterns I make are simple, I do not have any intention of selling them. But I still want to share them to someone so I write about these patterns here at read.cash. Maybe in the future, I will exand my reach to include other blogging platform, but for now I am satisfied with sharing my patterns here.
Today's pattern will be fairly easy. Even a beginner can make it. I feel regretful for being too drained to take pictures of each process so I will try my best to explain it as clearly as possible. Maybe I will revise the patterns I already published here to include some step-by-step pictures.
I call today's project as thin crochet scrunchies.
These are the materials needed for the project. They are usually already found in a crochet kit so you will not have to fret over this. After you prepare these materials then ypu are ready to go to the next part.
Love Knots Acrylic Yarn

6/0 (3.50mm) crochet hook

Black hair tie

Darning needle

Scissors
Crochet patterns are usually written in just the simplified version of what stitches and how many stitches are there but I will try to make mine more detailed.
This pattern includes slip knot, single crochet, and double crochet. So please look for a tutorial if you are not yet familiar with these US crochet terms.
The first thing you need to do is make a slip knot. Once that is done, get your black hair tie, and slip it from other end of your hook to the one attached to the yarn.

Make a single crochet all across the hair tie. Make sure that the hair tie is covered but do not put too much stitches where the hair tie is already folding on itself. Just put enough single crochet stitches to crover the hair tie while keeping its shape.

After convering the whole hair tie, slip stitch to the first stitch. Then chain 3, this will count as the double crochet stitch. Put two double crochet stitches in the same stitch.

Stitch 3 double crochet in the remaining stitches. At the last stitch, slip stitch to the first stitch.

Fasten off.
It is very easy right? I really like doing this project with the excess yarns I have from other projects.
This thin scrunchie does not eat up a lot of yarn so you can make a lot with just one skein of acrylic yarns.
You might be wondering what the product will look like following this pattern. So here I will show you a quick picture I took of the ones I made.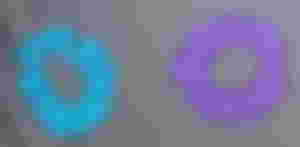 I will aso be sharing the pictures of the next scrunchies that we will be making next time.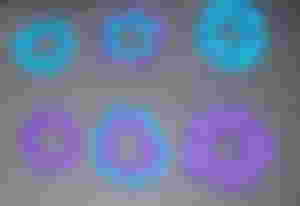 The ones on the left are the thin scrunchies; while the middle ones are regular scrunchies; the last ones are ruffled scrunchies.
If you find one that you want to make, make sure to wait for the article in the future.
Scrunchies are something that I really enjoy making not just crochet scrunchies, I also make satin scrunchies. I really like how they add up to the style of any outfit. They are cute yet easy to make. They are also not that expensive if you do not want to make one and just buy them somewhere.
Hopefully, soon I can set up my online shop again so I can promote it here. I am still wiating for my stipend to have my initial investment.
---
---
Thank you for reading this article!
If you want to read some more articles of mine, I have monthly summaries here:
December 2021 Articles Summary
November 2021 Articles Summary
September 2021 Articles Summary