A big plan turns into reality. Now in flesh and getting the hype until today. Weeks or maybe months ago, not really sure it is just all a plan. But it become a big project for the Bitcoincash Community and now that it is running, all of us here are full support hoping that if will be a big break for Bitcoincash. It will be wide known not just in read.cash and noise.cash town but also outside this platform. It's actually starting from gaining a lot of viewers. Thanks to those hard working people in advertising their own SEP20 token.
A lot is happening right now as in, the hype is just overwhelming and a lot of people is joining and with the kind of advertisement that everyone is doing. We can expect more of people onboarding. Shoot, it's rhyming hohoho. But Who's excited here? Let me see your gums? And, because we're talking Bitcoincash here you should already know that when it come to fees, it has low transaction fees you won't even feel it. And with Smart Bitcoin Cash, executing a smart contract will be more easy and the fees will be much low compare to the others.
You can just read the Whitepaper for smartBCH here.
--
Okay, as I've said on my recent article 13 Days Exploration in Benswap. I started my journey with SmartBCH just last month August 26. And from just $EBEN, I also learn about about $CATS, $KITTEN, $ORB, $SBUSD, $KTH, $ARG and many more. I bought $EBEN on the presale and got 50 $EBEN, with a Capital of $6.18. And $EBEN rose until $3 point something I think reaching it's New All Time High. Everyone is joyous that time especially those who bought in the presale with big amount. Such a risk taker hah.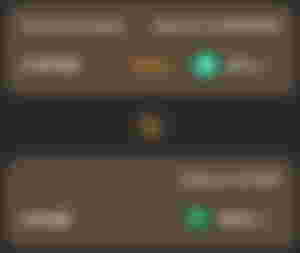 And then, just a couple days ago I decided to buy $EBEN again using my 0.2BCH. In my mind I will just trade it to gain some profit from it, you know buy and sell thingy. Sadly my entry is not too good, thw timing is bad and now I'm at loss. Well, I can just wait for it to surge up again. No more weak hands, I'll wait for it again patiently aigoo. Actually, my plan is to buy $CATS but that time, $CATS is still pumping so I stop myself from doing it. But even if it's $CATS that I bought, it will just the same to $EBEN lol.

And this are the total $CATS that I have. Nakahimlay lang sya sa wallet ko. I don't really want to farm it coz it's a bit risky. So, I'm okay just hodling it like that. And really, good thing I have friends here who share information about their airdrops. Though I'm late from the airdrops for a million of $CATS still, I'm lucky coz I was able to get this from it just by doing a very simple task. And the other 1000 of that token was given to me by Carismatic I think, haha can't really remember. And the rest was from the airdrops. You know $CATS already hit a new ATH before I just can't remember the exact price.

I also have $KITTEN, it's not related to $CATS coz they have different owners lol. When I add thia token to my Metamask Wallet I got a 760,000 $KITTEN on my wallet automatically. Then the rest is from the airdrops and some free drop from a friend. And, I'm almost tempted to sell this when the price surge up but I hold my ass too hard coz I want to hodl it for a long time. So I'm still hodling it, hihi. Let's all watch it grow into a beautiful meow, lol.

Got this also for free, it's from their free airdrop. Lucky me coz I was able to join coz you know I'm not that active in telegram. I only know it when someone notify me. I am really grateful to those people to be honest. And as of 3:36 PM $SBUSD us at 0.00161075 or $0.99. I didn't buy some of it because I'm out of funds already and I already put my sbch to $EBEN. So, that's that.

I don't know if there's an airdrop from this, I'm not informed and as I've said I'm not active in the Gc. That's why, I just bought some of it in Benswap. And Right now the price of it is $0.0000229181, it dumps so I'm haysss. Well I'm just gonna hodl it for sure and wait for it to pump again that's for sure.

And this, $ARG was launched by BCH Argentina. You can know more about them HERE. They had a lot of airdrops to promote their token and I am one of the lucky one who get some of it. Though I also bought some and got 2,000,000. While the other 2,000,000 was from the free drops and the remaining amount was from our cute kabute 😙. You know her already na, so hihi. And this is all I have on my $ARG SEP2o wallet.
I plan to buy more, including CANDYMAN but I'm just waitinf for a little dip. Also, there's more into Benswap so I'll try to look for it more and will decide once I thought of buying it. This is not the only SEP2O Token that exist here. There's a lot more and you can check it HERE.
Anyways, these are my SEP20 token on my Metamask Wallet. I will try my best to accumulate more. Let's support this project for our Bitcoincash. But off course, don't just invest your hard earned money here without doing a proper research. You all know that in crypto world there's a risk that you have to face before engaging into it. Just DYOR.
---
By the way, keg me say my thanks to @King_Gozie for the renewal of Sponsorship. Thank You so very much 💙.
---
---
September 13, 2021
--