HyperInflation, So Hyper!
I know most of us notice that the prices of everything as of the moment are very pricy. No matter how thick our wallet is, the value of it is way lesser than it was before the pandemic happens. The largest bill in our country seems worth a hundred pesos only during the old times.
Philippine inflation rate rose to 5.4% from 4.1% from last year 2021 of May, you can read more info, here. This means that all goods and services prices increase rapidly. If you go to a supermarket your 2,500 PHP or $48.07 can only bought a few items.. it's really frustrating especially those families who had a very low income.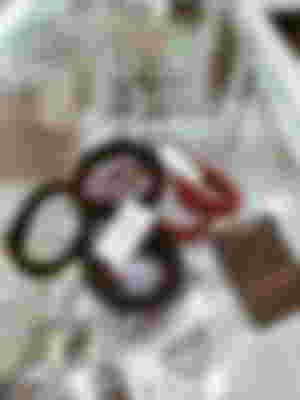 Yesterday, we were busy with my partner running errands preparing for our upcoming wedding. We visited a little accessories shop and bought the stuff in the photo. It's only 6 pairs of elastic hair pony tail, one spring, one fancy earing and one fancy plastic ring for the daughter. But the price of all the items cost me 200PHP+ or almost $4, imagine one elastic pony tail already cost 19.75 pesos or $.38.. way back, we can bought that items for only $1.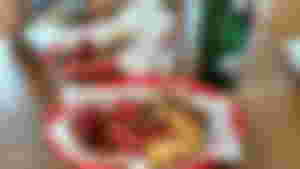 Here's another one, we opted to have our snack after a tiring day in a street foods stall, but we still spent almost $2 or 100 pesos for it. The small hotdogs sliced cost 5 pesos, we get 10 pcs, five for me and 5 for him. While I got 2 lumpia and 1 stick for siomai, that will add 15 pesos and my partner got three fried chicken intestine which also cost 15 pesos plus our soda.
Imagine eating in a street vendors, is also costly now, how much more in a fancy snack bar or restaurant.
Those are just my simple example that shows everything is pricy now, even those stuff that used to be cheaper are now costly.
This is why families that are in the very poor range, are already starving now.. or they can eat three times a day without snack and doesn't have any savings at all for emergency purposes.
This hyperinflation causing the poor even poorer, without showing any mercy at all as it is unstoppable.
While we are preparing for our upcoming wedding, I was thinking after we're done with it, we'll gonna starve as well since my partner doesn't have a job. He only got a salary when he's onboard and when he signed off he is jobless. Or, I'll hustle harder to back up our daily needs until he'll onboard again, so we will not starve. My crypto are my savings, and I can't even dare to pinch any of it since most of it are very down in prices.
Supposed to be we planned to let him play p2E games in crypto as his side hustle when he signed off, but Axie Infinity and Pegaxy also drops badly causing my interest on playing it fade away. Playing Pegaxy is time consuming when you're racing more than 5 Pegas, and it is not that rewarding anymore. I don't know if both will still have a chance to go up when bull market comes, but who knows.
When the luxury life you keep seeing from others way back became more luxurious as of the moment and you can only say "It's too hard to upgrade status in life as of now." It's even uncertain this will end, or it will go up further instead.
I wish crypto trend is like the inflation trend, always going up..and doesn't have any relevance to go down yet. But it's impossible, I know very well.

Recent personal blogs:
Time Is Our Ultimate Enemy When We're Busy & Enjoying
The Random It Gets, The More It Is Rewarded (Sometimes Not)
Becoming A Mom (Happy Mother's Day!)
Find me at:
•readcash •noisecash •Publish0x •Hive •Twitter •Telegram •Discord •email
Date Published:
June 9,2022(Article#:4)