My Preferences in Some Things
Blog #254
May 23, 2022
"Every people has their own choices when it comes to things. Sometimes, one's liking depends on his or her mood."
Hello read.cash family, how was your morning so far? Mine is a little busy again earlier and as of this writing, I am resting because we just had our lunch. Later it's time to wash the clothes again.
---
Last day, I read an article about this or that and I saved it after leaving a comment because if ever I can't think of a better topic to write, this will be my blog saver. And today that will be what I will share since I don't have any topic in my mind. I hope you will have fun reading this blog of mine today.
Chocolate or Cheese
This isn't hard for me to choose since I know what I totally like in this two. I would choose Cheese over Chocolate. I love cheese so much when it is present in the filling of the bread or burger and so too in the toppings of pizza and spaghetti.
For me, cheese adds flavors to this kind of food that's why whenever I have the chance to buy food that has cheese present on it, I would buy it to satisfy my cravings.
Airplane or Boat
I have experience boarding on a boat so this time I would choose Airplane. Ever since I was young, I already dream of riding a plane but I don't have the chance to do it since what we mostly choose is the boat to avoid too much expense.
Right now, I was thinking that maybe I should consider riding a plane the next time we visit Cebu but I should book when there's a promo so we could have lesser expenses since all the kids have fares already.
Lipgloss or Lipstick
I am not fond of putting these two but I tried it before. I can just go outside without putting any on my face but if I would choose between these two, I would rather choose lipsticks over Lipgloss. From what I see on my sister before when she uses Lipgloss, her lips are moist and I felt that it was sticky and I don't like it.
So lipstick would be better for me especially the Matte one because it can't be easily erased and using it feels like I haven't put any lipstick on.
Beach or Snow
I have been to a beach many times before and one of my ultimate dreams is to experience seeing snow so, with these choices, I would choose Snow over Beach. I want to see snow in real and I want to know what it feels like having it all around.
I only saw snow in pictures or dramas and watching it made me so curious about what it feels like to live in that place where snow covers the roads and houses.
Jeans or SweatPants
When it comes to these choices, I would it depends upon my mood and it depends on the place where I want to go. If I would just go out to have a walk around to relax, I would like to wear sweatpants but when I would have to run some important errands outside, I would wear jeans.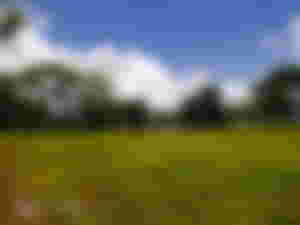 Before ending my article, let me share this beautiful scenery that I took this noon when we were on our way home from school.
Happy Monday everyone!
Thank you my dearest sponsors for the continuous support. I really appreciate it and I hope and pray that your wallets will be filled with more blessings. God bless you all.
Special thanks to @CyberCrypto for renewing the sponsorship. Thanks a lot mate! God bless you more! This is me @BCH_LOVER once again. Thank you for spending time reading my article today. Have a good day and a blessed evening read.cash family.
Thank you. Keep safe y'all!
Enjoyed this article?
Earn Bitcoin Cash by sharing it!
Explain
...and you will also help the author collect more tips.