---
Looking at the old culture that we have, we all know that there are separate roles for men and women. There are different situations where a man and woman are told to behave like this and that. But I want to focus on being in a relationship. Here in the Philippines, the society started to decide on the roles of men and women. I have been in a relationship for years, and it made me observe other couples around me. Some are toxic, and some are not. I have seen couples who ended up getting married. And my observation turned into a question – did both of them adjust?
As soon as I formed this question, I looked at my partner and realized that there are adjustments that the both of you should do. The society told us that a man should bear the burden of doing the first move in everything, like asking for forgiveness. And that is nonsense. People believed that a man should always pay for the date or buy gifts for a woman. And this one's another toxic mindset.
---
I tried to reflect on what kind of partner I am, and then came up with the list of adjustments I did for my man – even if I am a "woman."
Admit it or not, some women are using the "I am a woman and you should say sorry first" card. They are entitled even if it was their fault. You can use this excuse once in a while, but do not normalize it. Maybe your partner already understood that he needs to say sorry first even if it is you who's at fault – but make sure that you don't do it all the time.
Learn and normalize saying sorry if it is on you. It will not make you less of a woman, but make your partner feel that you still consider them. It is not about using the "being a woman" card, but giving them the same affection they give. A healthy relationship must follow the give and take rule.
---
It would be best if you will not take advantage of him. If he is open-minded enough to let you have your personal time or self-hustle, do not take advantage of that. Some men let their partners to have the privacy that they want, and that's to be thankful for. You cannot meet someone more respectful and open-minded like him. Keep your man and do not take advantage on their kindness.
---
Women love compliments – from the looks, the way they dress, and anything that they are good at. Sometimes we love hearing good words about us from our partner, but I will tell you – he deserves compliments as well. Tell him he's handsome and talented. Praise him on the things that he is good at. If he likes arts, music, or dancing, do not stop yourself from complimenting him. Even if he failed, lift him up. Make him feel that he is still doing great. That is how you can take care of him.
---
We all know that women are sensitive. Harsh words can make us cry. Sometimes we cannot deny the fact that we are saying hurtful words to our partners too. We want them to avoid throwing bad words on every argument – but, are you careful on your words too? Make sure that you will also do the same thing. Do not make him do the thing that you cannot do yourself.
If you are going to ask your partner for something like being careful on their words they say, assure them that you will not do it as well. It is a two-way process. If you cursed at him, there is a tendency that he will throw it back at you. But if he is not like that, it is time to consider changing the habit of saying hurtful words at him.
We want our partners to consider our feelings. We are sensitive and gets sad at shortcomings. But, did you ever consider his feelings? This is not about being a man or a woman, but knowing how to consider each other.
---
Do not tell him to do this and that just because you want him to. He is a human-being and not your robot. You cannot force him to do the things that he doesn't want to do – it will just cause a gap between the two of you. Approach him nicely if he's okay in doing it. That is the best solution to that. Let him know that you consider his suggestion or idea.
---
Most of us are being treated as Queens. The difference is, I make my man my King. I am not ashamed of taking care of him in front of everyone. I cook for him, like how he cooks for me. I buy him gifts, like how he buys one for me. I give efforts and sacrifices for him, like how he do it for me. It is not about me being a woman – but me, wanting a healthy relationship and doing all of these for him.
It is okay to have high standards. It is fine to set your satisfaction high. And it is great to ask for the best. But behind all of that – be the person you want to be with. Before you ask for someone you deserve, be the person that he deserves too.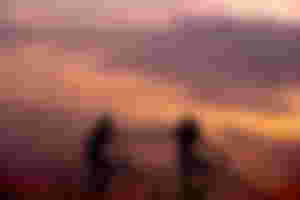 ---
End of Article
Date Published: December 6, 2021
Author: charmingcherry08
---
Rest assured that this article went through plagiarism detection for everyone's peace of mind. It is for the readers and users who take plagiarism as a big deal since they are working to improve the platform. The detection made will serve as my contribution to the said purpose. I am one of you, and I am starting it with my article.

If you have any hesitation and doubts, you can check it yourself through these plagiarism detectors I used.
---
Drop a direct message or comment on my:
---
---
The people you see below this text are my sponsors. I cannot mention them one by one. But if you are seeing your profile in my Sponsors Block, please know that I am beyond grateful and happy for having you all.
To my future sponsors, I will welcome you all with open arms. Click below!
---