You know what, I'm really really really thankful to that person in Facebook who share this platform or read.cash there because I saw it and then I register into it. I become a content creator and I learn about Cryptocurrency that if I didn't I will still consider this as scam when the truth is - It is not. That the real scam is those people whose using Cryptocurrency to scam people those fudging load of sh!t. Ack, sorry about that - I just love to curse sometimes specially if I remember those scamsh!t of people. Argh, nevermind. As I was saying I really thought this is a scam but I already proven that it's actually not.
And then it's all thanks to this platform as I consider this as an eye opener to me because of those articles and lessons that I learned by reading those awesome Article from those awesome people. With their guidance and all. From my nonstop asking about this and that. I learn more about trading and some other crypto stuffs. I am so thankful to them really. But I am more thankful because I learn about read.cash. If it's not to this awesome site I will never get the chance to do what I'm doing right now. I won't be able to put some coins or token in my bag and for sure I am not enjoying my life
Alright, I'm being sentimental seriously, let's get down to the main dish. The reason why I'm writing this hihi. It's just about this SmartBCH again. I'm really not a risk taker seriously because I can easily get affected if I saw that my money is going down together with the shitcoins I bagged. I panic and I can almost see this Mr. Devil waving at my face with it's ugly smirking face where a big sentence was written, just like this "IT'S OKAY TO BUY HIGH AND SELL LOW!!!" I don't know if you can relate to this but I can imagine this and this is enough for me to come up with a decision to sell even if it's in dip.
Oh, it happen to me a lot of times already but I already learn how to stop myself. I won't be affected that easily anymore lol. I'm strong man, so get lost! Lol. But anyways, it was October 07, after a long battle with myself I finally come down to the decision that I will do it. Actually, I plan to do it even way before when I start doing trading my $CATS. I am so tempted that time already but I just stop myself. And then @ExpertWritter pm me that she also plan to do that thought that I plan to do before and this what's push me to really do it lol. And so with eyes closed, I finally send my 1 BCH to my Coinflex to Metamask. I'm shaking that time UwU.

So I didn't buy a $CAT immediately coz I'm waiting for the right price, lol. And that time arrived last October 16 and bought my $CAT for 1 BCH. And from then on, I got a nerve wracking experience because $CATS that time is not pumping, and it's dumping more that the value of CATS I bought was down to 0.88 BCH. Imagine how anxious I am when the price dumps more, my goodness. I almost got a heart attack, wew. And after of 2 weeks or more of waiting, I finally taste the fruit of my impulsiveness, lol. Because right now $CATS is flying to the moon, UwU.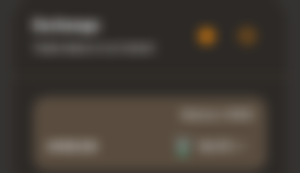 This is the number of $CATS I have until last last night. Because the other night I decided to get my initial investment which is the 1 BCH and then leave the profit I got in hodling my 1BCH. I got 146,862.52 $CATS on my wallet and then today exactly at 12:46 PM I decided to sell my remaining $CATS at the price of 4.8 BCH per 1 Million $CATS. I promise to myself that once my remaining $CATS hit 0.7 BCH I will sell it. And so I did, right now as in while typing this. I am the happiest right now guys as in. The risk is all worth it. The nerve wracking feelings while waiting for it is all worth it. I finally got my whole investment in SMARTBCH.

Overall, from the first day until today I invest a total of 1.3 BCH in it. And then I started playing my other tokens like selling and buying - it's a cycle. I also experience that rug pull good thing I experience it just once. And patience is the key, hodl if you think the token you choose is a very trusted one but if not then be practical, sell it if it's giving you a bad vibes. Don't just invest, or if you want to invest - Invest what you can only afford to lose. And I got a good amount here thanks to $CATS. And after selling my CATS I immediately transfer it to my Bitcoin.com just to be safe. And I just leave a few in my wallet.
So yes after 1,296,000 seconds I got 0.7 sBCH in my wallet. In just 15 days I was able to earn that much and that's possible only thanks to $CATS. But Guys, I don't recommend this to anyone okay. If you want to do something then do it at your own risk and do your own research. Don't just do it because you saw someone do it without even doing your own research. The risk is very high but the return is also high - but you can also lost everything in one snap once the token developer decided to disappear like a smoke in the wilderness lol.
I just do it this one time because OMG, maybe because I am so eager to complete my 5 BCH that fast? My progress is moving to slow that I thought of taking the risk. Not a good move but in the end it become a good move for me, maybe luck is with me this time. I haven't check my Assets yet if I already completed the 5BCH goal. But I hope so. I will check that one of this day. And, I'm still not done with $CATS if it dumps I might buy again. Let's just see, hmm.
D Y O R!!!!
---
Lead Image From Unsplash
---
---
---
October 31, 2021
--