Photobook: Meeting the Philippine Eagles, Chocolate Museum, and BUDA Coldness!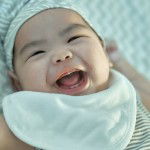 Guys, I am so excited to walk you through this trip because it was the start of 2019 and this year was what we both considered the best year for us because we had local trips around the country and region, then we had three international travels as well and the most amazing thing was that we ended the year learning that we were pregnant!
Let me start by telling you that this photobook is a 6x8 inch one and I selected matte paper, the cover is still a soft one, not hardbound. Then I finally added Davao 2019 at the bottom right-hand side. As always, I'd make sure to use a landscape photo so it runs from the back to the front, there were several adjustments done from the web program so I could align the cover photo as I can't upload one image for the front and back cover, I have to upload twice.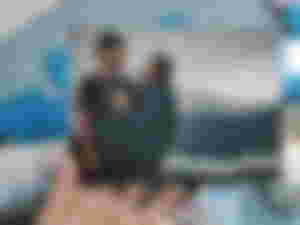 So this image was taken at Sonnenberg Resort, based on my research, this offers a sea of clouds view in the early morning. It rained the night before and we were already in doubt if we should go but we pursued. The road was dark, slippery at some point, and it was sprinkling and we were on our rented motorcycle, I hope you can imagine how scary that was but all for the sea of clouds experience, we managed to get to the location only to find a small strip of clouds.
My husband told me that our chasing sea of clouds experiences has all failed. First, we tried that in Bohol, we arrived late so there was only a thin layer of clouds, then we went to Sagada too but only found a sea of heads (this makes me laugh even until now), and in BuDa. Anyway, it was still okay, we didn't mind it, we continued taking photos at the location.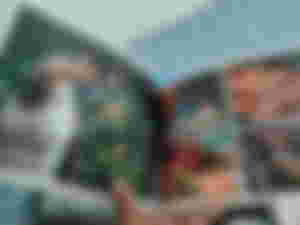 But our main reason for coming to Davao really was to see up and close the Philippines' pride monkey-eating eagles, especially Pag-asa. He was still alive when we arrived there, a year after, he died due to sickness, poor fellow. But it was amazing seeing these birds! There we found that there are many donors just so these birds could survive, even the Japanese prime minister had adopted one but it also died, it was named Sakura.
Other names that I could remember are Kim Atienza, Cebu Pacific, Philippine Airlines, Shell, etc. Each bird has an adoptor and they donate money for the bird, the facility also aims to breed these birds.
It was a one-of-a-kind experience, I am not sure if I had shared that here already but I guess if not, I will create a separate article about that one of these days. And oh, there's a turon vendor outside the facility, it was so good I had to take photos of it. Honey glazed turon with sesame seeds!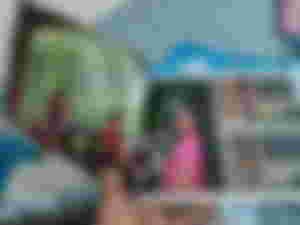 After visiting the Philippine eagles, we headed to the beautiful Malagos Garden and our aim there was to visit the first Chocolate Museum in the country. We were successful in finding the museum, we were in for a treat but also it was educational! I love the information and the feeling inside as if we were really on a farm. Their aim was to give an educational tour of their farm-to-table chocolate experience.
At the end of the tour, we had a very chocolatey experience with their hot chocolate and suman and a slice of their thick chocolate cake. I can't truly express in words how nice this resort is, there were also different animals around and also very photography-worthy corners!
By the way, we had rented a motorcycle to reach here, we rented it for three days until our trip back to Cebu.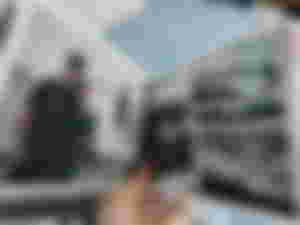 We had to be in a hurry after having snacks at Malagos Garden because our trip to Bukidnon-Davao road would take around 40 minutes. I can't remember though if it was 40 minutes or more than an hour but we headed to this place called Highway 81 where we were staying overnight. It offers a teepee type of accommodation and they are very known for their in house budbud and hot chocolate which ran out when we were there.
The temperature here was really cold, we were drenched too when we arrived as it rained when we were just a few minutes away from the place and we have to also walk up towards their restaurant where their front desk is located.
But we had a great dinner, native chicken soup, some beef adobo, and their serving was really generous! We had some tea too after at their restaurant and we both love the ambiance, the cabin like feels, wood and many paintings around too!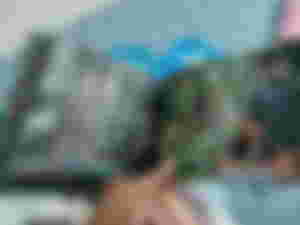 One of the unforgettable things we had really was driving on a dark, muddy, slippery road towards Sonneberg but we survived. We had coffee there but we are sad we can't find our drone footage of the place.
After Sonnenberg, we had other places to check but we were really tired so we ended up going back to Highway 81 and taking advantage of the free breakfast. Then we slept a bit and headed back to Davao. We stopped by the famous Eagle statue and then we had lunch at a really nice place which offers an open kitchen and the food was all organic. It was a buffet type and we ate in their garden which was a refreshing experience. The food was really good too but we were a bit late, still, there was food available but it would have been great if we were there at the start.
We then checked in at an intelligent unit in Eco West Drive at the heart of Davao. It was just right next to SM so we were able to also roam around the mall, we enjoyed the view of the community but we truly love the unit as it has Alexa voice-operated technology. It also has great internet speed so we were able to do some online stuff while there.
This happened on February, it was our anniversary travel and I truly love this trip, we've been to many places, and we were able to accomplish our itineraries although some were skipped, still, it was nice seeing a different Davao. Surely, we will visit Davao again in the future!
---
Check out my other photobooks here:
---
If you are interested, check out my recent travel articles here:
---
xoxo,
momentswithmatti
Mother | Boholana | Cebu | Philippines | Travel | Photography Enthusiast | Calligraphy | Art | Crypto Noob