Our Unexpected Sunday bonding ft. Soon-to-be Drawing Gala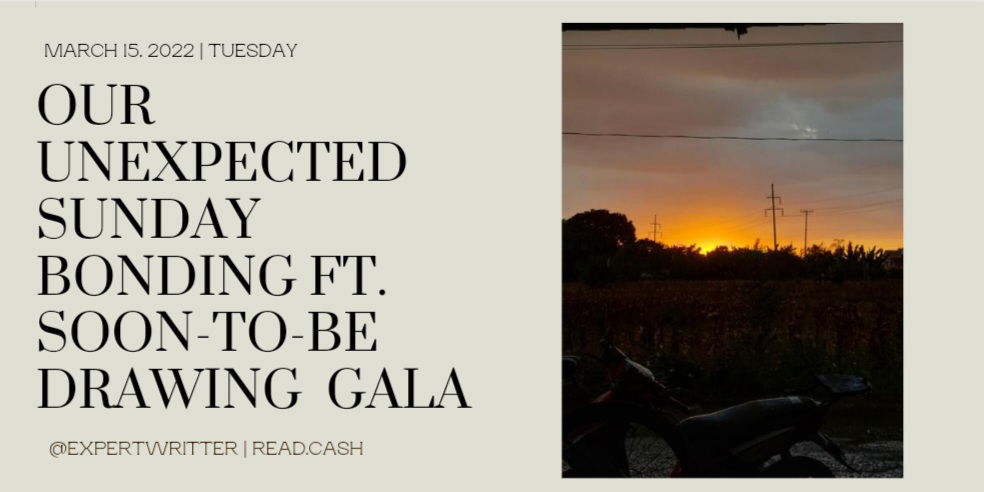 Last Sunday at Afternoon time, I was bored. 6 letters and one word, B-O-R-I-N-G! Aside from boredamn attack, it's also hot in the Philippines! You read it right after I published my Article, I feel like I sweat a lot even though, my Electric fan is on and I switched it to Level 3. My goodness! I feel like I am a Grilled Pork barbeque because of the very hot weather. So, the thought of inviting someone to go out to refreshed came inside of my Mind. I want to Go out! Because seriously, I really hate it when there are a lot of sweats on my back. Even if I like to go outside, it's still the same even if it's windy because the sun is so very hot.
I was annoyed too because the foods that I always think that time is also inside of my mind. Like Halo-Halo, Scrumble, and other cold ice snacks to ease the Hotness that I felt.
I invite my one friend, a friend from my High School days. I chatted her because I really like to go out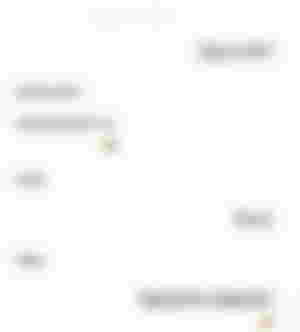 Translate:

Me: Are you Busy?

Her: Why? Are we going somewhere? Haha

Me: I hope.

Her: Where?

Me: To refreshed. It's hot.
The truth why I invited this friend is because she has a Vehicle. Lol we can use her vehicle when we will go out to Outings and others planning gala's.
I also thought of our other Friend. Because it's been a long time since I saw them. So I chatted our other Friend and asked if she is busy today and she said that she is not I told her that we are planning to go out and she said that she can also go with us and she chatted our other Friend which is living in the other Barangay.
We set the Time of going and we are all agreed to go around 4PM. My Friend who I chatted told me that she will just go to the Store to filled GAS of her Motorcycle and then she told me that she will arrived to our Plaza after to fetch me. I replied, Okay and then Start to prepare myself for the Meet up.
I was annoyed because I can't think what to wear. If I will wear a shirt, polo shirt and sando, short shorts or Jogging pants, etc. My gosh! I should look presentable because my big belly is exposing! I mean, I am not confident to look like that but even if I wear different clothes, I still look fat my god! But I can't do anything about it so, I just wear what It will comfortable.
It's exactly 4 PM, when my Friend arrived to our plaza. I told my Older Sister that i will go outside and my Grandpa give me a curfew time which is by the 6 PM , I was at our house already and so, I said Okay, even though for sure that I will be late. Lol
The Hot weather and the wind combination really makes me smiled because it is so very Nice! I missed this kind of feeling and it reminisce me of the Past. I mean, Our High School memories because we are all like this before.
The Motorcycle of our friend is Spacious and 4 person(s) can be fit there. Good thing that there's no police on duty. I was shocked because I thought that our Friend also have a Vehicle to use but because they need to fix their motorcycle, she can't used it. We don't have a choice but to be fitted in just one motorycle. Lol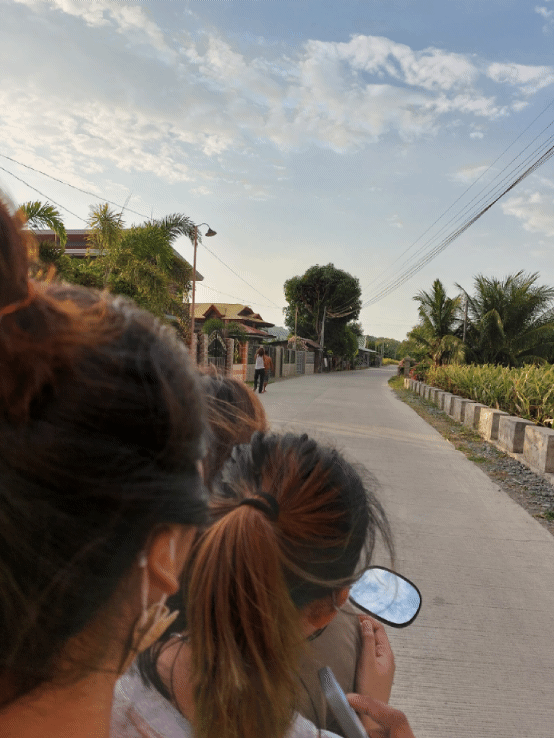 It was fun because we shared a lot of jokes to each other and she is driving so Fast. That is how we spend our High School days vacant! We are all like this before lol.
We arrived to the place where we will hang out but sad, because we can't eat there because it is closed at that time. So we decided to change the location and it is in the other MilkTea place in the same neighborhood and because we are just only Four Person, we decided to invite others. The more we can spend the time during that time, the more we can have fun!
So they decided to invite Engineer and they also asked my permission. I was like, 'Damn! I Should ask the Heaven above, why I was friends with them?' Later, He was already Arrived to where we are but we are all laughing because he is using bicycle instead or his Motorcycle. He was shocked because he is the only Guy there. So he decided to called his Cousin which is my ex-bestfriend slash my Crush for a long time.
The girls are all teasing me because he agreed to go and later on, he arrived with his motorcyle and he even told us that he almost got into accident because it's been a long time for him to drive his motorcycle.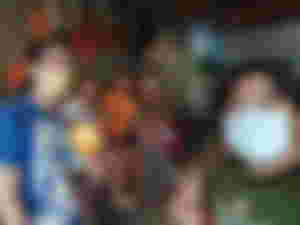 Start from him wearing blue colored shirt, me in the back (sorry I covered my fats haha), My 3 girl friends and Engineer). We are all laughing because of the peace sign joke.
Later, our orders arrived. It was KKB. Okay? We are all agreed to KKB to our Milkteas and while, our snacks, it was 'Ambagan' or we will give our contribution.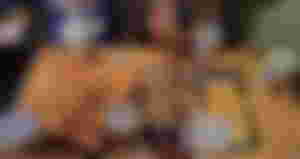 We ordered 5 different flavors of Milkteas, Barkada Size Pizza, Streetfood, and Nachos. We enjoyed eating while talking about life and laughing to their jokes. All I can say is, our life became fun and we enjoyed the time without thinking our problems.
It was 5PM when It rained. My god! That is also the reason why, we extend our time there. It was Good because I will have a reason why I go home late. hahaha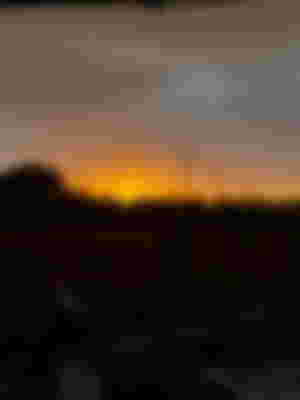 After we eat, it was exactly 6 something in the evening when we decided to go home. The sun is not like this that time and it's already evening.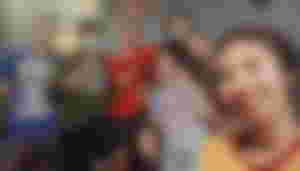 I forgot to mention that our other male friend was also invited but he was late because he was invited late by the two Engineers. Lol you can tell our Hapiness by looking to this photo that we enjoyed our short period of time spending together.
Do you know if what is the secret of not drawing planning of meet ups and galas? Well, I was the first person who invited them to go out and then they invited other person when we already arrived at the destination. If you will planning to have meet up and galas with your Friends, you should invite one or two persons and arrived at the place so that they can arrived next.
You know my friends was thankful to me because I invited them to go out and I was good at planning. Unlike them when they will invite outing it will just happened once in a blue moon.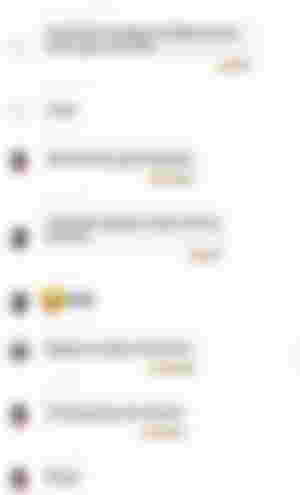 Translate:

: Guys it much better if unexpectedly than planning.

: Yes, don't set a plan.

: Don't set a plan, it will never happened!

: Just do it unexpectedly! HAHAHA

: Just call again and say, "Let's Go!" Like that!
We are all laughing because of we always suggesting something if where we will go, if in the Antong Falls in Sison, Pangasinan or just in a nearby pool resorts here. The problem is the vehicle if we will go at the Antong, Falls we have two classmates who owned L3 but they are hesitating because what if our driver is not careful and we will be at the accident. But, they are still planning until now. I don't know if I can go since, you know how much busy I am here and I need to monitor my tokens. Another reason is, I'm sure that my Grandparents will not allow me to go if we will go at the Antong Falls but if it was nearby place, they will. But since we are always just around for How many years now and we are Tired of the views, they decided to go far.
So that is all for today, I just shared to you how I spend our time Last Sunday and our plan for the next weekend! I hope that we are not end up Drawings because I didn't prepare a Crayons to colored it! Lol Thanks for reading!
---
My Previous articles:
The Taste of the Salted night (New Published Romance Story)
Travel Experience Gone wrong but Worth it!
Getting Ready for today's Outing
My Life after being Away from the Toxic World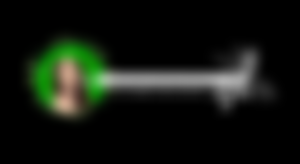 Sponsors of ExpertWritter