It's hump day! Did you know that this phrase was used as early as 1950s? Source
Hump day refers to the middle of the normal work week which is Wednesday.
How did my Wednesday go?
Was it about the dogs in our neighborhood that had been barking since forever? 3 a.m. is the schedule of our garbage collection. I know. It's that early. For me, I don't mind since I am awake that time anyway. Sometimes, the garbage collectors come earlier than that so we had to bring our garbage to another collection site some 50 meters away from where ours were supposed to be collected.
Such is what happened earlier today. It's okay for me though. It's a morning exercise.
Earlier than that, some dogs started barking. It's now 5:47 p.m. and yet, the barking just won't stop. Maybe one starts and then continued on my another. In between, others will join in the "fun."
From where we are located, sounds bounce and magnified.
The lead image was taken last week. It was one of those days that the calling is strong to go for a walk but I did not heed the call.
The photo above was taken this morning. Again, I did not heed the call.
Trust your instinct they said. If only I had, I would have seen the sky display much better.
However, I have an excuse. I have work that needs to be done. The earlier I do it, the earlier I can finish so that I can focus on some other tasks such as read and noise.
My basis for going out is how much load I have to work on for the day. If there are a lot of files to do, then I don't go out for a walk. That's why weekends are the best times for me for I don't have to think about work.
How often do you trust your instinct?
Earlier today I bought CYT for my Dragonary game. I do that in Binance under P2P wherein I can pay either with Gcash or Coins.ph.
Although you can get rewarded by playing for free, that would takes months and probably a year before you can finally breed powerful dragons and earn. So while the market is on the red, why not take the chance to buy tokens instead. So that's what I did.
I made a mistake with the dragons that I forged and the embers I used so it's going to cost me more to create new dragons. I haven't done my research enough.
I thought of creating a new account but I decided to push on.
Lesson learned: Do your own research in everything before making a decision.
Also, I staked what little money I can spare to some tokens too. Let it just sit there and wait.
Three days ago, I deposited some BCH in Coinflex so that I can withdraw it to my Metamask wallet. The deposit process went fine so I went ahead and withdrew it. The transaction went through but the processing from Coinflex to Metamask took longer than expected. Usually it takes a couple of minutes. That time it took two days. I had to chat support and gladly he/she was able to help me. Although that was BCH that I can neglect, still I am thankful that it finally went through.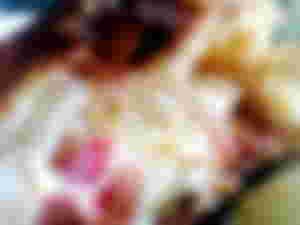 Me and my partner don't celebrate birthdays. Celebrate in a sense that we throw out parties. We like it to be simple, reflect and be grateful. Sometimes we do go out and eat with our closest friends or just us. However, because of COVID and restrictions, we didn't do that.
Today is my partner's birthday. We just ordered calzone and salad from one of the restaurants here. I can't remember the last time we have eaten calzone. I call this pizza in a bread. This is meant to be shared so one is enough. It is fulfilling already. There are choices of vegetables and beef calzone. Either is fine by us. This time, we ordered beef though. I can't believe how much I missed this. We haven't touched the salad so we saved that for later.
Tomorrow is going to be a whole day power interruption for us. It will start from 6:00 a.m. to 5:00 p.m. I will surely go out for a walk/jog somewhere. Although I am dependent on power and internet for this is my bread and butter, I still welcome days without them for I can rest and go out especially that the weather is so nice these days. Of course I avoid crowded places and the city center not unless there is an important thing that needs to be done.
Sometimes even if the scheduled brown out is for an hour, I still will not work and take the day off instead. You know yourself. Listen to your body. If it needs rest, then rest. If you think you can keep going, then do it.
I'm not sure what rout to take tomorrow though. Probably the same routes that I go to or I might just end up at the park. Who knows. I'll go where my whimsical mind takes me.
With all the things going around us, chaos, noise, death, illness - one must find a way to brighten up the day. Remember that God is bigger than all of these. Keep trusting His heart.


Thanks for reading this random post. Sometimes I do get inspired by what I read that I wanted to write about it too only to realize that I can't go any further about the topic. If it is that short, then I can post that in noise.
I now have 317 followers. Yey!
I checked those I sponsored and a lot have expired. I didn't renew for they have become inactive for almost weeks and months. I'm still keeping them there and not deleting it and hopefully they will come back to read and start writing again.
I guess it's time to find others to sponsor.