Happy Birthday (An Acrostic Poem for my Husband)
H appy and contented for God give me you, the man I will be spending with until my life ended. The one that I know will never hurt nor leave me.
A lways keep in mind that I cherished all the days that we were together. From the first day that we met until on my last breathe.
P lease be more patient with our current situation. Time will come, when all our obligations are done, you'll be home for good.
P romises for each other won't be broken but will be keep instead. I hope that you won't change and break my heart in the end.
Y ou are so special to me, you know that very well right from the start until we agreed to have this relationship to the next level.
B elieve that everything happening to us have reasons, we may not understand it now, but someday, we'll get answers to all our questions.
I n this lifetime, it's very hard to find someone like you. You are a rare species so do I, that's why we really matched well.
R emember to take care of yourself while you are far, and be sure to be healthy when you goes back to us. I'll make sure we'll have fun, the moment you come home to make up for those days that you were gone.
T ogether we can make things happen. All our plans for our future will come true one by one. Just don't rush things, we can make it slowly but surely.
H opefully these dreams we have for our little family will take place with the help and guidance from the Lord above.
D ay will come, you'll be surprised to see that all your hard works and sacrifices have been worth it.
A nd I will be forever grateful to you because you didn't give up, though there were times you wanted to call it quits but changed your decisions quickly.
Y ou are simply the best among the rest. I will never get tired telling you how much you mean to me and the kids.
Happy Birthday my love. Since the day I met you, I knew you were the one. Time has challenged us but we still ended up together. Seems like we really meant to be. We might have arguments, and lots of misunderstandings, but I know it's just normal as long as we won't let go of each other. I love you to the moon and back😍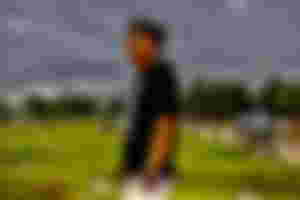 _____________________________
Hey guys, today is my husband's special day. Unfortunately there isn't any celebration because he is on the other side of the earth. However, I cooked him his favorite spaghetti because he said he wanted a longer life and he loves spaghetti. And oh, I bought some pizza, yes pizza, my favorite pizza on my husband's birthday is definitely a must. So since it's my husband special day, I wrote a short acrostic poem for him. Actually, Anthony loves receiving love letters from me. Earlier I was looking at my old photo album which I gave to him on our 1st year anniversary as boyfriend and girlfriend. And on that album, I found some of my letters from years ago. As I was reading I feel embarrassed at my words.😁 Oh well, I was so young back then, maybe the reason I have said those kind of words. Well I am not going to share the letter anymore to you. Maybe next time or if I run out of topic to share.
Thanks everyone for dropping by at my post. I really appreciated it. By the way before I end this up don't forget to check all these amazing people on my sponsors list.
Lead Image is from Unsplash