"Scratching Everywhere"
_______________________
Can you still remember the time when I shared with you about my skin allergies that happened about a year ago? My face got swollen where I can't even believe myself that its mine. Lol. Aigoo! I'm showing signs again...
Last Wednesday night, I have shared with you about a little celebration of my cousin's fifteenth birthday, right? And surely there were foods we partaken. The following day, we still have left overs- "Larang" (a dish made out from Tilapia fish, coconut milk, and powdered turmeric), "Spaghetti," "Pancit," and a whole box of Chocolate cake. At that time, I was left alone because my mama went out to gather some firewoods together with my Aunt (Rhian's mom.) Around 3 pm at that time, they arrived home and decided to divide the cake, one part for us, the other parts for my other Aunts and the rest for Rhian and her boyfriend. And because I was craving a lot with cake, I took a large slice every after meal. My mama even noticed it. The last two slices were eaten by us (mama) after our lunch the other day, so as with the remaining "Larang" dish that was reheated.
Yesterday, I noticed that I've got some red spots in my skin but I was not being bothered until I felt itchy then. I started feeling itchiness in my ears, in my neck, my chest, my thighs, my arms, and my legs. I sometimes felt itchy on my groins, so I decided to put some lotion in it. And last night, while I was spending time with my love @Rhed, I can't help myself but scratching all over my shoulders, neck and back. I put a menthol rub and powder in it to minimize the itchiness. I think he noticed it too that I was not comfortable anymore, especially when I'm starting to felt itchiness on my face. "This is bad." I wasn't able to take a good night sleep last night because I just kept on scratching anywhere that feels itchy.
Earlier this day, I decided to take a bath early and right after, I put lotion, menthol rub, and powder. Its getting worst now.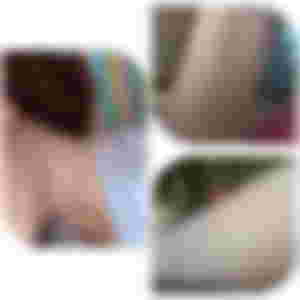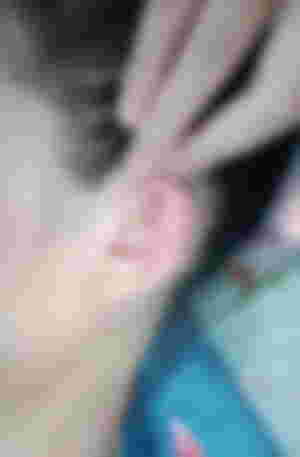 My ears gotten red and I have red spots on my face. My mama said, "Ayan na nga ba sinasabi ko. Baka kailangan na naman tayong pumunta sa Doctor niyan." Rhed even told me to buy some medicine but I wasn't able to do that because I felt ill and I felt so sleepy though I really can't because I just kept scratching. Good thing, after I took my lunch, I already can bare the itchiness so I was able to took an afternoon nap.
While eating dinner, my mama said, "Uie, nakalimutan mo yata na nung time na nangyari yun, napasobra ka din nang kain ng cake at seafoods." Just when I realized that I really did forgot about it. "Katakawan kasi sa cake." My doctor once said, that I should not consume TOO MUCH food that has eggs in it and of course the seafood thing. "Panay kain ko kasi sa Larang na luto ni mama." Apart from that, I have also ate "Ginataang Monggo" for today's breakfast which made it got worst. This is my fault. Really my fault!🤦
________________________
Lesson Learned:
I should now start being conscious about what I am going to eat. And take it moderately. Even until now, while writing this piece I am still scratching. I really just hope it will not lead to another swollen face like what had happened before.
That would be all for this blog my read.cash family. Thank you for reading. Hugs and Kisses!
________________________
My warmest thanks to all my avid supporters; readers, upvoters, sponsors (old, new, and renewed ones). It is my pleasure to have you and become my inspiration and motivation as I go on to this journey as an online writer and a blogger. Thank you for your undying love and support, and for showing how kind and generous you are. Thank you for making my read.cash journey a wonderful one. May this platform last for a long period of time and our friendship, may on virtual or not goes the same. May the Lord our God bless us more days, weeks, months, and years to come!
_______________________
Blog Title: "Scratching Everywhere"

Author: @renren16

_______________________
PREVIOUSLY PUBLISHED ARTICLES:
"Its all about Letters" https://read.cash/@renren16/its-all-about-letters-5b8d98cc
"She's Fifteen!" https://read.cash/@renren16/shes-fifteen-b5c8e02b
"A Year and a Half" https://read.cash/@renren16/a-year-and-a-half-45b368a5
"I see Green!" https://read.cash/@renren16/i-see-green-1c68055c
"Half Year with Love" https://read.cash/@renren16/half-year-with-love-6ee5dd22
_______________________
Enjoyed this article?
Earn Bitcoin Cash by sharing it!
Explain
...and you will also help the author collect more tips.