"Half year with Love"
________________________
It feels like just yesterday.
You and I have crossed paths again.
Can't believe that this can happen.
Like, imagining that long years of being apart,
hoping that this time, Fate will not be cruel for the two of us my love...
________💕💕💕💕💕_________
Good day my to all of you my lovely and handsome read.cash mates. How's your day? How are you? How's life amidst the shortcomings and struggles in life?
Reading the title above, I guess you have an idea on what I am going to share with you today, right? Yes! You are not mistaken, today marks the sixth months of my long distance relationship with Rhed.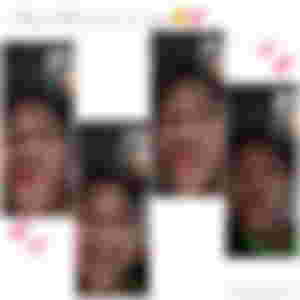 I've never thought that we can survive this relationship. Like, I know I have been in a kind of this before but, imagining the distance. Well, not to mention those who are having a relationship from another country.
So far, I felt so loved by him and he cares for me too. Even when he is at work, he never gets tired of giving me his time. During break times he gives me an update- what he does at the moment and with whom. Apart from that, we also have misunderstandings which was all started because of me. The common reason is when I lost track of time and when I'm giving him a feeling that he is not of much importance. "Ipagpalagay nalang natin sa tuwing may laro kami at late na ako'ng nakakapag-update or nakakauwi sa bahay." (Laughing) "Part naman na kasi talaga siguro yung pagkakaroon nun sa isang relasyon." I mean, having minor conflicts. But instead of making it big or last long, he will always chose to lower his pride. "Please, don't get it wrong. I don't take advance of it or taking it granted." Aside from that, he will always remind me that, "kung kasalanan mo, ikaw yung mag-initiate na mag-sorry instead of ikaw na nga yung may kasalanan, ikaw ka pa yung magagalit or magtataas nang pride."
I really can say that he really has changed. I mean, for the better. He is matured now. And I am happy because "sa kaniya ko natutunan kung pa'no i-manage nang tama yung oras ko in all the things I do or gusto ko'ng gawin." He will also reminds me that I should not lose hope and ask and pray what I wanted to have to HIM up there sincerely especially when I am so down and when I break down.
If you will going to ask me if I am happy, I'll proudly answer, "Yes!" I am really happy and honestly, I have less stress now than before. When it comes to other girls, "kahit ako na yung nag-sa-start gumawa nung issue, siya naman yung nag-re-remind that I should be basing iton what he shows and does for me, not by merely accuse him without concrete evidences." And with that we will say, "Trust me. Just trust me Love!"
Though I am giving my trust to him, I am guarding myself and my heart too. "Mahirap na makampante." For now I am enjoying every moment with him though we only have conversations of the phone. I am really happy.
Tomorrow is not guaranteed. We don't know what tomorrow could bring for us. But frankly, I hope and pray that he is the one. The one who will be the "last" that is destine to me by God.
That would be all for this blog my read.cash family. Thank you for your time. Hugs and Kisses!
_______________________
My warmest thanks to all my avid supporters; readers, upvoters, sponsors (old, new, and renewed ones). It is my pleasure to have you and become my inspiration and motivation as I go on to this journey as an online writer and a blogger. Thank you for your undying love and support, and for showing how kind and generous you are. Thank you for making my read.cash journey a wonderful one. May this platform last for a long period of time and our friendship, may on virtual or not goes the same. May the Lord our God bless us more days, weeks, months, and years to come!
_______________________
Blog Title: "Half year with Love"

Author: @renren16
_______________________
PREVIOUSLY PUBLISHED ARTICLES:
"Bountiful Five Hundred" https://read.cash/@renren16/bountiful-five-hundred-e6c52a19
"I was Saved!" https://read.cash/@renren16/i-was-saved-d8190e5a
"Eightieth" https://read.cash/@renren16/eightieth-66229f7c
"Alive and Kicking!" https://read.cash/@renren16/alive-and-kicking-e9e94e1b
"Introducing CATs" https://read.cash/@renren16/introducing-cats-e9100013
_______________________
Enjoyed this article?
Earn Bitcoin Cash by sharing it!
Explain
...and you will also help the author collect more tips.