"She's Fifteen!"
_______________________
What it feels like to have a sister? Are you happy with that? What it feels like to witness how she turns out to be in the past years you were together?
Hello there everyone in this wonderful community! How's your day? Me? I was a bit tired because of last night's family gathering held here in our house. "Naging taga-hugas lang naman ako." Lol. Well, if you are asking what was it all about, its because we celebrated one of my cousins' birthday. Most of you here especially the ones who really did take part in all of my blogs knew who she is already. Her name is actually Rhian Mae Princess. But most of us called her, "Rhian" or "Princess." I preferred calling her "cess" or "bagday-baduday." She just turned fifteen yesterday, one of the reason why I was not around here too.
Rhian is the eldest child of my Aunt. She was born before my Aunt got married to her husband, step-father of hers. Back then, Rhian was taken care by my Aunts and us too. She usually sleeps here in our house when she was a little because my Aunt worked in Manila to support her needs. Its a long story to tell. About his father, he now have another family too. Meaning, her parents got separated. She longed for a complete family and I really did witness that. I really got a teary eyes while looking at her watching my Tita, (my other Aunt's daughter) spending time with her husband and their children. It feels like I was being struck by a blade deep inside me seeing how Rhian looked at them. I don't know what's on her mind but I felt like she says, "Maybe I am happy too if my family is complete right now." I was really sad and without any hesitation I took her away and hugged her tightly. I think I was a third or fourth year high school at that time. Yes, though it happened quite a long time ago, I'm still able to remember that very moment.
When it comes to her relationship with her mother, there really are times that they will argue over little things. But somehow, I felt her. I mean Rhian's side. There were times din kasi na mas pinapaburan niya yung isa niyang anak kahit yon pa yung may kasalanan.
I treat Rhian as my younger sister. Like, when there will ve urgent matters that I needed to attend to, aside from her mother, she really is the one that is one call away. May it gala man yan or whatever gathering it is. You know, I really don't have a sibling and she made me feel that I have one.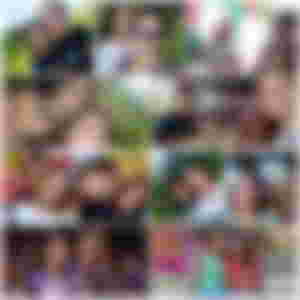 I really didn't think that we will be having a small gathering last night because days before, my Aunt (her mother) will keep on saying, "I am so broke right now. I don't have a money to spend for her birthday." So, around 10 am yesterday, I started to do my laundries but then my Aunt came to our house asking me to drive for her and Rhian. But I told her that I will finish my laundries first because "Jusmiyo, gabundok na talaga." (Laughing) So, she said that we should just wait for Rhian to finish her morning class and ask her teachers for the afternoon session that she will be absent for her to have her "Panagkot." (She always did that on her birthday.)
Around 1 pm, we decided to travel going to town to have the "Panagkot" and buy all the needed things for the night's gathering. Fast forward, we went home before 4 pm because she needs to attend their dance practice for the upcoming "Alikaraw Festival" to be held on our town's fiesta.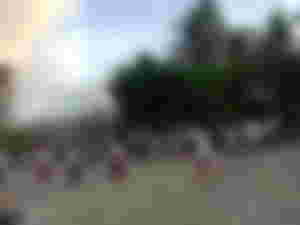 As for the food preparations, I assisted my Aunt and mother on preparing all the ingredients needed. We made "Pancit," "Sinigang na Baboy," and "Spaghetti." There was also this so called, "Larang" made from fried Tilapia and cooked in coconut milk, seasoned with "duwaw" or "luyang dilaw." Of course, putting some chilis is a must to make it more delicious.
Around 7 pm, we started the party with a prayer and followed by singing a birthday song for her. Then she made a wish and blew her candles then partaking of foods follows.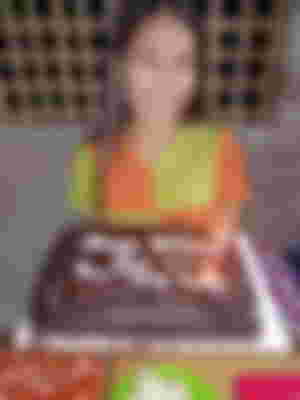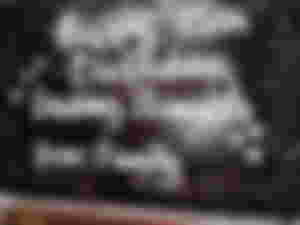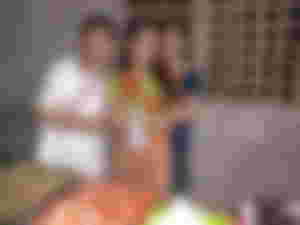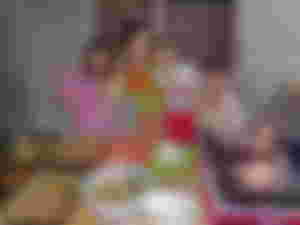 After I ate, I decided to take an initiative on washing the dishes because I knew that my mama was a bit tired. Rhian did help me but after few hours, I was left alone in our sink doing the task. Well, I did enjoy it yet my back was aching for standing quite a long time so after I finish that batch of dishes, I already went to my room and took a rest and put some liniment oil in it. Then, I spent the rest of the night with Rhed and went to sleep.
As for the visitors, I really don't know when did they left our house last night. All I knew was when I woke up earlier this day, my dog is sleeping in our living room alone and my mama was still sleeping.
_______________________
It was a bit tiring night for me but what matters to me was I able to take part for that little celebration. As for my gift, I told her that it will be given the followings days if I can have an enough amount for that. "Kapus pa tayo eh."😅
That would be all fellas. Thanks for your time. Hugs and Kisses!
_______________________
My warmest thanks to all my avid supporters; readers, upvoters, sponsors (old, new, and renewed ones). It is my pleasure to have you and become my inspiration and motivation as I go on to this journey as an online writer and a blogger. Thank you for your undying love and support, and for showing how kind and generous you are. Thank you for making my read.cash journey a wonderful one. May this platform last for a long period of time and our friendship, may on virtual or not goes the same. May the Lord our God bless us more days, weeks, months, and years to come!
_______________________
Blog Title: "She's Fifteen!"

Author: @renren16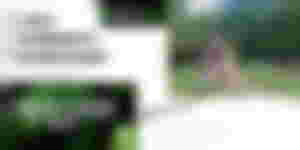 _______________________
PREVIOUSLY PUBLISHED ARTICLES:
"A Year and a Half" https://read.cash/@renren16/a-year-and-a-half-45b368a5
"I see Green!" https://read.cash/@renren16/i-see-green-1c68055c
"Half Year with Love" https://read.cash/@renren16/half-year-with-love-6ee5dd22
"Bountiful Five Hundred" https://read.cash/@renren16/bountiful-five-hundred-e6c52a19
"I was Saved!" https://read.cash/@renren16/i-was-saved-d8190e5a
_______________________
Enjoyed this article?
Earn Bitcoin Cash by sharing it!
Explain
...and you will also help the author collect more tips.