The One That Got Away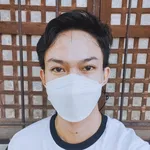 A short story based on imagination. Might sound cliche, but it could be worthwhile reading.
Girl's POV
It was a fine day. I hear the birds chirping, and it sounds like a song to my ears. Some are flying under the sun that looks perfectly that day. The sky was full of clouds and I can't help but smile.
As I was walking with my head looking at the sky, I did not notice I bumped with something, or someone rather. Before I fall to the ground, a scene from my mind played. There I saw a handsome man rushing his hand to hold mine before I fall. But when reality sinks into my mind, there I found myself lying on the ground while my back hurts.
I did not expect that the person I bumped with is the person hates the most. He is Quatro Asuncion Jr. - the person you like the least to meet in your way. Wanna know the reasons why? Well, the thing that happened to me is the very best example.
Instead of lending his hand to help me get up, he just laugh at me and even told me that it is due to my stupidity of not looking forward while walking. He has a point though. But he should have at least helped me.
By the way, I am Teresita Puritz Salvacion - the prettiest girl in town.
Right after getting up, I saw many eyes on me. Some are laughing, some are taking photos, and some are even throwing with insulting words. But I just walked out with a poker face as if nothing happened and as if I did not hear anything.
But to be honest, when that day happened, I almost did not sleep a night. I just realized it was so embarrassing. If it wasn't for my dumbness and clumsiness, I might never be in that situation.
However, that wasn't the sole reason why I can't sleep that night. It is him, his eyes, that's filled with hidden stories and disguised with a smile that seemed to be fake. That's when I decided to know more about him.
However, I almost regret being involved more with him because every day, I get to experience the worst of the worst. He had always bullied me and embarrassed me in front of many with a feeling of contempt for everything I do. But I endured all those things because I believe he is hiding something and I want to be that person who would help him to whatever he is hiding from everyone else.
I can say it's worth it because as time passed by, I become closer to him. Also, the way he tease me and bully me has changed. I know I am annoying but since it became a habit, I assumed there is a positive feeling that is happening to him. He may not say it directly, but his eyes won't lie.
Then here comes the day when I throw a joke at him. Instead of doing something to make me feel embarrassed, my eyes caught him smile, and did not utter any hurtful words to me for the very first time.
One night, while going home from the occasion I've attended, I heard a group of men talking with a familiar voice. The guy is being firm at first and even throwing insults, but then I heard another guy which seemed to be the leader, beat him and throw punches. I am about to run away when I heard a gunshot. I stood frozen and tried to calm myself.
The guys did not stop from throwing several words while punching their victim. Then I think of an idea. I remembered that I have saved a sound from the internet that sounds like a police siren. Luckily, I have a speaker, so when I played the music, it really seems that a police patrol is coming. I take a peek at the scene and there I saw the bad guys running away.
When the guys went away completely, I rushed towards the victim and I was shocked to know that it was Quatro. I insist to get him to the nearest hospital but as usual, he denied and instead of thanking me he even say hurtful words.
After that incident, I realized that maybe, the thing I am thinking is far from becoming to reality. I learned to know my worth and stop the nonsense thing I am doing. Maybe, he really doesn't need my help.
The next day, I saw him at school. But like what I used to do before, I avoided him. The sky looks great but this time, I was walking while looking down. After a few steps, I bumped with someone. I did not fall. But the person whom I bumped with fell down. It's him, and he's smiling. But at the back of my mind, it's just an imagination.
Days have passed and I have finally moved on. There is a feeling of regret for not taking the chance to talk to him that time, but the past is past. Besides, he's already dating the real queen in town. It was just an exaggeration and a mix of imagination and illusion to say I'm the prettiest. For a simple person like me and a high-profile individual which seemed a star for me, is far from colliding.
I thought it is a drama between us. In my mind, I am the lead actress and he is my knight in shining armor. But no, it seems like I am just a display.
---
This is not yet the ending, there is another part and it is going to be the boy's POV.
---
---
You will also find me on: